Sunsets are a treasure and a blessing from God. Similarly, the
Purple Sunset
strain is also a gift from God, not only because it grows out of the ground, but because of the wonderful aroma, taste, and pleasurable high it brings.
Created by Ethos Genetics, Purple Sunset's lineage derives from a rich combination of Purple Punch, Mandarin Sunset, and Mandarin Cookies. As the name implies, this indica dominant strain is the perfect choice for those who want to wind down and bathe in a full-bodied, relaxing, vibe. 
With a relatively modest THC level, users will experience a gentle, slightly euphoric lifting of the spirits as the high washes over them, releasing anxieties and worries as your muscles simultaneously soften and relax, making it an ideal strain for pain relief. One Allbud reviewer put it aptly, saying
Purple Sunset is "my #1 daytime pain and mood elevation strain. Super relaxation without total sedation. If I'm tired late in the evening it can bring on a nap. It meets you where you are and improves my day if I don't consume too much." Or,
as Wikileaf proclaims
, "Purple Sunset is the plant version of a multicolored sky, exploding in floral citrus flavors that can take on your daily stress like a champ." 
Well, when you put it like that, twist one up!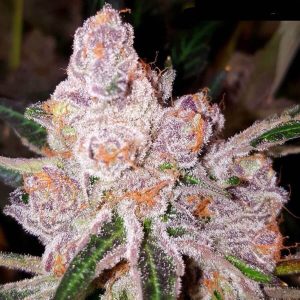 Perhaps the best part of Purple Sunset is its aroma and taste. Purple Sunset has a slightly sweet, fruity taste with light floral and citrus undertones, complements of its primary terpene, Caryophyllene. The taste parallels the aroma, though with an added spicy earthiness, particularly on the exhale. Moreover, Sunset Purple is a sight to behold. Large, minty-gree buds are adorned with whispy amber hairs, a deep purple overcoat, and tiny trichomes.
So, as long as we are going down the pleasure purple road, why not check out another indigo aural treasure? I'm speaking of the band Deep Purple, specifically their album
Deep Purple in Rock
(1970), their fourth, and arguably best album.
Though it is often overshadowed by 
Machine Head
(1972),
Deep Purple in Rock
is more original, powerful, and overall balanced than
Machine Head
. Punchy and upbeat, Deep Purple in Rock delivers a mixture of 
catchy innovative melodies
grounded in more traditional blues and rock riffs, demonstrating why Deep purple is considered an original heavy metal band.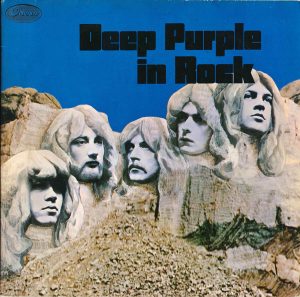 Classic Rock Reviews writes
that the album is "filled with dynamic and energetic songs which gave plenty of space for musical and vocal virtuosity while still sustaining the root rock and blues elements to attract the hard rock base the group built with their late sixties outputs." This makes the album equally attractive for both critical rock aficionados as well as neophytes. 
Standout tracks include the frenetic, organ-driven  "Speed King" with subtle punk undertones, and "Child in Time," a nearly 10-minute masterpiece that starts off as plaintive and wistful and forcefully builds with hooky extended instrumental solos. 
While I want to keep with the purple theme, I also want to stay a bit healthy, so my treat recommendation is the humble but oh-so-delicious
Concord grape
. Commonly used to make both juice and wine, these luscious, beautiful berries are packed with antioxidants that boost heart health and help your blood clot.
Plus, they are succulent, which helps reduce the cottonmouth associated with ganja. They are alos a no-fuss snack. Simply wash, pluck, and pop them into your piehole–no peeling necessary, which makes them, er, more a-ppealing. 
---
At Newsweed.com, we adhere to three simple principles: truth, balance, and relatability. Our articles, podcasts, and videos strive to present content in an accurate, fair, yet compelling and timely manner. We avoid pushing personal or ideological agendas because our only agenda is creating quality content for our audience, whom we are here to serve. That is why our motto is   "Rolling with the times, straining for the truth." 
Your opinion matters. Please share your thoughts in our survey so that Newsweed can better serve you.