If you're old enough, you remember the line, "
How about a nice Hawaiian punch? "
But unlike the sugar-laden, red-food-dyed monstrosity of a drink made for kids, you might consider an adult elixir that packs a much better wallop: Miami Punch II. This strain has a fruity, floral taste profile with earthy undertones that are pleasing to the palette. Moreover, because Miami Punch II is a sativa dominant strain, it gives the energy you need for hiking mountain trails, playing sand volleyball, or even getting some things done around the house–your choice!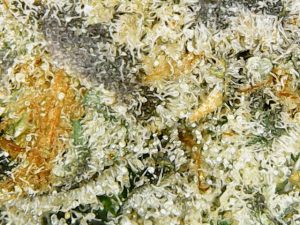 Made from crossing Florida Orange and Purple Punch, Miami Punch II delivers a powerful, enjoyable high that won't let you down, at least for not a few hours. As one reviewer put it, "the effect gets a 10 out of 10! This strain is the bee's knees! I found it to be very euphoric, almost at a dab level equipped with the heat rush and all. Muscle relaxation and the warmth from the heat rush are the only body effect I got. The distraction is the starring effect from this sample. I got a release from the grip of PTSD and anxiety along with lessened nerve pain." 
That's a whole lot of bang for the buck, Chuck! (I actually do know a Chuck, but in the interest of transparency, I never tried any weed with him, but phonetics are fun for more than just frivolous facts, my fantastic friends. (Okay, I'll stop, for now.) 
In keeping with the Miami theme (you know I typically do this, so don't act surprised), I recommend you go old school and check out the likes of 2 Live Crew. 2 Live Crew are the ultimate defenders of lascivious civil rights. As the Miami New Times points out, ". . .ain't nobody in the history of Dade County ever been as nasty or repped harder for First Amendment rights than 2 Live Crew" adding that their nearly pornographic masterpiece, As Nasty As They Wanna Be, "landed them on the Broward County Sheriff's obscenity shit list" and "earned them heat from Tipper Gore and the D.C. censors." 
Another album, 2 Live Is What We Are, is even better though. Yes, it is sensationalism and licentiousness run amuck, but it is also fun, and at times, hilarious, if you don't take the music, life, or yourself too seriously, which if you've had a few tokes of Miami Puch II, you probably won't. The following review pretty much sums it up: "The 2 Live Crew wasn't the first rap group to talk about sex, but this album did take sexually explicit rap lyrics to a new level of nastiness."
Now, as long as you are in the semi-tropical vibe, I'm gonna recommend something tasty to enhance your Miami mojo: D.L. Jardines Pineapple Salsa. Get a package of your favorite corn chips, and scoop your way into salsa nirvana. As the Jardines website states, "Get the best of both sweet and spicy with ingredients like succulent pineapples, plump sun-ripened tomatoes and spicy jalapeños." 
With Miami Punch II, 2 Live Is What We Are, and Jardines Pineapple Salsa, move over Don Johnson, because you'll be more than ready to watch Miami Vice, you will be Miami Vice (at least in your head for few hours until the buzz wears off).  
Until the next time, remember the words of Sonny Crockett:  "You've got to know the rules before you can break 'em. Otherwise, it's no fun." 
---
At Newsweed.com, we adhere to three simple principles: truth, balance, and relatability. Our articles, podcasts, and videos strive to present content in an accurate, fair, yet compelling and timely manner. We avoid pushing personal or ideological agendas because our only agenda is creating quality content for our audience, whom we are here to serve. That is why our motto is   "Rolling with the times, straining for the truth." 
Your opinion matters. Please share your thoughts in our survey so that Newsweed can better serve you.
Charles Bukowski, the Los Angeles beat poet that captured the depravity of American urban life  once said, "There is something about writing poetry that brings a man close to the cliff's edge." Newsweed is proud to stand in solidarity and offer you a chance to get close to the cliff's edge with our first Power of Poetry Contest. Are you a budding bard, a versatile versifier, a rhyming regaler? Do you march to the beat of iambic pentameter, or flow like a river with free verse? If so, here's your opportunity to put your mad poetic chops to the test. Enter our poetry contest for bragging rights and an opportunity to win some cash!