Cherry Garcia: A Heavenly Hybrid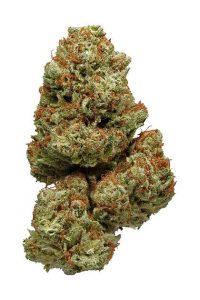 I've never been much of a Grateful Dead fan, though I admire what they did on both a musical and cultural level. They certainly maximized happiness in all its glory for multiple decades. However, the marijuana strain
Cherry Garcia
, likely an homage to the legend Jerry Garcia, is boss. An evenly balanced hybrid strain (50% indica/50% sativa) created by crossing the powerful 3X Crazy with Animal Cookies strains, Cherry Garcia has a wonderful, relaxing, yet upbeat vibe that leaves smokers happy and chill all at the same time. 
The bud has a somewhat sugary, sweet taste that lingers on the palette, and it's cherry-like perfume has pungent notes of sourness that add to the lovely complexity of its bouquet. With dense, medium-sized buds and an average THC content of 20%, Cherry Garcia packs a cerebral high balanced by a slightly dating body buzz.
One Leafly reviewer put it this way: "This strain is gonna make me go out the same way as Jerry. Needed to eat everything in sight and then some. Good combo of head/body feeling, without making me sleepy. Effects punch u in the head all of a sudden. Will use again."  And although Jerry Garcia's long strange trip ended in 1995, you can start yours anytime with just a few puffs of Cherry Garcia.
Aeroplane Over the Sea: A Textural Soundscape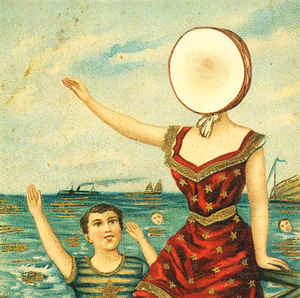 Now that your fueled up with a fruitilicious high, it's time to kick out the jamz. And to complement your elevated cerebral plane, you should hop aboard the Neutral Milk Hotel album, In the Aeroplane Over the Sea (1998). Aeroplane has an almost plaintive feel, full of understated pathos.  It is at once progressive and folksy, hurried, yet relaxed, dreamy, yet palpable. With its careful arrangement of instruments, including sonorous horns and lilting vocals, there is almost corporal feel beyond the aural pleasure it delivers, enveloping you in its own carefully crafted soundscape. 
Kind Dark Chocolate Cherry Cashew Bars: Garcia would be Proud 


Of course, the obvious food pairing would be Cherry Garcia ice cream, but that seemed just a little too on-the-nose, or tongue, as it were. Instead, I recommend you pair your Cherry Garcia high and your aeroplane infused trip with Kind Dark Chocolate Cherry Cashew bars. Made with Bing cherries, dark chocolate, and crunchy cashews, these chewy delights deliver a healthy balance of earthiness and tart sweetness that will leave you feeling satisfied without a lot of excess sugar. 
So get stropped in, captain. Toke a little Cherry Garcia, spin some Aeroplane over the Sea, and imbibe in some natural chewy goodness. Your day will be like a good Las Vegas experience: everything coming up cherries. 
---
At Newsweed.com, we adhere to three simple principles: truth, balance, and relatability. Our articles, podcasts, and videos strive to present content in an accurate, fair, yet compelling and timely manner. We avoid pushing personal or ideological agendas because our only agenda is creating quality content for our audience, whom we are here to serve. That is why our motto is "Rolling with the times, straining for the truth." 
Your opinion matters. Please share your thoughts in our survey so that Newsweed can better serve you.
Charles Bukowski, the Los Angeles beat poet that captured the depravity of American urban life once said, "There is something about writing poetry that brings a man close to the cliff's edge." Newsweed is proud to stand in solidarity and offer you a chance to get close to the cliff's edge with our first Power of Poetry Contest. Are you a budding bard, a versatile versifier, a rhyming regaler? Do you march to the beat of iambic pentameter, or flow like a river with free verse? If so, here's your opportunity to put your mad poetic chops to the test. Enter our poetry contest for bragging rights and an opportunity to win some cash!