Every once in a while, you find that magical bud that gives you an incredibly enjoyable, uplifting high. Such is the case with
White 99
. Created by crossing the classic The White with the delicious Cinderella 99, White 99 is a potent sativa-dominant hybrid that packs a powerful euphoric, upbeat punch. With an average 25+% THC content, White 99 is not to be trifled with by inexperienced users. Word to the wise: White 99 is a bit of a creeper, but don't over-toke, cuz White 99 ain't no joke!.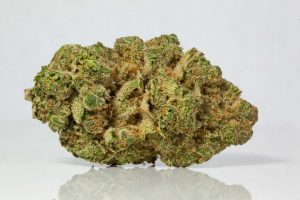 As wikileaf.com warns, "Almost as if it was out of nowhere, the high smashes into your headspace and takes control of your mental state." But what a mental state, as your mind is reeling and soaring. As Allbud puts it, "You'll feel a smash of creativity and focus that launches your mind into a heady cerebral state."
White 99 is also aromatically appealing, combining a sweet and sour citrusy top note and woody floral undertones. When fresh, White 99 is visually compelling with moderate-sized, bright neon green nugs adorned with long orange hairs and a coating of tiny amber-colored crystal trichomes. These characteristics make White 99 a true treat. However, reportedly many people find White 99 to be particularly effective for helping manage chronic depression and anxiety. Again though, proceed cautiously and let it build, lest you induce anxiety.
Now that you got your buzz on, it's time for some equally cool tunes. And the album Midnight Marauders by A Tribe Called Quest is just the ticket. With laid-back lyricism and fresh beats, Midnight Marauders is a masterful album that blends elements of Acid Jazz, East Cost Hip Hop, and Jazz Rap in a melodious mélange of tunes that at once mellow and playful, rhythmic and lush, sarcastic and sexual. In fact, AllMusic's John Bush described this contrast as "focused yet funky" and "polished but raw." 
As the album progresses, the tunes keep listeners on their aural feet, as both tone, tempo, and topic are in flux, each song delivering something exciting and unexpected. One Rate My Music Reviewer captured the essence of several tracks, saying, "'Steve Biko (Stir It Up)' slips you into the mood and keeps you there for fifty minutes. The world of urban nightlife seeps into your soul, captured by the rich, groovy production and the flawless rapping. It feels like moving through New York City after nightfall."
The album also shows lyrical prowess, building upon the inherent contrast found in the musical composition and structure of the songs. The song Oh My God, featuring Busta Rhymes, spits out plain truth wrapped in a poetic patina:
Listen up everybody the bottom line
I'm a black intellect, but unrefined
with precision like a bullet, target bound
just livin like a hooker, the harlett sounds
Of course, we need to fill your oral desires with a snack that is equally satisfying in taste and contrast. And what better than Sour Punch Straws Chewy Candy. Made by American Licorice Company, Sour Punch Straws come in 99, (okay, actually 8, but you can combine them in lots of ways) tantalizing flavors, including Blue Raspberry, Strawberry, and, for those who are a bit more daring, Pineapple-Mango Chili. But the winner of the straw poll –I couldn't resist, and you should know that by now–is Green Apple.

With its harmonious blend of sweet and tart, Green Apple will liven your taste buds and help combat the cottonmouth that accompanies ganja use. I particularly love to squeeze the filling out on my tongue, just to keep me kinesthetically involved. Well, alright, I just do it because I'm a big goofy kid at times. However you choose to eat it, rest assured it would be a delicious experience. 
---
At Newsweed.com, we adhere to three simple principles: truth, balance, and relatability. Our articles, podcasts, and videos strive to present content in an accurate, fair, yet compelling and timely manner. We avoid pushing personal or ideological agendas because our only agenda is creating quality content for our audience, whom we are here to serve. That is why our motto is "Rolling with the times, straining for the truth." 
Your opinion matters. Please share your thoughts in our survey so that Newsweed can better serve you.
Charles Bukowski, the Los Angeles beat poet that captured the depravity of American urban life once said, "There is something about writing poetry that brings a man close to the cliff's edge." Newsweed is proud to stand in solidarity and offer you a chance to get close to the cliff's edge with our first Power of Poetry Contest. Are you a budding bard, a versatile versifier, a rhyming regaler? Do you march to the beat of iambic pentameter, or flow like a river with free verse? If so, here's your opportunity to put your mad poetic chops to the test. Enter our poetry contest for bragging rights and an opportunity to win some cash!