There is a new competitor soon to be on the vaccine international market in the fight against COVID-19. Known currently as VLA2001, the vaccine is manufactured by Valneva out of Scottland. Unlike the majority of the other vaccines available, VLA2001 is not an mRNA vaccine. Instead, it relies on more traditional vaccine formulation methods. The Valneva website
states
that  VLA2001 is ". . .currently the only whole virus, inactivated, adjuvanted vaccine candidate in clinical trials against COVID-19 in Europe."
According to BBC News," Blood results from volunteers who received the jab had high levels of neutralising antibodies against the pandemic virus," and "It outperformed the AstraZeneca vaccine on this measure in head-to-head tests." Lead investigator Prof Adam Finn, of the University of Bristol, said the results, shared in a press release, were both "impressive and extremely encouraging,"  adding "These results suggest this vaccine candidate is on track to play an important role in overcoming the pandemic."
Finn also said, "This is a much more traditional approach to vaccine manufacture than the vaccines so far deployed in the UK, Europe, and North America, and these results suggest this vaccine candidate is on track to play an important role in overcoming the pandemic." In fact, the jab "triggered about 40% higher levels of neutralising antibodies on average than the Oxford/AstraZeneca vaccine," as reported by The Guardian. 
Specifically, precisionvaccinations.com reports that the vaccine "induced broad antigen-specific IFN-gamma producing T-cells reactive against" multiple SARS-CoV2 proteins, and that "less than 1% reported an adverse event of special interest in both treatment groups." Moreover, the trials revealed that participants "reported significantly fewer solicited adverse events up to seven days after vaccination, both with regards to injection site reactions. . . and systemic reactions," than AstraZeneca, which was paired with the new vaccine in a head-to-head experimental design.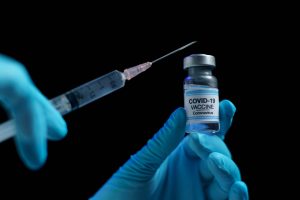 These are significant findings for several reasons. To begin with, many people have been reluctant to trust the mRNA design employed by AstraZeneca, Moderna, and Pfizer. One of the factors people cite for hesitancy is the idea that vaccines will alter your DNA.
Of course, that's not true. Dennis Cunningham, M.D., medical director of infection control and prevention at Henry Ford Health System, has stated "People get scared that mRNA will cause the virus to go into our DNA and mutate us, but it does not even go into the center part of the cell where we have our DNA. It doesn't affect DNA at all." Dr. Cunningham is not alone in this assertion. However, if people trust a more traditional design approach to vaccine creation, this may bode well in terms of encouraging a subset of people to be vaccinated.
Secondly, people are often scared about adverse reactions. And despite the low risk of such reactions, they are a reality. Even though most people reported minor reactions, the most common being swelling at the sight of the injection and a slightly elevated temperature with accompanying flu-like symptoms, some people did have severe reactions.
As the CDC reported, "108 case reports were identified for further review as possible cases of a severe allergic reaction, including anaphylaxis." Anaphylaxis is a severe allergic reaction that  "causes the immune system to release a flood of chemicals that can cause you to go into shock,"  leading to a sudden plunge in blood pressure and a narrowing of the airways, which threatens a person's ability to breath, according to the Mayo Clinic. Obviously, avoiding such reactions is desirable for obvious reasons, but it also may help people overcome vaccine hesitancy. 
Thirdly, VLA2001 not only elicited a robust antibody response, it also caused an increase in T-Cell production. Although all of the vaccines increase antibodies to fight COVID-19, these antibodies wane over time, leaving people more vulnerable to infection. Furthermore, antibodies are just one line of defense and are limited in how they can attack a virus. As a recent article explains, "Antibodies can only latch onto and help destroy pathogens outside cells and may also occasionally, paradoxically, enhance a pathogen's ability to infect cell instead by antibody dependent 'enhancement' or ADE. It is only the T-cell that can cleverly sense and destroy pathogens inside infected cells using 'sensors'  which detect foreign protein fragments."
However, Valneva is struggling with accusations that they are in contract violations with the U.K. government. According to the Valneva website, the company "received a termination notice from the UK Government ("HMG") in relation to the Supply Agreement for its COVID-19 vaccine candidate," over "breach of its obligations under the Supply Agreement," something the company "strenuously denies." 
Although not completely clear what the actual issue is, Fortune magazine reports that ". . . Valneva warned of a 'substantial risk' to exporting the vaccine between the EU and the U.K. owing to supply chain issues." There are other theories that the U.K. is being practical because they already have enough currently available vaccine supplies without introducing VLA2001. As Bloomberg points out, "What seemed clear was that the French pharma company's product wasn't really needed. Its vaccine was still working through late-stage trials at the time others were already being distributed. The long lead time for Valneva's vaccine also made it a less attractive prospect. And the U.K. had plenty of supply coming from a range of other vaccines." 
From this perspective, Valneva may be a Johnny-Come-Lately presence in an increasingly crowded U.K. anti-COVID-19 vaccine market. Yet, these conditions may actually present a new opportunity for the newcomer. Prof Penny Ward, a pharmaceutical expert at King's College London, framed it this way, "The results today suggest that this decision might yet be regretted, but because of it Valneva might be able to provide an immediate supply of this vaccine for other countries struggling with the freezer shipping requirements of other, more expensive, vaccines. Good news for Covax and countries still awaiting supplies."
As the old saying goes, when one door closes, another opens. 
---
At Newsweed.com, we adhere to three simple principles: truth, balance, and relatability. Our articles, podcasts, and videos strive to present content in an accurate, fair, yet compelling and timely manner. We avoid pushing personal or ideological agendas because our only agenda is creating quality content for our audience, whom we are here to serve. That is why our motto is   "Rolling with the times, straining for the truth." 
Your opinion matters. Please share your thoughts in our survey so that Newsweed can better serve you.
Charles Bukowski, the Los Angeles beat poet that captured the depravity of American urban life  once said, "There is something about writing poetry that brings a man close to the cliff's edge." Newsweed is proud to stand in solidarity and offer you a chance to get close to the cliff's edge with our first Power of Poetry Contest. Are you a budding bard, a versatile versifier, a rhyming regaler? Do you march to the beat of iambic pentameter, or flow like a river with free verse? If so, here's your opportunity to put your mad poetic chops to the test. Enter our poetry contest for bragging rights and an opportunity to win some cash!