The City of Brotherly Love has decided to show its affection for its citizens by decriminalizing marijuana.
According to High Times
, voters overwhelmingly supported  Philadelphia's Question 1,  thereby amending the Philadelphia Home Charter to call on the governor and the Pennsylvania General Assembly "to pass legislation that would decriminalize, regulate and tax the use and sale to adults aged 21 years or older, of cannabis for non-medical purposes." 
Pennsylvania Democratic Lieutenant Governor John Fetterman, who is currently running for U.S. Senate and has been an outspoken advocate for cannabis legislation, stated, "Philly sent a loud and clear message for legal weed, and so has Pennsylvania," adding, "It dovetails perfectly with the first Republican-sponsored bill to legalize weed in PA history."
Fetterman was referring to legislation from Democratic Sen. Sharif Street of Philadelphia and Sen. Dan Laughlin, a Republican from Erie, which "ensures a legalized market in the Commonwealth is implemented safely and responsibly, with a thoughtful approach that provides opportunities to medical and recreational consumers, farmers, and small, medium and minority-owned businesses."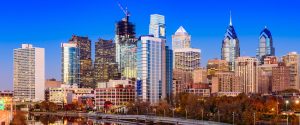 The push for legalizing recreational marijuana in Pennsylvania is also supported by Governor Wolf, who argues, "Now as our neighbors move toward legalizing recreational marijuana, Pennsylvania cannot afford to be left behind. Legalizing adult-use cannabis has strong bipartisan support among Pennsylvanians."
The measure is largely symbolic, however, and was designed to pressure Pennsylvania's state lawmakers to pass comprehensive cannabis legislation in order to reduce the harm of prohibition to its citizens. Recreational marijuana reform would build upon the medical marijuana program passed into law by Governor Wolf on April 16, 2016, becoming fully active on February 16, 2018. While the law provides access to medical cannabis, it is seen as too restrictive by cannabis advocates. To qualify for the medical cannabis program, one must get a prescription from a doctor and qualify under the several listed conditions, including  Post-Traumatic Stress Disorder.
Moreover, those who are on probation and smoke marijuana without a medical license often face steep penalties, including jail time, for getting high. Take, for example, the case of Melonie Alvarado. According to the Philadelphia Inquirer, Alvarado received a five-year sentence comprised of house arrest and probation for failing several drug tests that showed she used marijuana. While it's true that Alvarado is guilty as charged, she was using marijuana, like many people, to treat her anxiety disorder. Alvarado, who was threatened with jail and a drug treatment program, claims she can't afford the medical card and a doctor's visit. 
Although the fee for the cards is only $50, there are broader issues at stake beyond money. To begin with, punishment for marijuana is not only unfair, it's a waste of time and resources for municipalities. As Philadelphia's chief defender, Keir Bradford-Grey points out about people like Alvarez, "Many of them are using it for PTSD and trauma. Many of them are using it for pain. So these reasons are benign in terms of our notion of public safety — and this is why we are creating an endless cycle of probation for people who are being tested this way."
Furthermore, although mostly anecdotal, there is growing evidence that marijuana may be an alternative to opioid use, which often leads to opioid abuse. And nowhere is the concern for opioid abuse more germane than Philadelphia.
According to Addiction Center, "In 2017, nearly 90% of all drug overdoses in the city involved opioids." Similarly, Philadelphia's official city website, phila.gov, states "Philadelphia is facing the greatest public health crisis in a century. Every neighborhood in the city is being hit hard by an epidemic of opioid use and overdose. Across all racial and ethnic groups, the number of deaths from drug overdose is higher than the number of deaths from homicide." 
Luke Shultz, who has suffered from chronic back pain since he was a teenager, is a case study of how marijuana can offer a safe alternative to opioids. As a result of his chronic back pain, he tried a number of medical approaches, including braces, surgery,  physical therapy, and even opioids, all of which failed to give him the relief he was seeking.
So, as a member of Pennsylvania's newly-formed Medical Marijuana Advisory Board, Shultz pushed "for the state Department of Health to expand the list of serious medical conditions that makes someone eligible for cannabis to include opioid use disorder," according to the Pittsburgh Post-Gazette. 
The advisory board agreed, stating "Cannabis can offer pain relief and has been reported by patients to ease the symptoms and process of opioid withdrawal." The Post-Gazette also reports that Schultz has "been able to drastically reduce the number of opioids he takes to about one Percocet tablet daily," and  "can drive about 20 minutes on a good day."
While it should be mentioned that the board has not established rigorous scientific evidence that marijuana can help attenuate opioid abuse, Schultz states it plainly, saying "I don't have the science to back it up. I typically go by anecdotal evidence — myself included — that basically for real people it's had real, positive effects. Hopefully, at some point, the science will show that."
Unfortunately for too many people, science is always lagging behind their personal struggles and realities.