Despite the fact that the United States was roundly criticized for its sluggish response to the COVID-19 pandemic, it is currently Europe that is in trouble. The director of WHO's 53-country Europe region, Dr. Hans Kluge,
said
the rising COVID-19 case counts are of "grave concern"
and "Europe is back at the epicenter of the pandemic, where we were one year ago."
So prevalent is the spread of the pandemic that
NPR cites
WHO's data that the "European region, consisting of 53 countries, territories and some Central Asian countries, currently records more than 78 million cases of Covid-19, higher than the total number of infections in Southeast Asia, the Eastern Mediterranean region, Western Pacific and Africa combined."
Moreover, Europe's data is largely at odds with trends in other countries and regions. As the Associated Press (AP) reports,"the U.N. health agency said new cases jumped by 6%, or 3 million, in Europe compared to an 18% increase the previous week. The weekly number of new infections in other regions either fell or remained about the same." The exception, however, is Southeast Asia. Due mainly to the highly transmissible Delta variant, COVID-19 cases have dramatically spiked in multiple countries throughout the region.
Still, the most worrisome infection trend is in Europe, "which reported about 192 new cases per 100,000 people, followed by the Americas, which had about 72 new cases per 100,000" according to the AP. Specifically, "Ukraine, Croatia, Slovenia and Slovakia reported their highest ever numbers of daily cases, while other countries registered the most infections in months."
The suspected culprit is a lack of vaccination. Jelko Kacin, the pandemic response coordinator, for Slovenia, described the situation in his country as "a dictatorship of a minority of the unvaccinated and irresponsible over the majority who have been vaccinated on time and who are complying with the measures." So dire are circumstances in Slovenia that they have transformed their hospitals into primarily COVID-19 response centers, leading them to scrap non-urgent interventions to make space for COVID-19 patients, echoing the specter of the initial 2020 surge that overwhelmed medical systems across the globe.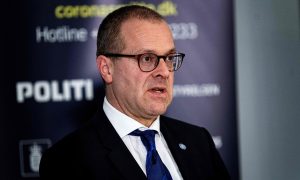 The spike of COVID-19 infections in Europe has sparked debate about how the remaining supply of COVID-19 vaccinations should be deployed. So, even as many countries introduce booster shots to combat the waning effect of the vaccinations, others are asking for these reserves to be used to vaccinate those who have never received the first rounds. WHO Director-General Tedros Adhanom Ghebreyesus argues that "No more boosters should be administered except to immuno-compromised people." Instead, in an effort to combat vaccine nationalism, he has "called for vaccine-makers to prioritize supplying COVAX, the U.N.-backed effort to share doses globally," ABC News reports. 
If Europe and other hotspots cannot contain and ultimately reduce the trend, we could see the pandemic have a worldwide resurgence. Fergus Sweeney of the Amsterdam-based European Medicines Agency (EMA) warns, "The epidemiological situation in Europe is very concerning now as we head into the winter with increases in infection rates, hospitalization and we can also see the increase in fatalities," adding, "it's very important that everybody gets vaccinated or completes their dose of vaccination if they've already had a first dose but not a second dose. It's really important that we're all vaccinated because we are not all protected until everyone is protected in that respect."
Tedros agrees with Sweeny's grim assessment, stating, "Let me be very clear: this should not be happening. We have all the tools to prevent COVID-19 transmission and save lives, and we continue to call on all countries to use those tools." Currently, less than 50% of Europeans are fully vaccinated, though this varies by region and country. 
However, statistics show that the situation is complex. For example, one of the worst countries for both infections and deaths as of April, the last time data was collected, continues to be Italy, which was hit extremely hard at the beginning of the pandemic. According to the latest data from the European Centre for Disease Prevention and Control, Italy had a total of 4,782,802 cases, with 132,224 deaths, which translates into a nearly 3% morbidity rate. Just north in Austria, the morbidity rate is approximately ⅓ of Italy's. Yet, in early October, Italy reached an 80% vaccination rate, while the vaccination rate in Austria at the end of October was 64%, significantly below Italy's rate. Meanwhile, Austria has seen significantly fewer deaths. 
But this is where it gets complicated because there are likely other factors at play. Age may be the largest factor causing a spike in deaths. As Live Science points out, "One factor affecting the country's death rate may be the age of its population — Italy has the oldest population in Europe, with about 23% of residents 65 or older" with many deaths "among people in their 80s, and 90s, a population known to be more susceptible to severe complications from COVID-19." This demographic difference could be the key to understanding current trends.
As evidence, The Guardian reports, "the risk of dying from Covid-19 is extraordinarily dependent on age: it halves for each six to seven year age gap. This means that someone aged 80 who is fully vaccinated essentially takes on the risk of an unvaccinated person of around 50 – much lower, but still not nothing, and so we can expect some deaths."
Moreover, much of the death toll in Italy occurred early on the pandemic. In fact, according to the publication The Local, "Italy's coronavirus infection rate currently remains relatively low and stable, with 2.278 cases and 27 deaths reported on Sunday, October 10th" and "The number of hospitalisations due to Covid-19 in Italy has been falling steadily since early summer."
Ultimately, despite the imperfections of the vaccines, they remain the first-line defense against getting significantly ill or dying from COVID-19.