Like a scene out of a Robert Ludlum novel, FBI agents swarmed the home of  Russian oligarch Oleg Deripaska in Washington, D.C.,
according to NBC News
. The FBI also searched a home in New York City. 
The bureau is being tight-lipped about this operation. As the Omaha World-Herald reports, "FBI officials would not provide any additional information about the circumstances surrounding their presence at either property or any information about potential investigations involving Deripaska," though, a  "spokesperson for Deripaska told reporters that the searches were 'connected to U.S. sanctions," adding, "The houses do not belong to Mr. Deripaska."
Back in 2018, the United States sanctioned Deripaska and six other Russian tycoons for "'malign activity around the globe,' including Kremlin aggression against Ukraine" as reported by Radio Free Europe (RFE). As part of an ongoing investigation, European officials provided information to the U.S. government indicating that the Russian billionaire "continued to exert control this year over United Co. Rusal International PJSC, which the officials say was a breach of a U.S. sanctions agreement reached in 2018."
Specifically, "The officials said Deripaska used company resources and employees to support his personal business interests and the political agenda of the Kremlin around the world." Additionally, Deripaska was accused of  "threatening the lives of business rivals, illegally wiretapping a government official, and taking part in extortion and racketeering," according to a press release from the U.S. Department of Treasury.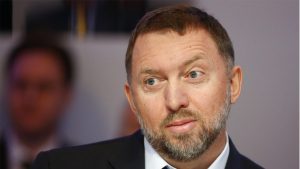 Later, these sanctions were lifted by then-Treasury Secretary Steven Mnuchin, who reasoned that Rusal and the other two companies, En+ Group and EuroSiobEnergo, had severed Derapaska's control. Defending his move, Mnuchin stated, "This action ensures that the majority of directors on the En+ and Rusal boards will be independent directors … who have no business, professional or family ties to Deripaska." 
In response, multiple U.S. House of Representative committee leaders asked Mnuchin to delay implementation of the sanctions termination until he had fully briefed members of Congress about "all aspects of the agreement, the sanctions termination, and the impact that these decisions would have on the U.S. effort to end Russia's malign activities aimed at our country," according to the Associated Press (AP). 
In his defense, Mnuchin explained, "This is not politically motivated. These companies weren't picked upon because they did bad things; these companies were picked up because of their ownership and their control and we're trying to segregate it." Firing back, Committee Chairman Adam Schiff, warned, "It will be incumbent upon Congress to maintain pressure on the Treasury to explain its reversal of course and why Deripaska or his companies are suddenly deserving of this relief." 
The sanctions were, however, eventually lifted in April of 2019. Then, later in the month, it was announced that Rusal, which was part of the sanctions was "pumping $200 million into a new project in Kentucky," to  "help fund and supply a low-carbon aluminum rolling mill under construction in the eastern part of the state," as reported by CNN. 
And this is where it gets Ludlumesqe, so to speak, because of potential connections to former President Donald Trump. Apparently, Deripaska had a longstanding business relationship with former Trump campaign chairman Paul Manafort, who was also indicted for his consulting work for the pro-Russian government of Viktor Yanukovych in Ukraine. Manafort was eventually prosecuted on eight charges of tax and bank fraud, but was later pardoned by Trump. 
The raid on the home of Deripaska also revealed an interesting "coincidence," for lack of a better term. Living right next door to Deripaska, is none other than George Conway, the husband of former President Donald Trump senior counselor Kellyanne Conway. As NBC reports, "Next-door neighbor George Conway . . . walked over to the house Tuesday afternoon to snap a photo of the law enforcement activity." 
Kellyanne Conway was also embroiled in a series of controversies, including alleged violations of the Hatch Act, for using her political position to advocate her political beliefs and to promote Ivanka Trump's clothing line, which was dropped by the outlet Nordstroms.
Moreover, the U.S. Office of Special Counsel (OSC) announced that she "violated the Hatch Act on numerous occasions by disparaging Democratic presidential candidates while speaking in her official capacity during television interviews and on social media." Although the OSC was unable to remove Conway, she was eventually subpoenaed for failing to report to House Committee on Oversight and Reform. 
Conway was also involved in a scandal that could only be described as an intersection between bizarre and sordid. Conway was investigated by police because she "allegedly posted a topless photo of her 16-year-old daughter, Claudia Conway, on Twitter," as reported by Vulture magazine. Her daughter responded by posting videos on TikTok confirming that the photo was real, saying "I'm assuming my mom took a picture of it to use against me one day and then somebody hacked her or something. I'm literally at a loss for words. If you see it, report it."
The counselor was also accused of covering for President Trump's alleged connections Russia's Putin-controlled government with regard to the Trump's team meeting with Russians to gain political dirt on then-presidential hopeful Hillary Clinton.  Conway skewered the media, saying, "Your job is not to Russia, Russia, Russia all day long, and hoping that something, manna, will drop from heaven one day and this will be real and not phony." In August of 2020, Conway stepped down from her role as advisor for the Trump administration. 
To his credit, George Conway has been a consistent and vocal critic of Trump and his administration. Most recently, he stated his opinion about the Capitol riots, arguing, "He loved what happened on Jan. 6th because it was all about him. These people were fighting for him ― and fighting against democracy and against free elections, to be sure ― but they were fighting for him, and that's what he cares about."
---
At Newsweed.com, we adhere to three simple principles: truth, balance, and relatability. Our articles, podcasts, and videos strive to present content in an accurate, fair, yet compelling and timely manner. We avoid pushing personal or ideological agendas because our only agenda is creating quality content for our audience, whom we are here to serve. That is why our motto is   "Rolling with the times, straining for the truth." 
Your opinion matters. Please share your thoughts in our survey so that Newsweed can better serve you.
Charles Bukowski, the Los Angeles beat poet that captured the depravity of American urban life  once said, "There is something about writing poetry that brings a man close to the cliff's edge." Newsweed is proud to stand in solidarity and offer you a chance to get close to the cliff's edge with our first Power of Poetry Contest. Are you a budding bard, a versatile versifier, a rhyming regaler? Do you march to the beat of iambic pentameter, or flow like a river with free verse? If so, here's your opportunity to put your mad poetic chops to the test. Enter our poetry contest for bragging rights and an opportunity to win some cash!