With a worldwide drought engulfing the planet, it's time for some serious rain. And while I cannot bring the deluge that delights, I can offer a new bud for your beneficence: The Rainmaker strain. Ethos Genetics crossed Citral Skunk and Mandarin Sunset to come up with this Indica-dominant hybrid. With, pop-corn-sized, dense nugs, and a somewhat strange mélange of cheese and citrus taste, Rainmaker is definitely in the skunk family, indicating the presence of Pinene, Eucalyptol, Humulene, Carene, and Phellandrene,
according to askgrowers.com.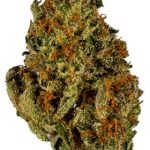 Packing a 20+% THC concentration, this is not a strain for beginners. However, if you want a fairly heavy, long-lasting body-centric buzz with an accompanying couch-lock vibe, Rainmaker is your huckleberry. Its overall sedative profile makes this strain a great choice for anxiety or insomnia, so users should not expect to get a whole lot done after puffing.
So, don't smoke a Rainmaker doobie and then expect to reorganize your closets or wash your car. Just make friends with your couch. One Allbud reviewer seemed to nail it: "The onset slowly ramped up into an unfocused but truly enjoyable head high, a wave of relaxation and muscles just melting. Gave me a severe case of the munchies almost right away. I would say that I loved it, it's a different buzz that some say they don't enjoy, I'd say if you like Skunk strains you'll love this."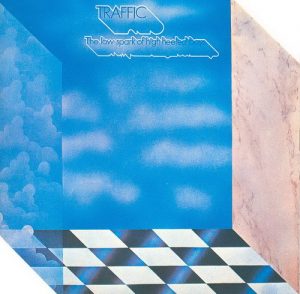 In this chilled-out state, you going to need some tunes that empathize with your semi-sedated situation, and I can't think of anything better than Traffic's The Low Spark of High Heeled Boys. Even though the album is from 1971, this classic disc remains fresh and progressive in the 21st century. The plaintive flute and voice of the lead track, "Hidden Treasure" will induce a pleasant hypnotic lull, and then transition you to the melodic magic of the nearly 12-minute title track "The Low Spark of High Heeled Boys," which takes you on a lyrical journey that includes horns and percussive accents. The album wraps up with the beautiful, almost haunting song, Rainmaker. (Okay, I couldn't resist!) 
As alluded to earlier by the reviewer, prepare ahead of time to have some munchies. And the perfect accompaniment to your mellow magical munchies is Blue Diamond Honey Roasted Almonds. These cholesterol-free, magnesium-rich, fiber-packed seeds of sweetness and salt will fill your craving for crunch and healthy carbs. So sit back (you should not eat them standing up), pop the vacuum top, and indulge in a healthy snack. 
And, if you can do this on a rainy night, you'll not only be in for an evening of pleasure but can participate in the joy of bringing life. Or as Traffic put it, "Make me some rain, make all my crops grow tall." Let's hope Rainmaker continues to grow tall. 
---
At Newsweed.com, we adhere to three simple principles: truth, balance, and relatability. Our articles, podcasts, and videos strive to present content in an accurate, fair, yet compelling and timely manner. We avoid pushing personal or ideological agendas because our only agenda is creating quality content for our audience, whom we are here to serve. That is why our motto is "Rolling with the times, straining for the truth." 
Your opinion matters. Please share your thoughts in our survey so that Newsweed can better serve you.
Charles Bukowski, the Los Angeles beat poet that captured the depravity of American urban life once said, "There is something about writing poetry that brings a man close to the cliff's edge." Newsweed is proud to stand in solidarity and offer you a chance to get close to the cliff's edge with our first Power of Poetry Contest. Are you a budding bard, a versatile versifier, a rhyming regaler? Do you march to the beat of iambic pentameter, or flow like a river with free verse? If so, here's your opportunity to put your mad poetic chops to the test. Enter our poetry contest for bragging rights and an opportunity to win some cash!