Primal: A Royal Bud
We can let the drags of modern-day rationale cause us stress and discomfort but we can always find ways to return to our primal instincts. With this chill trio of bud, tunes, and snacks, you will surely stop yourself from going bananas. So gather your primate buddies and hang from your branch for this awesome combination.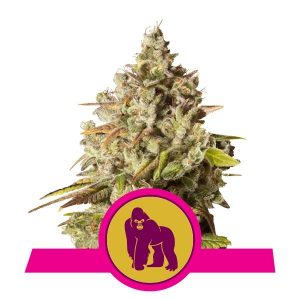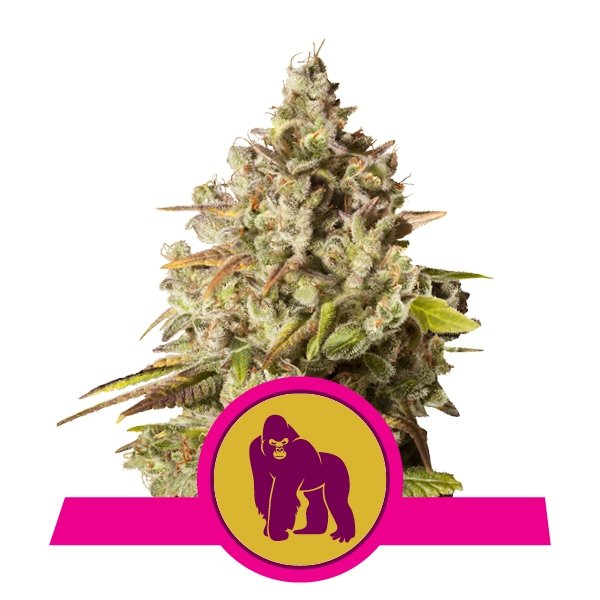 Our choice of primal bud is the aptly named Royal Gorilla, an incredibly powerful Indica dominant strain that will take you to your monkey roots by destroying your anxiety and stress. This genus (genius) strain is a fusion between Chem's Sister, Sour Dubb, and Chocolate Diesel which brings a balance that will keep you focused but also incredibly relaxed. While this strain might not make you go wild, it will certainly give you a sense of calming serenity and euphoria with the strength of a silverback.
A Leafly user writes "The high isn't obtrusive, but it's definitely noticeable. The highlights for me personally are the relaxation and euphoria-inducing effects. I'm able to go about my day with substantially less stress and anxiety, and it's also helping with my focus". This primal force of weedvolution is astounding, as most Indica heavy hitters leave one couch locked but this amazing strain induces calmness and will still let you get work done, or at the least be functional.  This super powerful strain is like the discovery of fire as it can have THC values as high as 30%. So this royal strain is nothing to monkey around with.
Primal: These Songs are Bananas 
For the music side, let's get in touch with our primal roots and let our ancestors show us what they can do with Gorillaz album "Demon Days". This classic art-pop and alternative rock album gives a variety of genres to listen to so that you can explore everything these great apes have to offer. Of course we have the classic animal tune of 'Feel Good Inc' but this album has much more to offer than radio hits.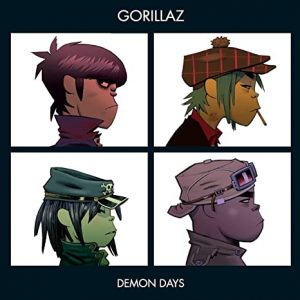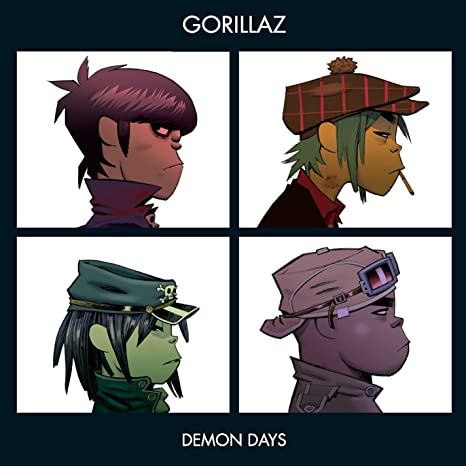 After the album's instrumental intro, the story and concept of the album truly begins with the song 'Last Living Souls', an incredibly moody and introspective trip-hop song that will have you chillin in your tree. The song 'November Has Come' features hypnotic and tongue-twisting bars from the late but legendary MF DOOM.
Check out these lyrics: "Voted sugar coated, Loaded hip shooter, Draw for the poor, Free coffee at the banks, Hit through the straw, None more for me, thanks." Try saying that five times fast. My monkey brain couldn't do that normally, let alone high. The beat is also incredible with its stripped back, bass filled rhythms in tandem 2D's vocals on the chorus of this song, this tune is certainly a stand-out track.  
The infectious song 'DARE' won't tell you about reefer madness but it will make you vibe as you swing from branch to branch to the catchy melody and beat. Shaun Ryder does his best hype man to ensure that this dance tune will never leave the opposable thumbs of your mind.
Primal Snacks
While bananas are healthy for you, they aren't really a fun snack. But if you wanna get that primal hunger for bananas that your chimp mind is calling for, then Banana Laffy Taffy is for you. With its chewy and elastic texture, this sweet sugary snack is sure to surprise your simian mind. The addictive quality and flavor of these banana treats are surely something to not take lightly. If you plan on eating these after toking, make sure to floss, because while returning to instinct is nice, the human luxuries of dental hygiene are important.