We are in the midst of a new cultural revolution that rivals the counterculture of the 1960s. But this time, beyond expanding our consciousness and attaining spiritual insight. We are focused on the art and science of healing, and are doing so in a legalistic manner via legislative initiatives. As reported in the New York Times:
In the past two years, a new drug policy reform movement called Decriminalize Nature has persuaded local governments in a half dozen municipalities, including Washington, D.C., to decriminalize "plant medicines" such as psilocybin, ayahuasca, iboga and the cactuses that produce mescaline.
Last month, the California State Senate passed a bill that would make legal the personal possession, use and "social sharing" of psychedelics, including LSD and MDMA, a.k.a. Ecstasy or Molly. Political opposition to all these measures has been notably thin. Neither party, it seems, has the stomach for persisting in a war that has achieved so little while doing so much damage, especially to communities of color and our civil liberties.
One of the thought leaders and top researchers in this bold new endeavor to heal the world is Paul Stamets.
Stamets is a speaker, author, mycologist, medical researcher, and entrepreneur, and is considered "an intellectual and industry leader in fungi: habitat, medicinal use, and production" by the Multidisciplinary Association for Psychedelic Studies (MAPS), "a 501(c)(3) non-profit research and educational organization that develops medical, legal, and cultural contexts for people to benefit from the careful uses of psychedelics and marijuana" according to their website. 
Born in Salem, Ohio in 1955, Stamets has an impressive resume, receiving his B.Sc. Degree in Taxonomy from The Evergreen State College, Olympia, WA, and after post-graduate studies focused on Microbiology and Electron Microscopy, was awarded an honorary Doctor Of Science from The National College of Natural Medicine, in Portland, Oregon.
Since then, Stamets has published more than 50 professional articles on the topics of mycology and the application of psilocybin for therapeutic purposes. Statement has over 25 patents to his credit, and is in line for multiple pending ones. In 1980, Stamets formed Fungi Perfecti, an organization that "has become synonymous with cutting-edge mycological research and solutions" with a continued mission ". . . to explore, study, preserve, and spread knowledge about the use of fungi for helping people and planet." 
Stamets has also been keynote speaker at prestigious events such as the Pharmaca Education/Leadership Summit, the MAPS Psychedelic Science Summit, and the Exponential Medicine Conference. In 2014, Stamets became a Lemelson Invention Ambassador, received The Gordon and Tina Wasson Award from Mycological Society of America in 2015, and in 2020 was inducted into the Explorer's Club by the Board of Directors. 
Inline with his naturalistic impulse, Stamets has an philosophical orientation that is at once organic and cosmic. Here are some of his words of inspiration:
Matter begets life. Life first appears as single cells. Single cells become multicellular. Multiple cellular organisms grow linearly, and then fork, branch and networks – the foundation of communities – are born. For this reason, I believe we will find network-based organisms throughout the universe. This is the way of Being. We are all connected by the flow of matter. Life forms are just one assemblage. When we "die", we de-molecularize into our cellular constituents but do we truly die and cease being? I do not think so.
We all share in the same consciousness, limited by perceptive and cognitive constraints. Our matter is liberated from its human form, decomposed by fungi, bacteria, and protozoa to be returned to the networks, which ultimately gave us birth.
Stamets is a leader in the arena of microdosing, the practice of using drastically reduced doses of psychedelic substances, such as psilocybin, LSD, and MDMA to increase awareness and productivity and address mental health issues such as depression and anxiety, without the psychedelic and hallucinatory effects that accompany a full dose.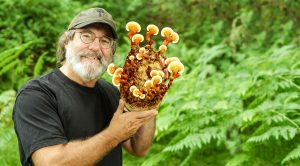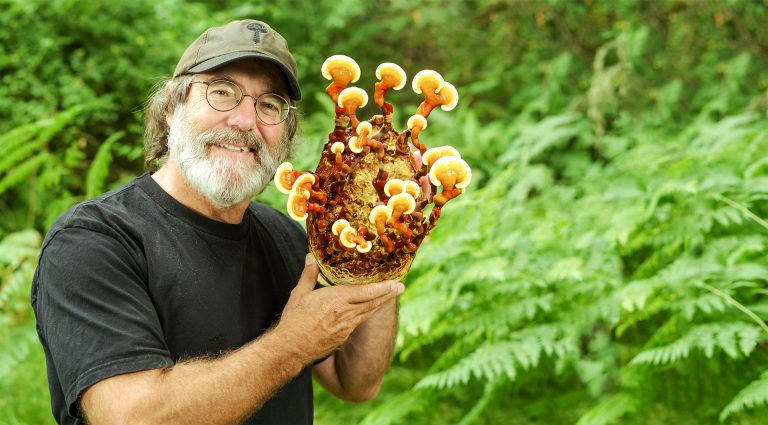 In the article
Microdosing Psilocybin Mushrooms with the Stamets Stack, author Kyle Dow illuminates the work of Stamets,
writing:
"Stamets refers to multiple
research studies
that show how psilocybin creates an extension of the fear response, creating new neurological pathways when faced with threatening situations.
For some, these situations often occur as anxiety interferes with social interactions and the ability to cope with the demands of life. Not only does psilocybin promote courage, but it enhances empathy, two characteristics of quality leaders. In more intentional, clinical applications, the extension of the fear response has proven effective in helping people with PTSD."
Part scientist, part healer, part spiritualist, Paul Stamets is all in for the future of fungi. 
---
At Newsweed.com, we adhere to three simple principles: truth, balance, and relatability. Our articles, podcasts, and videos strive to present content in an accurate, fair, yet compelling and timely manner. We avoid pushing personal or ideological agendas because our only agenda is creating quality content for our audience, whom we are here to serve. That is why our motto is "Rolling with the times, straining for the truth." 
Your opinion matters. Please share your thoughts in our survey so that Newsweed can better serve you.
Charles Bukowski, the Los Angeles beat poet that captured the depravity of American urban life  once said, "There is something about writing poetry that brings a man close to the cliff's edge." Newsweed is proud to stand in solidarity and offer you a chance to get close to the cliff's edge with our first Power of Poetry Contest. Are you a budding bard, a versatile versifier, a rhyming regaler? Do you march to the beat of iambic pentameter, or flow like a river with free verse? If so, here's your opportunity to put your mad poetic chops to the test. Enter our poetry contest for bragging rights and an opportunity to win some cash!