(Disclaimer: These articles are merely informational in nature, and in no way should be considered expert financial advice. As with any investment, psilocybin stocks, especially those owned by newer companies, are subject to significant fluctuations in value. Therefore, caution should always be observed when investing.)
Stock:  MSET.CN
Investment Risks:  Moderate/High 
Investment Rewards:   Moderate/High 
Current Price:  $1.00/share
Company Background/Philosophy:  According to yahoofinance.com, Mindset Pharma is "a drug discovery and development company focused on creating optimized and patentable next-generation psychedelic medicines to treat neurological and psychiatric disorders with unmet medical needs."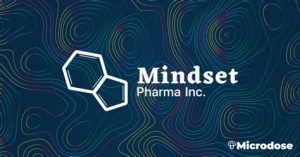 There are four different "families" of products that Mindset Pharma is working to bring into full production:
Family 1: Psilocybin-like prodrugs, substituted and deuterated analog–this compound has a "similar receptor binding and function profile to psilocybin"

Family 2: Next-generation psilocybin optimized for in-clinic setting–in addition to receptor binding similar to psilocybin, Mindset claims it is a "shorter acting, orally active CNS penetrant"

Family 3:Next-generation psilocybin optimized for microdosing with a "long Duration of effect"

Family 4: DMT/ 5-meO-DMT-inspired candidates–Mindset is "currently performing in vitro screening" of this compound 
Recently, James Lanthier ([email protected]), CEO of Mindset, announced he will participate in three upcoming investor conferences:
H.C. Wainwright 23rd Annual Global Investment Conference to be held virtually on September 13-15, 2021.

Oppenheimer Fall Healthcare Life Sciences & MedTech Summit to be held virtually on September 20-23, 2021.

Maxim's Advances in Mental Health Conference to be held virtually on Wednesday, September 22, 2021 from 9:00am – 3:00pm ET.
 Leadership:  As per their website, the management team of Mindset consists of:
James Lanthier, MBA, Chief Executive Officer–Most recently, Mr. Lanthier was a co-founder and CEO of Future Fertility, an innovative early-stage developer of AI applications for human infertility.

Arvin Ramos, B.Comm., Chief Financial Officer–Mr. Ramos has over 15 years of business experience, having supported a broad range of industries, including mining, technology and banking.

Joseph Araujo, BSc, Chief Scientific Officer–A behavioural pharmacologist with extensive experience in facilitating the discovery and development of novel CNS drugs. He has co-founded, held executive-level positions and consulted for Life Science companies including CanCog Technologies, Vivocore, Karyopharm Therapeutics, NPM Pharma, Ketogen, and Epione Animal Health.

Malik Slassi, Ph.D., Senior VP of Innovation–Dr. Slassi was the Founder, President and Chief Scientific Officer of Fluorinov Pharma Inc. acquired by Trillium Therapeutics (NASDQ: TRIL) in January 2016. He is a medicinal chemist with a remarkable track record of success in drug discovery & development in the biopharmaceutical industry, spanning a period of over 30 years.

Jason Atkinson, MBA, CFA, Corporate Development–A finance professional with experience in private equity, venture capital, investment banking and corporate finance. He has played a key role in raising capital and providing advisory services to private and publicly listed entities across multiple industries.
Performance:  The overall trajectory for MSET.CN since December 21, 2020 has been decidedly flat, hovering right around $1.00/share. However, August was a good month for the stock, as it rose $.25/share. 
Walletinvestor.com is rather bearish on MSET.CN, predicting the stock to plummet by 75% of its value over the next year's time frame. Macroaxis is similarly pessimistic, predicting a rather flat performance that plateaus at .$97 per share. 
However, Aaron Raub, senior equity analyst at Ambria Capital, is bullish on Mindset, stating, "We believe that Mindset is undervalued based on a comparative analysis of other publicly traded drug discovery psychedelic companies and feel that the recent investment by the Ontario Brain Institute is a vote of confidence in the management team and a further validation of the company's recent progress."   
Final Thoughts: While Mindset's lackluster performance is concerning, if you want to buy, it would be now with an eye for a short-term gain when the stock rises enough to sell at a decent profit. Much like their competitors, so much depends on when they will actually have their pipeline approved by regulatory authorities. 
---
At Newsweed.com, we adhere to three simple principles: truth, balance, and relatability. Our articles, podcasts, and videos strive to present content in an accurate, fair, yet compelling and timely manner. We avoid pushing personal or ideological agendas because our only agenda is creating quality content for our audience, whom we are here to serve. That is why our motto is   "Rolling with the times, straining for the truth." 
Your opinion matters. Please share your thoughts in our survey so that Newsweed can better serve you.
Charles Bukowski, the Los Angeles beat poet that captured the depravity of American urban life  once said, "There is something about writing poetry that brings a man close to the cliff's edge." Newsweed is proud to stand in solidarity and offer you a chance to get close to the cliff's edge with our first Power of Poetry Contest. Are you a budding bard, a versatile versifier, a rhyming regaler? Do you march to the beat of iambic pentameter, or flow like a river with free verse? If so, here's your opportunity to put your mad poetic chops to the test. Enter our poetry contest for bragging rights and an opportunity to win some cash!