(Disclaimer: These articles are merely informational in nature, and in no way should be considered expert financial advice. As with any investment, psilocybin stocks, especially those owned by newer companies, are subject to significant fluctuations in value. Therefore, caution should always be observed when investing.)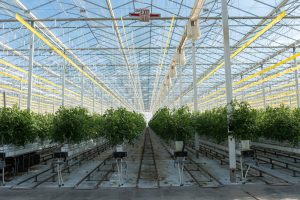 Stock:  VFF
Investment Risks:  Moderate/High
Investment Rewards:  Moderate 
Current Price:  $8.91/share
Company Background:  Village Farms International, Inc. engages in the management and operation of agricultural greenhouse facilities, including the growing of cannabis. 
Its brands include Village Farms Fresh, Pure Sunfarms, Balanced Health Botanicals, Village Fields Hemp, and VF Clean Energy. 
Leadership:  VFF International leadership team consist of:
Michael A. DeGiglio, President & Chief Executive Officer–founder and significant shareholder

Patti Smith, VP, Corporate Controller–overall responsibility for the controllership and finance

Stephen Ruffini, EVP, Chief Financial Officer–assisted the Company's produce division as well as the transition into cannabis in Canada

Orville Bovenschen, VP, European Business Development/ Operations–specific responsibility for new business and operational activities in Europe in the medicinal cannabis sector.

Cintia Zanellato, Corporate Legal Counsel–responsible for all internal legal functions of Village Farms and its subsidiaries related to a wide variety of general corporate, transactional, public company and regulatory and compliance-related matters.

Lofton Barnes, VP, Corporate Human Resources– provides executive-level leadership and guidance to the organization in all areas related to Human Resources strategy

Paul Selina, VP, Applied Research & Development–provides technical expertise and leadership in greenhouse design, climate control systems, and application of new technology.

Jonathan Bos, VP, Asset Development–contributed to the company's production improvements, renovations, technology applications, and asset maintenance.

Bill Lowe, VP, Information Technology–manages the Development, Operations, and Security teams distributed through the US and Canada

Michael Bledsoe, PhD, VP, Food Safety & Regulatory Affairs–leads a team of Greenhouse vegetable and Hemp researchers and growers to develop safe crop protectant tools and products for both industries, thru the IR- Program
Philosophy of the Company: From their website: "We're committed to helping to meet that need while preserving our planet. Farmland is a finite resource. Our cutting-edge greenhouses use less water, land, and chemicals, and we're constantly introducing new technologies to help us be even greener."
Performance:  Market Beat says "Village Farms International has received a consensus rating of Strong Buy.  InvestorsObserver gives VFF stock a rating of 55, which  "puts it near the top of the Farm Products industry" and that this "overall rating means the stock scores better than 55 percent of all stocks." However, Seeking alpha gives VF low scores for Value and Profitability, but a high score for growth. 
Legal Issues: As reported from Big Ben Sentinal:
Village Farms is reiterating its commitment to worker safety at its tri-county facilities after a worker at a Monahan's greenhouse last year sued the company over its coronavirus response.
That lawsuit, from worker Maria de los Angeles Calzada Navarrete, alleges the company wasn't doing enough to provide safe housing to workers or quickly notify them of possible COVID exposures. The lawsuit was brought by Texas RioGrande Legal Aid, a nonprofit legal assistance group.
Without admitting wrongdoing, Village Farms settled the case before trial and agreed to several policies, including notifying workers of possible exposures within 24 hours, allowing exposed workers time off for free COVID tests, offering housing for workers in quarantine and promptly reporting cases to state health workers.
Village Farms International settled a lawsuit with Emerald Health Therapeutics (OTC:EMHT.F) back in 2020.
Sonn Law Group posted this information: "Notably, at this time, Citron Research contends that Village Farms set up a joint venture with companies and operators that have a history of engaging in penny stock manipulation and 'pump-and-dump' schemes. Citron Research has put a target price on VFF at just $1 per share, far below its current market value."
Final Thoughts: While VFF seems to be recovering in the short term, the last 6 months to year time frame have seen flat or falling growth. While this is not significantly different than other cannabis companies, keep in mind the VFF is more than just marijuana, so is subject to those other broader agricultural forces. Moreover, they have had several legal issues, which should give investors pause. 
---
At Newsweed.com, we adhere to three simple principles: truth, balance, and relatability. Our articles, podcasts, and videos strive to present content in an accurate, fair, yet compelling and timely manner. We avoid pushing personal or ideological agendas because our only agenda is creating quality content for our audience, whom we are here to serve. That is why our motto is   "Rolling with the times, straining for the truth." 
Your opinion matters. Please share your thoughts in our survey so that Newsweed can better serve you.
Charles Bukowski, the Los Angeles beat poet that captured the depravity of American urban life  once said, "There is something about writing poetry that brings a man close to the cliff's edge." Newsweed is proud to stand in solidarity and offer you a chance to get close to the cliff's edge with our first Power of Poetry Contest. Are you a budding bard, a versatile versifier, a rhyming regaler? Do you march to the beat of iambic pentameter, or flow like a river with free verse? If so, here's your opportunity to put your mad poetic chops to the test. Enter our poetry contest for bragging rights and an opportunity to win some cash!