A Recap of the close election In NJ
New Jerseyans will have to wait a little longer, perhaps several weeks, to find out who their next governor will be. Late in the race, Ciattarelli held a modest lead over Governor Murphey, prompting him to express his enthusiasm to a jubilant crowd at a Marriott hotel in Bridgewater,
saying
, "I wanted to come out here tonight and tell you that we won. I'm here to tell you that's we're winning."  His enthusiasm was short-lived. 
As
NJ.com reports
, "As of 9:56 a.m. last Wednesday morning, with almost 98% of the precincts in, Murphy was up by 1,408 votes, according to totals from the Associated Press, reversing a 1,193 vote lead Ciattarelli had hours earlier and rivaling the closest race in state history."
However, the race was still too tight to call because there are "significant votes remaining in Camden, Essex, and Union counties, and in particular, significant mail and provisional vote left in Essex County,"  as was reported
Fox News reports
. 
Based on 2020 Presidental polls, where voters supported Biden over Trump in nearly a 3:1 ratio, Essex county is expected to lean heavily towards Murphey. The most telling statistic is the level of educated women in the county.  Given that educated women tend to vote for Democrats, combined with the fact that Essex County women make up 51.80% of the population, Murphey may be able to squeak out a win.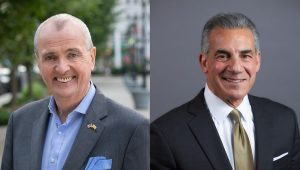 With that in mind, Murphey was carefully optimistic, saying, "We're going to wait for every vote to be counted and that's how our democracy works. We're all sorry that tonight could not yet be the celebration we wanted it to be … When every vote is counted, and every vote will be counted, we hope to have a celebration."
Murphey's measured response is emblematic of a strange dynamic that colors state elections in New Jersey. Although the state reliably and overwhelmingly votes Democratic in national elections, the governorship has often been elusive for the party. Despite their Democratic leanings, since the 1970s, the New Jersey voters have equally elected for Democratic and Republican governors.
And though the last five elections have favored Democrats 4:1, the reelection of a Democrat has proved difficult. As Politico points out, "Should he lose, Murphy would be the latest Democrat to fall victim to a 'curse' in which New Jersey Democratic governors fail to get reelected in a state that votes solidly blue in federal elections. No Democrat has won reelection since Brendan Byrne in 1977, while three Republicans have, the latest being Christie." 
The reality is that the New Jersey gubernatorial race seems to be informed by a set of contradictions in which the challenges of daily life are in sharp contrast with optimism for the future, and a lack of information may work in a candidate's favor. New Jerseyan's overwhelmingly supported Hillary Clinton over Donald Trump in 2016 and President Biden in 2020. With this in mind, it might seem that many voters may see the gubernatorial race as a referendum on Trump.
However, polls don't seem to support this notion. To that end, the New Jersey Globe writes, "While Donald Trump has loomed large in the New Jersey Governor's race, a new Monmouth University Poll released on Wednesday shows that the former president won't be the reason most voters pick between Democratic Gov. Phil Murphy and Republican challenger Jack Ciattarelli." The Monmouth poll revealed less about the candidates than it did about New Jersey voters.
"This was typical New Jersey voter inattentiveness," Patrick Murray, the director of the Monmouth University Polling Institute, said, adding, "Ciattarelli has not been able to introduce himself yet, but these results also mean the Murphy campaign's attempts to paint their opponent as an extremist have not penetrated either."
This lack of information might end up, ironically, working in Ciattarelli's favor, because the Monmouth poll shows that  41% of the state aren't entirely sure where Murphy stands on issues. 
However, while New Jerseyan's seem to suffer from political ADD, they are not out of touch with all of the daily struggles they endure in the Garden State. 
New Jersey consistently ranks as one of the worst fiscally managed states in the Union, just behind Illinois. In fact, according to World Atlas. "Primary debts per capita have gone up making the state rank 50th in short-term fiscal stability and position 48 in long-term fiscal ratings." This data is in line with a recent report by the firm Truth in Accounting, which found "New Jersey's debt burden at nearly $210 billion – the equivalent of more than $65,000 per taxpayer. " 
New Jerseyan's must also contend with exorbitant property taxes, with the average property tax bill weighing in at $10,000. The New Jersey Business and Industry Association points out that this amount "represents 2.37 percent of the average home value, which is more than twice the national average." Taxes as a whole, including income and sales taxes, comprise the largest issue block for New Jersey voters, garnering  52% of the response in the Monmouth poll.
The contrast could not be more painfully obvious. While  Ciattarelli ran on a campaign promise to lower taxes, Murphy famously quipped, "if you're a one-issue voter and taxes are your issue … we're probably not your state." The general economy, especially the cost of living, came in second in the poll, while education came in third as a top priority. 
This is why the election is so close because although New Jersey leans liberal, the daily reality for New Jersey residents under the stewardship of Murphey has been no rose garden. And though the pandemic initially gave a boost to Murphy, over time frustrations mounted as people lost jobs, and to some degree, hope. Politico frames it this way: "Underneath the national issues, out-of-work New Jerseyans faced long waits for unemployment benefits during the pandemic due to a crush of applications and an outdated computer system. They also faced long wait times at motor vehicle offices, to the point where place-saving in line became a cottage industry."
Meanwhile, in neighboring New York, there is no mystery regarding the governorship, where Eric Adams, the current Brooklyn borough president, soundly defeated Republican challenger and "Guardian Angels" founder Curtis Sliwa. Whether that magic will find favor over The George Washington Bridge, only time will tell. 
This is a recap of what happened in the new Jersey Election.
---
At Newsweed.com, we adhere to three simple principles: truth, balance, and relatability. Our articles, podcasts, and videos strive to present content in an accurate, fair, yet compelling and timely manner. We avoid pushing personal or ideological agendas because our only agenda is creating quality content for our audience, whom we are here to serve. That is why our motto is   "Rolling with the times, straining for the truth." 
Your opinion matters. Please share your thoughts in our survey so that Newsweed can better serve