When you are tied down all day life can seem to drag. That's why everyone needs a pick-me-up. We here at Newsweed have crafted a trifecta of energizing bud, electrifying tunes, and eclectic snacks to help you have some fun or even just get through your day.
For our strain of choice, we have to recommend the Sativa dominant Copper Chem. This strain zapped itself into existence when breeders crossed the hybrid Stardawg with another hybrid, Chem4. Although these two strains were moderate hybrids, Copper Chem is a heavy-duty Sativa, meaning this uplifting strain will give you the jolt you need to get through your work or shock you into the life of the party. This strain also has reported effects of relieving pain and depression.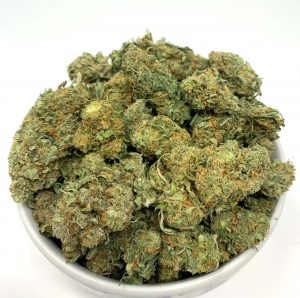 Copper Chem strain
Source: bcmedichronic.io
A Leafly user writes "It doesn't slap you at all but it gives you a strong gentle lift. It gives you an initial dose of energy and stress-melting, pain-relieving medicine. It has a creeper effect. It definitely comes on with a cerebral high that makes you feel very good. Excellent for depression. Excellent for appetite. Really great for energy and high functioning cannabis users that have used high dose for a long time."
The energy and pleasure without the static fuzz sound like a great way to enjoy your day and bring back some joie de vivre (which sounds like a cool name for an awesome new strain). Not only are the effects of this amazing, but the aroma of pine and the taste of herbs and spice is a great way to liven the party and put some zip in your dip, or some hip in your lip, or, okay, I'll stop. Anyway, if you're looking for a daytime strain to kick your mind into high gear and electrocute your work to ash, look no further than Copper Chem. It's excellent.
So . . . is it excellent, or most excellent?
When I'm hyped up and feeling good there is one album that always complements those good vibrations, and that is Midori's (ミドリ) 2008 album "Aratamemashite, hajimemashite, Midori desu.(あらためまして、はじめまして、ミドリです。)." This femme-powered Japanese art-punk and noise rock album is sure to get you both headbanging and dancing. My favorite song, 'Yukkiosan,' demonstrates so elegantly what I love about Midori:
The ability to switch from chaotic noise punk and poppy catchy choruses. The jaunty piano on a song like 'Osaru' combined with the erratic vocals creates a unique sound that will match the chaotic energy that you are feeling while high.
Now I realize this album is very different and isn't for everybody but for the open-minded stoner this album might be your new personal favorite. Even so, songs like "Gobyoushi" present a more traditional rock song approach with a fun rhythmic piano line and rich distorted guitar. The album even concludes with an all-out psychedelic rock-inspired jam session that will send you on a 70's trip with a unique Japanese flare in the song "Muyokunomuryoku."
Overall, this eclectic and energetic mix of punk and art rock will keep you moving and ready to take on whatever comes your way.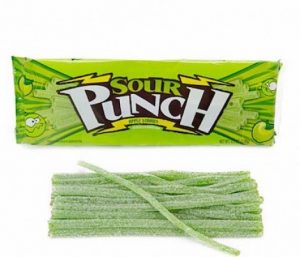 Lastly, you are gonna need an electrifying snack to fulfill your empty static stomach. There is no better snack to fill that role other than Green Apple Sour Punch Straws! These bright green and sparkly ropes will satisfy the chewy candy need while providing an exhilarating sour tang to keep you on your toes and ready to work or dance the day away. Most excellent, and electrifying!
---
At Newsweed.com, we adhere to three simple principles: truth, balance, and relatability. Our articles, podcasts, and videos strive to present content in an accurate, fair, yet compelling and timely manner. We avoid pushing personal or ideological agendas because our only agenda is creating quality content for our audience, whom we are here to serve. That is why our motto is   "Rolling with the times, straining for the truth." 
Your opinion matters. Please share your thoughts in our survey so that Newsweed can better serve you.
Charles Bukowski, the Los Angeles beat poet that captured the depravity of American urban life  once said, "There is something about writing poetry that brings a man close to the cliff's edge." Newsweed is proud to stand in solidarity and offer you a chance to get close to the cliff's edge with our first Power of Poetry Contest. Are you a budding bard, a versatile versifier, a rhyming regaler? Do you march to the beat of iambic pentameter, or flow like a river with free verse? If so, here's your opportunity to put your mad poetic chops to the test. Enter our poetry contest for bragging rights and an opportunity to win some cash!