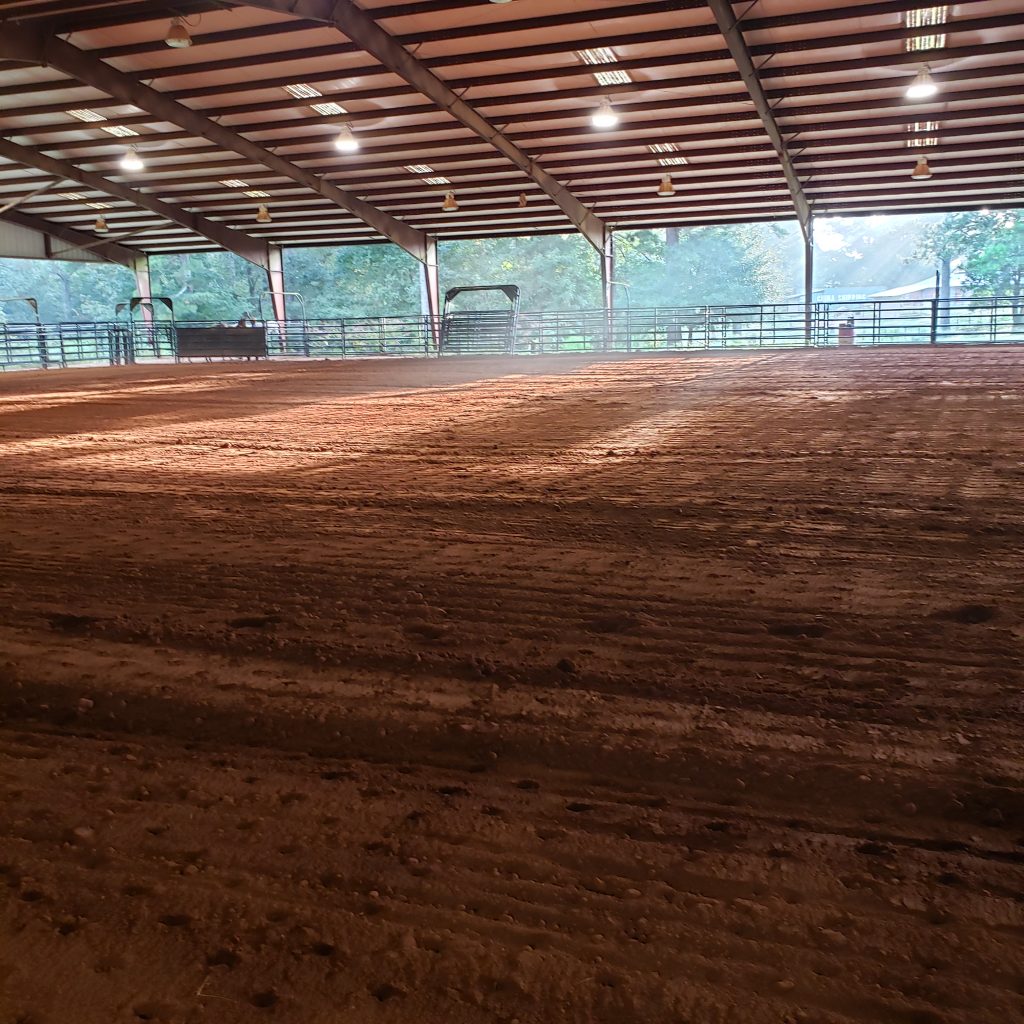 Day begins to break on the farm as the sun peaks over the horizon. The morning air is crisp when the fog slowly starts to roll away. Horses stir breaking the calm silence that envelopes the barn. I can hear a faint whinny in the distance amid the clanging of hooves on the metal gates that close them in. It's almost breakfast time and the barn will soon be buzzing with activity.
We are at a Brent Graef Horsemanship clinic for my daughter, Taylor. She is learning a better way to communicate with and teach her horse. Brent criss-crosses the country teaching world class competitors and backyard enthusiasts to see things through equine eyes. Rather than increasing pressure until the horse escapes only by doing the right thing, Brent teaches people to communicating effectively with their animal so that it wants to make the right choice.
My Daughter and Her Horse-Riding Hobby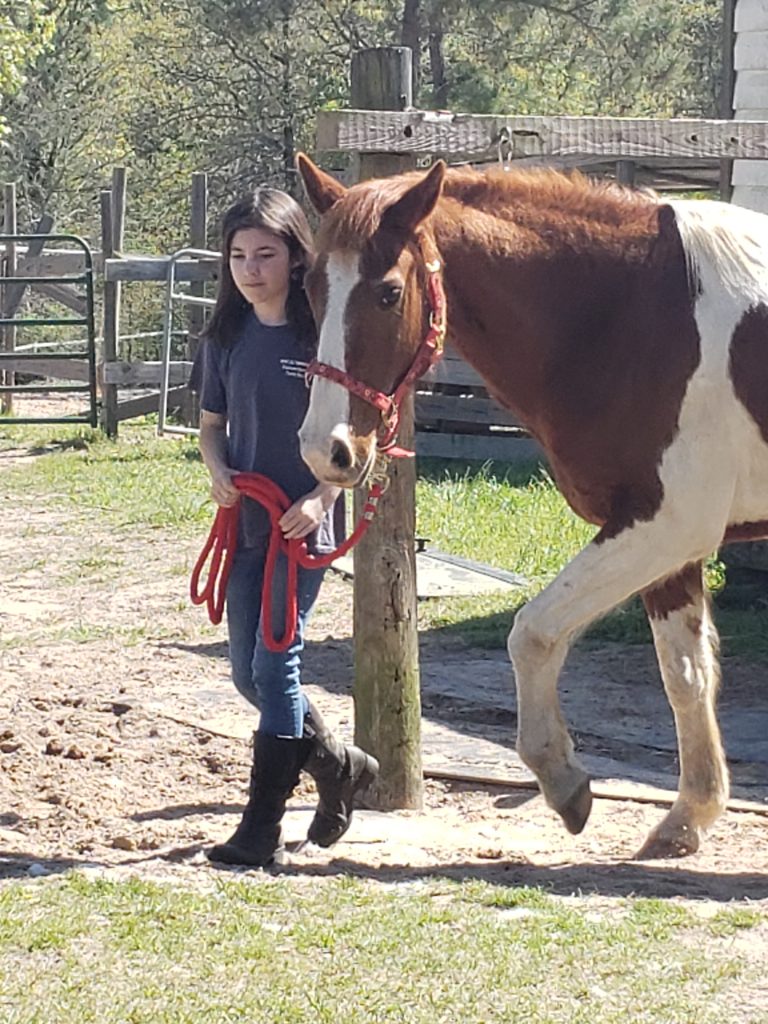 Taylor is passionate about horses. Not only will this clinic make her a better owner, but it will make her a better competitor too. She loves barrel racing and she's pretty good at it. She places an average of five out of every seven events she enters and nearly made it to state in her very first season. I'm a proud mama.
It is a little nerve racking because they are such enormous creatures. While Taylor is a confident 13 years old, she doesn't weight 80 pounds soaking wet. When she gets near horses, though, she thinks she's ten feet tall. As with most kids her age, she knows no fear.
Horsemanship and competitive riding give her a positive place to focus her time and energy. Plus, training and preparing for shows helps keep her away from many of the bad influences that abound. Taylor gets the excitement and adrenaline rush she's craving when she's on the back of a horse at a full gallop.
There's nothing a horse lover gets more excited over than the prospect of riding in wide open fields with the wind at their back. Taylor also feels a huge sense of accomplishment every time she wins an open competition against much older, more experienced riders. It's good stuff all around.
Investing in Horsemanship Skills
Horses are large, majestic creatures, half a ton of pure muscle with a personality to match. While there are over 400 different breeds of horses, their genome structure is remarkably similar to that of humans. They don't understand verbal commands, so they rely on visual cues and body language to communicate.
Every time you interact with a horse, you are communicating. You're either teaching it something good or teaching it something bad. The thing is that a horse can't see the rider perched atop its back. It can only respond to the body language it feels making groundwork hugely important.
Groundwork improves the communication process and helps build trust between the animal and its rider. It also lets them both know exactly what to expect from each other for a better experience under saddle. My goal is to give Taylor the opportunity and the tools to strengthen those skills for safety's sake.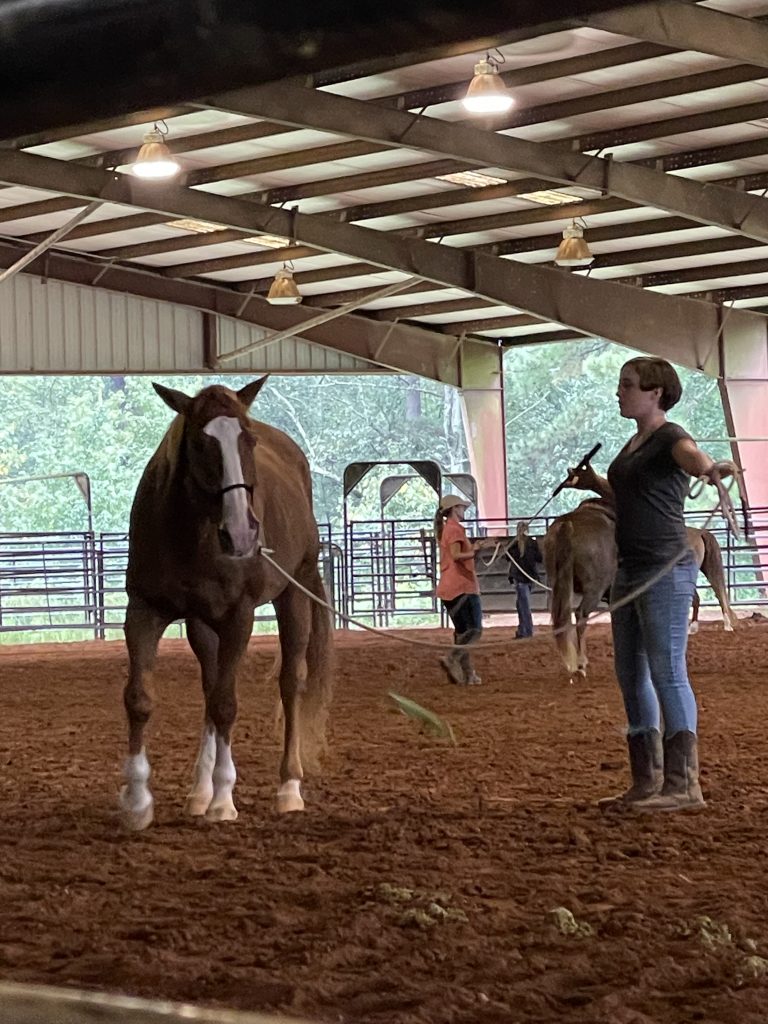 Paying for this clinic was no small investment but it was worth every penny. Taylor is learning more than I could ever teach her about horses. She was one of two children in a class full of adults, but it didn't faze her at all. She just wore her big girl panties and stepped into that arena like she deserved to be there – because she did. Her riding coach was also there training so that probably offered her some comfort.
Learning Horsemanship
Most clinic participants arrived on Thursday evening. They spent their time unloading horses, letting them graze, and getting them settled in their stalls. Many of these horses had never spent any time in a stall before the clinic and had to be slowly introduced.
The first day of the clinic was all about groundwork. Brent spent a lot of time on perception, patience, and encouragement. He taught on proper form and technique while actually showing students how to apply the knowledge he was imparting. It was really something special to watch.
The first thing Brent did was assess every student with their horse. He chose those who were the most disruptive and possibly dangerous to work with first. Getting those animals under control and showing their trainers what to do was priority to ensure the safety of the other students.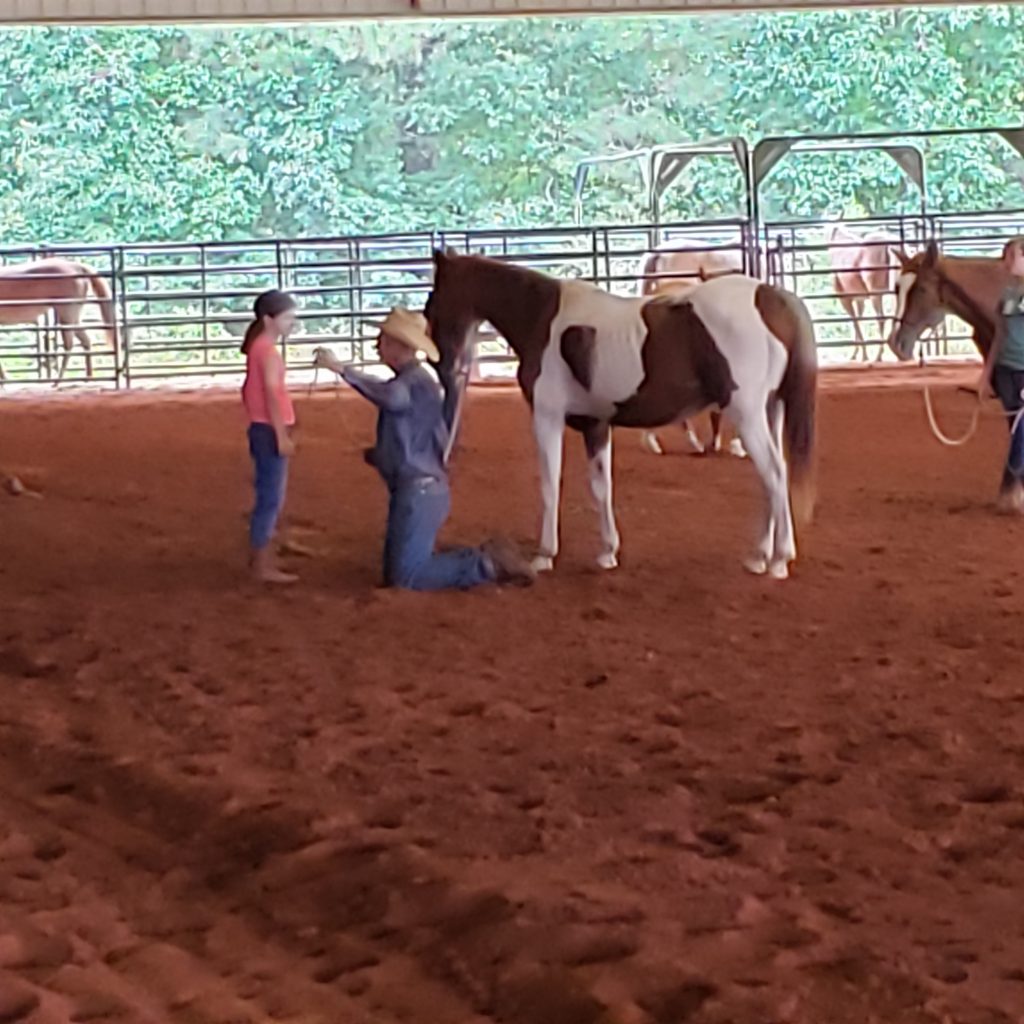 Those who initially felt overlooked or confused were quickly reassured by Brent's inclusive soft-spoken demeanor. He worked and spent time with every student individually as well as the entire class as a unit.
My daughter is barely four feet tall and rather than towering over her, Brent got on his knees to show her how to handle her horse from 48 inches above the ground. Not a single horse was saddled or ridden until Brent was finished teaching.
The next day also started with groundwork to ensure everyone had time to practice the fundamental skills learned the day prior. It was half-way through class on the second day before anyone saddled up to ride and they were all bursting with excitement over their new-found techniques. It showed in both the horses and their riders.
ROI More Than a Better Ride
In short, the Brent Graef Horsemanshp Clinic was three full days of intense training, fundamental learning, and the forging of deep psychological bonds that nourish the soul. The connections between horses and trainers were reinforced and strengthened with the almighty trust factor as they learned to communicate effectively.
The people there formed a type of community with strong alliances to both each other and the animals. Everyone was welcomed to be a part of the group and willing to help others in need. Even beginners were welcomed with open arms and made to feel like they belong.
The camaraderie didn't stop with the animals or the class. There were potluck meals, conversations over coffee, Saturday morning cinnamon rolls, and even a Sunday morning bible study devotion. It seemed that everyone was exactly where they wanted to be and only too happy to grow the horse lover's community.
This was the first horsemanship clinic we participated in, and it was a pleasure to be a part of such a wonderful experience. It was a worth-while investment in my daughter's future and the colossal painted gelding that will be alongside her for years to come. We learned more than we can share as we grew closer to each other and our animal.
As the sun set on the third day, the dust settled in the barn. The arena was empty and quiet except for the sound of crickets chirping in the distance. Only tracks remained on the sandy floor as a silent reminder of the bonds that were developed in the building that weekend.