Do you like movies? Exciting stories about topics that interest you? Enjoy going to a movie theater? Alone, or with others? Does the smell of freshly popped movie theater popcorn make you rise up by your nose and start floating towards…wait…only in cartoons and concession stand commercials does that happen to humans. Silly me. How about laughing out loud with a hundred strangers? Something magical to that. I experienced it the first time, watching a 1973 Woody Allen film called, Sleeper. I was a young teen when it was released.  It contained several scenes where the people in the audience were busting a gut, laughing so hard. Let me rephrase my question. Who the hell doesn't like the movies? If you have been living here in America for a hundred years or less, you know the final cut that some go to film school for. Others make it up as they go along. The odds of someone walking into this new, horror, sci-fi, fantasy film museum that goes by the name of Cineloggia and not knowing at least one film where they have actual items from is virtually non-existent. You could have been in outer space, living on the international space station and still, you would sooner or later become aware that Bill and Ted, in the year 2020, had yet another adventure.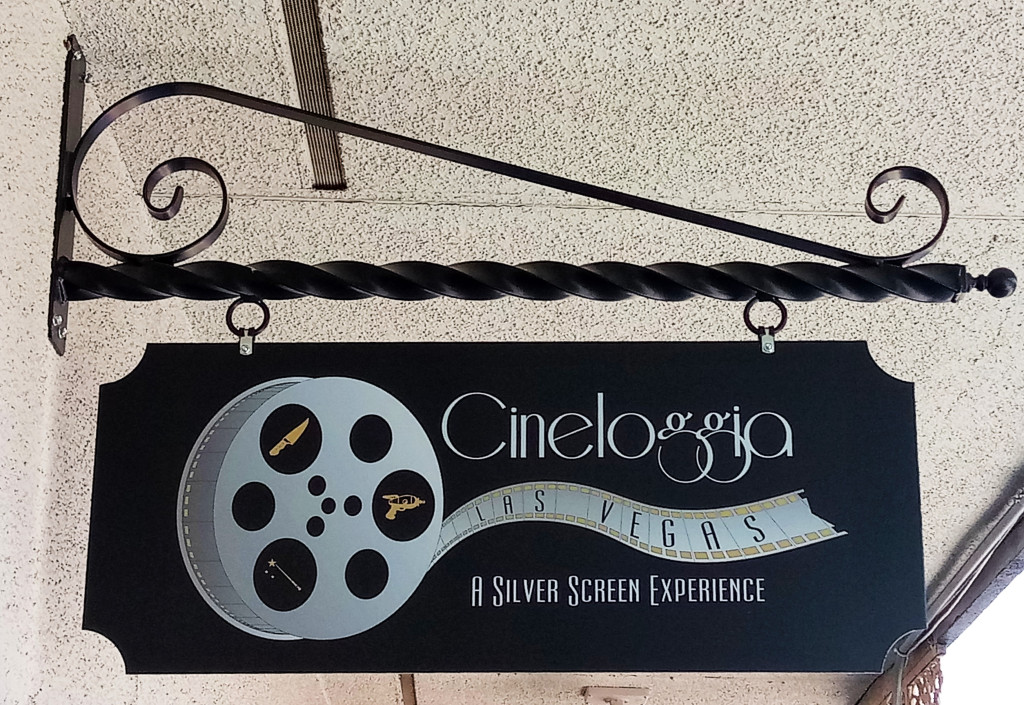 Here in Las Vegas, it's a few minutes ride, maybe more in heavy traffic, from where the location of Cineloggia is and the world-famous Las Vegas Strip. Off Sahara Avenue on Karen Avenue in a commercial plaza that is in the middle of a noticeable comeback. Different buildings throughout the property.

You'll find Cineloggia upstairs from Hellbound Horror Collectibles. Open less than two years, it is a thriving in-person and online business. I visited the unique shop after checking out the grand opening of Cineloggia. I walked out with a cool Chucky tin. Made me happy!
I walked into Cineloggia and was greeted by the owner, Dean Street. I identified myself, said I was a writer, passed on one of my business cards, but didn't promise anything about doing a story. We talked for a few minutes. I asked some questions about the place. I paid my $20 fee to get in and proceeded to look at each and every display there was. Somewhere around 235 items. It would be overkill if I said they had some of the coolest things on Earth. Behind the scenes, there were serious collectors that I imagine are doing what they can to obtain items from TV and movie history to preserve, so not to fade away. I sensed a real love for what was going on.
Step Right Up
The very first thing I noticed when I first walked into the world that is Cineloggia, besides the way the place is decorated, was a line of people.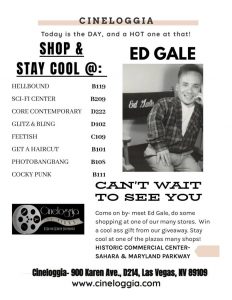 Besides the eye-catching cool movie props and all that, sitting at a table signing autographs was a man who you may not know by name, but if I mention some of his movie or television credits, the bells go off. He appeared in some really popular productions over the years. He's a little younger than I am. At six feet, I tower over him. He is, unfortunately, suffering some health problems, as of late. His name is Ed Gale. An actor and stunt man who appeared in a lot of TV shows or movies that I watched and enjoyed such as Child's Play (1988), 3rd Rock From The Sun (1998), Howard The Duck (1986 – FYI: Mr. Gale played Howard The Duck), Spaceballs (1987), Just Shoot Me (2001)… just to name a few. It's been said that it's hard keeping steadily employed in Hollywood, but Ed seemed to do so, up until he retired. Very approachable. Nice guy! I talked to him for a spell. If I would have had more money on me, I would have gotten an autographed picture from him. He was there trying to make a few bucks. Nothing wrong with that. Maybe next time? Cineloggia says they will have 'special guests' from time to time, who were involved in the entertainment industry, for signing events. Keeps things interesting if you ask me. Anyone interested could sign up on the Cineloggia website and they will be sent updates as they become available.
Exhibits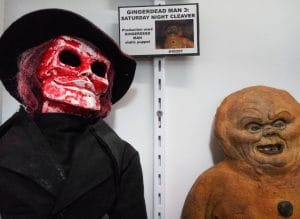 With over 200 items to look at, something that took me roughly about 90 minutes to do, I, of course, had my favorites. There were also things that I may not have cared about but others may go crazy over, such as Wonder Woman's Lasso Of Truth. I kind of quit watching comic book and zombie things about a decade ago. Rare exceptions, nowadays. I get tired when the same story is told again and again; origin stories. If I was a teenage boy, I'm sure that I would have more of an interest. Back then if I had a crush on a TV or movie actress, I'd watch anything they were in.
Actual items are seen on screen or associated with. Each item has information displayed. Don't be like me and get caught up in the moment. It could get you in trouble. There is nothing here that you can touch or interact with. There are cameras, alarms, and items are behind barriers. It's not Fort Knox. Typical museum with the typical DON'T TOUCH rules. Trying to get a picture of something and getting too close to the actual item, I was warned not to do that. Understandable. You have been warned! Using zoom and figuring out the best way to shoot something, even if that meant sitting on the floor, I got some pretty damn good photos. Almost 50 as a matter of fact. Seeing how it cost me twenty bucks for admission, that works out to 40 cents a picture. Good quality shots too, if I say so myself.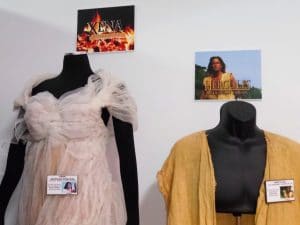 I loved, in no certain order, items from most of what is found here. The ones who secure these items, and me, seem to have the same taste in what we enjoy to stimulate our minds with from time to time. The first picture I took was items from Full Moon Features flicks Blade, Gingerdead Man, and ShitForBrains puppets used in production of one of their films. Blew my mind! And it only got better from there. A shark from Sharknado 3, clothing from Xena and Hercules, The Terminator, and Hellraiser franchises, Superman's cape, and so much more. A golf ball and tee from the television show Lost. Cool items from the Halloween and Nightmare On Elm Street franchises. They have a canister of The Stuff, one of those creatures that live underground in Tremors, and the head of Jack Frost from Jack Frost 2: Revenge of the Mutant Killer Snowman. All this, and again, much more, a mile from where I am staying now. Maybe for safety concerns, I should relocate? A ninety-minute drive and I'm in Death Valley. I could be safer there. Only kidding. I plan on making many return trips to Cineloggia as their displays change and grow. I'll be looking for cool celebrities from the world of horror, sci-fi, and fantasy films, TV shows, and movies to appear and offer photo ops and autographs at a reasonable price.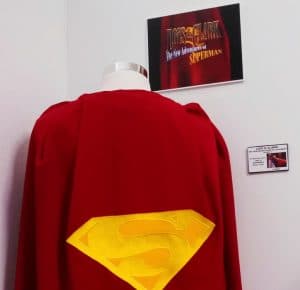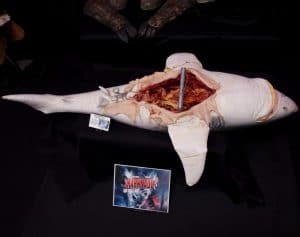 If you're looking for something cool to do and into all that I mentioned, then I strongly recommend visiting Cineloggia at the next opportunity you get. Things there now, such as the knife used to kill Laurie Strode in Halloween 8: Resurrection (2002), might go back into hiding so that other new curiosities could appear. Careful if you bring the kids. Remember: Don't Touch!
Gary "Uncle G" Brown (GaryBrown@garyunclegbrownarchives.com)
Originally published on: https://garyunclegbrownarchives.com/2021/07/16/uncle-gs-fun-las-vegas-reviews-cineloggia-2021/