Troy Smocks, the Dallas man accused of posting inflammatory social media messages inciting people to violence at the U.S. Capitol on Jan. 6, has received a stiff penalty for his role in the event.
According to Reuters
, "U.S. District Judge Tanya Chutkan sentenced Troy Smocks, 58, to 14 months incarceration and three years supervised release after he entered a guilty plea to a charge of making threats in interstate communication." Showing her contempt for his actions and speech, Judge Chutkan
stated
, "Mr. Smocks, from the safety of his hotel room, had the nerve to call people trying to defend the Capitol that day 'cowards,'" adding, "He had the audacity to call the rioters 'patriots.'"
It was this use of extreme, inflammatory language which landed him in legal trouble. 
As reported by CNN,
Smocks "posted on right-wing social media platform Parler and encouraged people to follow the call of former President Donald Trump, his son Eric Trump and Republican Rep. Mo Brooks of Alabama, and to take up arms as 'American patriots' after the Capitol building was secured on the evening of January 6." 
Specifically, Smocks'
affidavit claims
he made the following post on Parler as "ColonelTPerez": "Today, January 6th, 2021, We Patriots by the millions have arrived in Washington, DC, carrying banners
 of support for the greatest President the World has ever known. But if we must…
Many of us will return on January 19th, 2021, carrying our weapons in support of Our
nation's resolve, to which the world will never forget. We will come in numbers that no
standing army or police agency can match. However, the police are NOT our enemy,
unless they choose to be! All who will not stand with the American Patriots…or cannot
stand with us, then, that would be a good time for you to take a few vacation days."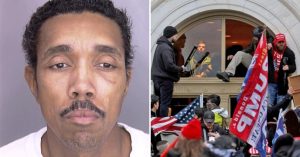 Troy Smocks received 14 months behind bars for his role in the January 6 Capitol riots.
Source: metro.co.uk
Smock threats were bolstered by his call for using weapons.
One post said
, "Prepare Our Weapons, and then go hunting. Lets hunt these cowards down like the Traitors that each of them are. This includes, RINOS, Dems, and Tech Execs. We now have the green light."
It is still unclear as to whether or not Smocks physically participated in the riot, though he did travel to D.C. the day before .
According to the Dallas Morning News
, Smock's attorney has stated he "did not participate in the riots in any way, and did not even go onto the U.S. Capitol grounds." However, it is also reported that "An FBI agent testified earlier this year that Smocks told him he attended Trump's speech and then walked to the Capitol with the crowd and watched the chaos from nearby." 
In a desperate gambit to reduce his sentence, Smocks, who Judge Chutkan felt lacked  "genuine remorse," attempted to use race to defend himself.
As Buzzfeed reports
, "Smocks [who is Black] told Chutkan that he believed he had been treated more harshly than white Trump supporters who were charged with misdemeanor crimes for going into the Capitol. He claimed to be the only Black person charged in connection with Jan. 6 to face pretrial detention." 
But Judge Chutkan didn't buy the story, and blasted Smocks,
saying
, "Coming into this courtroom and trying to make yourself out to be a victim of racism… I find that offensive," she said. "There are people who died for civil rights. For you to hold yourself up somehow as a soldier in that fight is really quite audacious." Moreover, the judge rejected Smock's claims that he was the only Black person charged in connection with Jan. 6 to face pretrial detention. Buzzfeed reports that Chutkan "presided over a hearing for Mark Ponder, a Black man charged with assaulting police at the Capitol who was also ordered to stay behind bars." 
Smocks may have something else, however, in common with Ponder. Ponder appears to have a criminal background.
The Pahrump Valley Times reports
that Ponder is "a former bank robber who founded Hope for Prisoners, a Las Vegas organization that helps criminal offenders re-enter the workforce, family life and society"
while
Smock's "criminal history includes about 18 convictions dating back to the early 1980s, according to federal court records."
Strangely enough, Ponder was actually pardoned by President Trump for his previous crimes at the White House Rose Garden for the National Day of Prayer in 2018.  Trump praised Ponder,
saying
, "Your story reminds us that prayer changes hearts and transforms lives. It uplifts the soul, inspires action and unites us all as one nation, under God. So important."
Perhaps even more ironically, Ponder made the
following statemen
t at his pardoning ceremony: "My hope for America is that law enforcement and people in the communities across the country can come together and realize that as Americans we have more in common than we have differences." 
---
At Newsweed.com, we adhere to three simple principles: truth, balance, and relatability. Our articles, podcasts, and videos strive to present content in an accurate, fair, yet compelling and timely manner. We avoid pushing personal or ideological agendas because our only agenda is creating quality content for our audience, whom we are here to serve. That is why our motto is   "Rolling with the times, straining for the truth." 
Your opinion matters. Please share your thoughts in our survey so that Newsweed can better serve you.
Charles Bukowski, the Los Angeles beat poet that captured the depravity of American urban life  once said, "There is something about writing poetry that brings a man close to the cliff's edge." Newsweed is proud to stand in solidarity and offer you a chance to get close to the cliff's edge with our first Power of Poetry Contest. Are you a budding bard, a versatile versifier, a rhyming regaler? Do you march to the beat of iambic pentameter, or flow like a river with free verse? If so, here's your opportunity to put your mad poetic chops to the test. Enter our poetry contest for bragging rights and an opportunity to win some cash!