When you smell or taste a piney, yet simultaneously floral accent in marijuana, it's likely terpinolene, one of the many terpenes that enrich our experiences with weed and contribute to the entourage effect.
Leafly states
, "One word that comes up often when describing terpinolene's taste and smell: fresh. It's part of the reason terpinolene shows up as an additive in soaps and perfumes." 
Additionally, terpinolene is found in a variety of food products, including alcoholic beverages, baked goods, chewing gum, frozen dairy goods, puddings, and candy, making it a versatile and valuable natural additive. If it tastes piney, yet simultaneously citrusy and sweet, there's a good chance that terpinolene is present.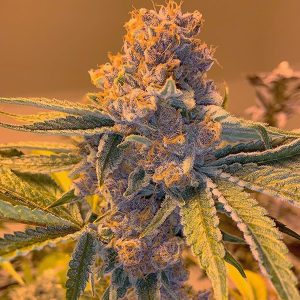 Overall, terpinolene has a sedating effect upon our nervous system, thus potentially ameliorating the sometimes paranoid aspects of a marijuana high. Although more research is needed, there are a number of promising health benefits associated with terpinolene.
One study found that terpinolene can "effectively prevent low-density lipoprotein (LDL)-oxidation," meaning that it could improve coronary outcomes for people with heart disease. 
Another promising area is treating cancer. As reported in Cannigma.com,"Research published in 2011 examining its effects on human cells found that it reduced the expression of AKT1, a protein involved in cell proliferation and apoptosis. They also noted that it had a distinct effect when it came to inhibiting cell proliferation." Similarly, another study concluded terpinolene        ". . . is a potent antiproliferative agent for brain tumour cells and may have potential as an anticancer agent, which needs to be further studied." 
According to askgrowers.com, the following marijuana strains contain terpinolene, mainly expressed in the aroma and taste of the buds:  
Sour Tsunami– a hybrid cross between NYC Diesel and Sour Diesel

Black Cherry Pie–a fruity hybrid of Blackberry Kush and Cherry Pie

Grape Valley Kush–a powerful Indica with a debilitating THC level in excess of 20%

LSD- an indica strain that comes from the crossing of  Mazar-I-Sharif and Skunk No. 1 

Pineapple Express–the infamous sativa-dominant hybrid strain from G13 Labs that was developed by crossing the Trainwreck and a Hawaiian weed

Blueberry Blast–a  100% Sativa strain developed by Snow High Seeds with an insane amount of THC

London Poundcake– an offspring of Lemon Sherbet with a strong indica profile 

Lemon OG Kush–this well-balanced hybrid strain's lineage includes Las Vegas Skunk and the OG #18 

Crazy Glue–this balanced hybrid strain is the product of a cross between Bubba Kush and Gorilla Glue
At the end of the day, terpinolene is a secondary terpene, so if you shop for ganja with terpinolene in mind, the idea is taste. If you like fresh, then any weed with terpinolene is going to please your proboscis and palate. 
---
At Newsweed.com, we adhere to three simple principles: truth, balance, and relatability. Our articles, podcasts, and videos strive to present content in an accurate, fair, yet compelling and timely manner. We avoid pushing personal or ideological agendas because our only agenda is creating quality content for our audience, whom we are here to serve. That is why our motto is   "Rolling with the times, straining for the truth." 
Your opinion matters. Please share your thoughts in our survey so that Newsweed can better serve you.
Charles Bukowski, the Los Angeles beat poet that captured the depravity of American urban life  once said, "There is something about writing poetry that brings a man close to the cliff's edge." Newsweed is proud to stand in solidarity and offer you a chance to get close to the cliff's edge with our first Power of Poetry Contest. Are you a budding bard, a versatile versifier, a rhyming regaler? Do you march to the beat of iambic pentameter, or flow like a river with free verse? If so, here's your opportunity to put your mad poetic chops to the test. Enter our poetry contest for bragging rights and an opportunity to win some cash!