Whether it's hundreds of miles of beautiful nature trails with babbling brooks and waterfalls pouring from the Ozark Mountains, premium outdoor concerts at the Arkansas Music Pavilion, watching the Razorbacks play football in a state-of-the-art stadium, or walking the serene grounds and touring the installations of Crystal Bridges Museum of American Art, Northwest Arkansas, known affectionately by locals as NWA, offers a lifestyle that is at once naturalistic and cosmopolitan. It's also a kick-ass place for marijuana smokers to live.
In reality, NWA is not just a gorgeous geographic region, but a collection of small cities and suburbs, all within an hour or less drive from one another, each presenting different kinds of ventures, entertainment, and social and business opportunities. Let's take a look at what these places have to offer.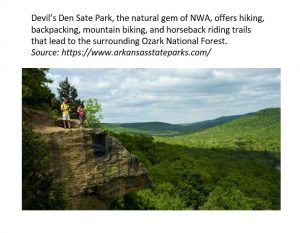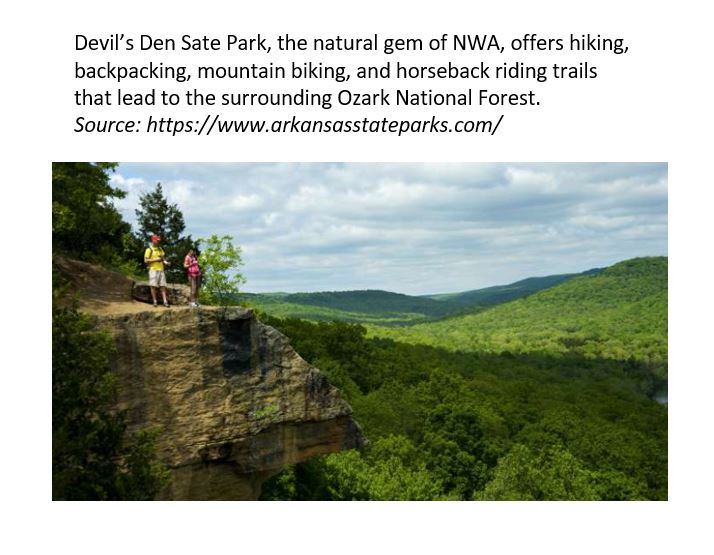 Fayetteville for Marijuana Smokers 
Home of the central campus of the University of Arkansas, Fayetteville offers a hip urban vibe combined with green ethos all nestled among the foothills of the Ozarks. Fayetteville is proud of its progressive and innovative public policy. "We were the first city in the state to issue an urban agri-ordinance allowing residents to grow their own food and sell it out of their homes," says Fayetteville Mayor Lioneld Jordan.
And if you're into cycling or walking, look no further than The Northwest Arkansas Razorback Regional Greenway, a 36 miles (58 km), primarily off-road, paved trail that travels on a north-south axis through Northwest Arkansas. If you're a foodie or a locavore, Fayetteville also offers an open-air farmers market featuring locally produced vegetables, fruits, flowers, plants, meats, baked goods, honey, eggs, jams, juried crafts, and fine art from the four-county area. It's not hard to imagine the allure for cannabis tokers of loading up on local munchies, biking through pristine trails, and having a healthy outdoor feast along the way.
If entertainment is your bag, head over to the Walton Arts Center, which features up-and-coming artists and quality shows from a variety of performing genres, including the smash-hit musical, "Hamilton!" Of course, Fayetteville offers smaller entertainment venues, and is particularly known for the myriad of restaurants and bars on Dickson Street, many offering local brews and bands, all in walking distance of each other. This combination of granola, leisure, and nature make Fayetteville a haven for ganja lovers of all stripes, or pipes.

Bentonville for Marijuana Smokers 
Bentonville, located just 25 miles north of Fayetteville, is the business hub of NWA. This is primarily because of the heavy footprint of Walmart, which is headquartered in this small, but vibrant city. Bentonville's motto is "Now this is a great town," and the town lives up to it. Much like Fayetteville, Bentonville is surrounded by rolling hills and miles of trails for hiking and biking.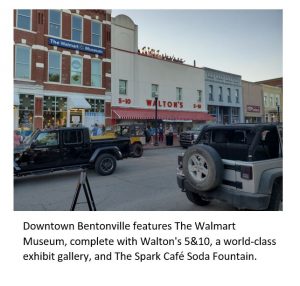 If you dig art, Crystal Bridges Museum of American Art is a feast for the senses, especially during the winter when they feature North Forest Lights, "an enchanted nighttime walk through the woods featuring dynamic, nature-inspired lighting elements, and immersive soundscapes."  A splash of sativa before the jaunt would make for a heady, nearly spiritual experience for most Kush Lords and Ladies.
Bentonville is also home to The Source, a premier medical cannabis dispensary. If you're picky about your pakololo or finicky about your flower, the budtenders at The Source will help you choose just the right strain with no pain. You will of course need to obtain your Arkansas medical marijuana license to be a customer at any dispensary in the Natural State.
Rogers for Marijuana Smokers 
Much like its sister cities of Fayetteville and Bentonville, Rogers is highly ranked for the quality of life it affords its residents. In fact, in 2010, CNN Money ranked Rogers #10 on their list of 100 Best Places to Live. Rogers offers plenty of dining opportunities. From the fine Italian dining experience of Capriccio Ristorante to the modern interpretation of Asian fare at Modoko Asian Kitchen, your THC-stimulated taste for grub will be pleasantly satisfied.
And if you need something on the sweeter side to assuage your indica-induced munchies, take a trip to Andy's Frozen Custard, which serves up incredibly tasty ice-cream confections. The best part? Andy's has a drive-thru, convenient for hungry cannabis connoisseurs. Of course, you will need to work off all those extra calories, and with summer approaching, what could be better than taking a swim at Rogers' Aquatics Center, a beautiful three acre waterpark filled with water fun, including the Tree Top Drop, White River Run and sand volleyball courts.
There are many other small cities, such as Bella Vista, Springdale, Pea Ridge, and Lowell, each with different vibes, amenities, and attractions. That's the coolest thing about NWA: you have your choice of a dozen or so communities, all tightly clustered in a relatively small region that is blessed with an abundance of natural beauty. What more could a weed head want?