Colombian presidential candidate Gustavo Petro raised a massive controversy in the South American nation, as he explained he would propose a "social pardon" to corrupts in case he's elected president. The remarks seem to confirm some of the accusations that his fiercest critics, who have claimed that the radical left-winger would make the "corruption monster" even bigger.
It is important to explain that one of the main problems that Colombia has been experiencing over the last few years has been the corruption or "mermelada," to the point that this is one of the main elements that the vast majority of voters signal when they explain why the country needs a change.
While Petro Has already made this "social pardon" promise in the past, the latest case came after his brother Juan Fernando Petro visited corrupt Ivan Moreno in La Picota prison. This was an extremely controversial situation since Moreno is known for being a shady figure that robbed a massive amount of money in Colombia's capital Bogota.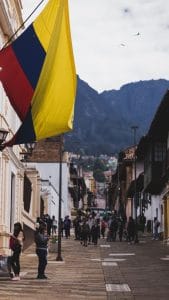 This way, Petro's mistake in making this comment wasn't exclusively based on the proposal itself, which is an absolute disgrace. The elements that made these remarks so incredibly scandalous is because of the timing and the association with such a terrible figure like Moreno.
As you can expect, the outrage among millions of Colombians was incredibly strong after the comments. People on social media were claiming they were not going to vote for Petro, with some others pointing out that this was the full confirmation that Petro wouldn't solve the corruption problem in Colombia if he finally wins the presidential election.
Of course, the scandal was high enough to make Petro walk back on his comments, which is a huge surprise considering that he has made some even more controversial remarks in the past, and he hasn't corrected them yet. Naturally, this only means that he's not willing to commit the mistakes he made in the previous presidential election, where he lost against Ivan Duque.
Petro's comments fired back at him.
In addition to the comments on social media, with many users blasting Petro for the idea that he could reduce the sentences of many people who are in jail for corruption, the other element that made Petro walk back from these comments was the fact that the whole Colombian mainstream media started to talk about it. In fact, these comments about social pardon reached the front-page of every single major newspaper in the country.
This is an important detail, considering that, unlike some nations in Europe and Latin America, people in Colombia still have a lot of respect for the mainstream media, meaning that any mistake by Petro shown on an important radio or TV station could have some consequences.
In addition to the Colombian mainstream media, every single presidential candidate decided to take advantage of this situation by blasting the radical left-winger and claiming that they would fight against corruption. In fact, right-wing candidate Federico Gutierrez went to one of Colombia's main prisons and told prisoners that those who were jailed because of corruption won't get any benefit in case he's elected.
Negative image.
Despite the fact Petro decided to walk back from these comments, it was already too late. After all, newspaper El Tiempo recently published an article claiming that Petro's negative image increased among voters, following these comments.
This situation is quite concerning for the radical left-wing candidate, considering that some pollsters have announced that the gap between him and Gutierrez is getting closer. In fact, there are some polls that are now suggesting that the presidential election will be decided in a second round, where Gutierrez will end up being the winner.
An opportunity for Gutierrez.
Naturally, the person that could benefit the most from this mistake is definitely the right-wing candidate, considering that one of his mains proposals is to have a hardline stance against corruption. This way, the fact that Petro decided to speak about social pardon for the corrupts allows Gutierrez to associate him with corruption, and paint himself as the one who is going to rescue the South American nation from this threat.
Of course, it's still too soon, and Petro is still the favorite to win the presidential election. However, these mistakes could definitely harm his aspirations.