President Joe Biden's infrastructure spending proposal, dubbed by the White House as The American Jobs Plan, is an ambitious, wide-ranging, schematic designed to inject life into multiple sectors of American society and economy. Equal measures vigilant environmentalism and social justice reform, Biden has pledged to "reshape the American economy and make the most significant domestic U.S. investments in generations." Biden stated his impetus emphatically: "Put simply, these are investments we have to make," adding, "Put another way, we can't afford not to." The plan is so broad in its scope and reaches so philosophically high with its aims, it has drawn criticism that it is anything but an infrastructure plan.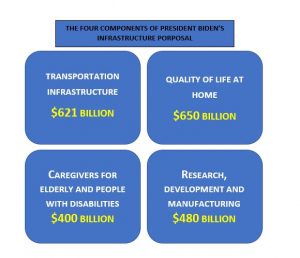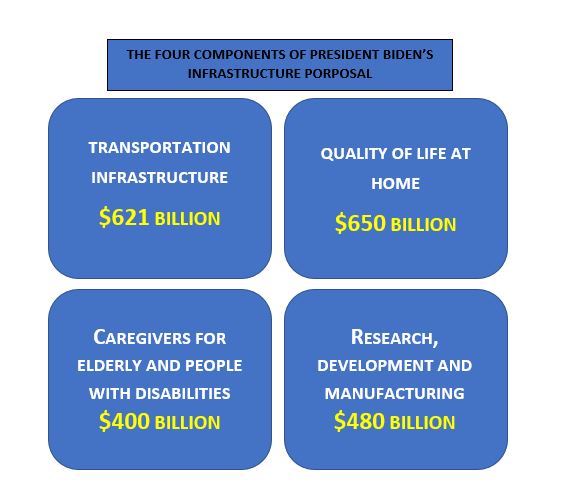 The American novelist, poet, and playwright Gertrude Stein wrote "Rose is a rose is a rose is a rose" in her famous poem, "Sacred Emily," written in 1913. Not to be outdone, Robert Frost wrote the poem, "Rose Family," further playing with the semantic quagmire of labels and definitions: "The rose is a rose/And was always a rose. /But now the theory goes/That the apple's a rose,/And the pear is, and so's/The plum, I suppose."
And the Biden administration is apparently relabeling that rhetorical rose, infrastructure, as something very different. As Yahoo news reports, "In short, the bulk of Biden's plan does not fit the traditional understanding of infrastructure, meaning below the structure, or foundational. Biden and his team have performed rhetorical gymnastics to make almost everything in the package sound infrastructure-ish." And as thorny as his proposals may be in both semantics and policy, in essence Biden and his fellow Democrats in Congress seek to redress perceived long-standing racial and gender injustices, and if not redefine the American dream in absolute terms, at the very least reset the rules of the system going forward.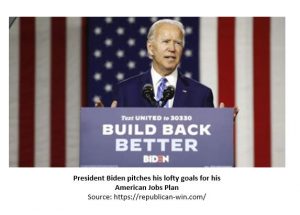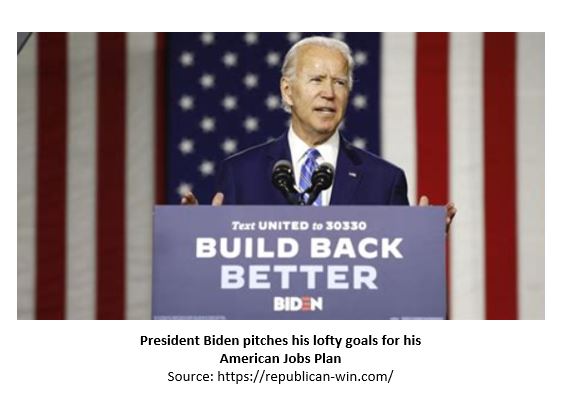 In a speech delivered in Carpenters Pittsburgh Training Center in Pittsburgh, Pennsylvania, Biden put it in more positive, relatable terms: "You know, this is not to target those who've made it; not to seek retribution.  This is about opening opportunities for everybody else.  And here's the truth: We all will do better when we all do well.  It's time to build our economy from the bottom up and from the middle out, not the top down."
While President Biden's plan has many layers and goals, it can be broken down into four major categories, which combine for a whopping price tag of $2.51 trillion: transportation and infrastructure ($621 billion); quality of life at home ($650 billion); caregivers for elderly and people with disability ($400 billion); and research, development, and manufacturing ($480 billion).
TRANSPORTATION AND INFRASTRUCTURE ($621 BILLION)
CNN reports that Biden proposes to spend $621 billion on "roads, bridges, public transit, rail, ports, waterways, airports and electric vehicles in service of improving air quality, reducing congestion and limiting greenhouse gas emissions." There is a strong focus on our public transportation systems, including Amtrak, for multiple reasons. First, "public transit systems have suffered through the COVID-19 pandemic as tens of millions of Americans worked from home and curbed business and tourism travel," according to Yahoo Finance.
And although the details remain murky at this point, the President's Secretary of Transportation, Pete Buttigieg, has indicated a key element: high-speed rail. "I just don't know why people in other countries" — he mentioned Japan and Britain — "ought to have better train service or more investment in high-speed train service than Americans do," Secretary Buttigieg told MSNBC's Joy Reid.
Of course, there are vocal detractors and critics of this element. Randal O'Toole of the Libertarian think tank The Cato I nstitute, said this plan "would add more than $4 trillion to the federal debt for construction of new rail lines plus tens of billions of dollars of annual deficit spending to subsidize operating costs. In exchange, such a high‐speed rail network is likely to carry less than 2 percent of the nation's passenger travel and no freight."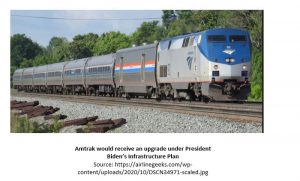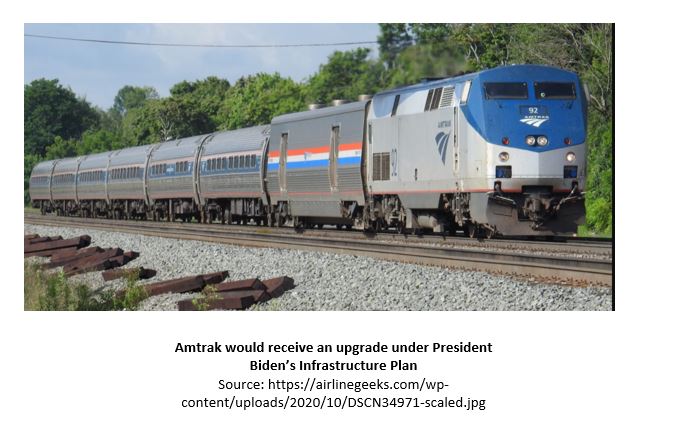 Piggybacking on these sentiments, The Antiplanner, a blog "dedicated to ending government land-use regulation, comprehensive planning, and transportation boondoggles," points out,  "The money for mass transit and Amtrak isn't really needed either because the pandemic has accelerated the decline in the importance of these systems that was already taking place before 2020."
Undaunted, the White House pushed back, painting the entire package in dramatic terms: "The plan will help parents get to work reliably and affordably, reduce the impacts of climate change for our kids, and make sure fewer families mourn the loss of a loved one to road crashes. His investments will use more sustainable and innovative materials, including cleaner steel and cement, and component parts Made in America and shipped on U.S.-flag vessels with American crews under U.S. laws."
And, in keeping with Biden's vision of a fairer, more equitable America, he added the plan will "modernize 20,000 miles of highways, roads, and main streets, not only 'fixing them first' but 'fixing them right,' with safety, resilience, and all users in mind. It will fix the most economically significant large bridges in the country in need of reconstruction, and it will repair the worst 10,000 smaller bridges, including bridges that provide critical connections to rural and tribal communities."
The President also certainly has prestigious academic allies. In a research report titled "15 Million Infrastructure Jobs: An Economic Shot in the Arm to the COVID-19 Recession," Dr. Anthony P. Carnevale, Director and Research Professor, and Nicole Smith, Chief Economist and Research Professor, both from the Georgetown University Center on Education and the Workforce, had this to say about the potential positive impact of the plan:
"Such a substantial investment in infrastructure is sure to have multiplier effects. Spending on infrastructure boosts downstream industries and spurs consumption spending as more people are employed in a fully functioning economy. Maintaining low transportation costs and reliably delivering clean water, electricity, and broadband services is important for business efficiency. Therefore, it is likely that infrastructure improvements will create additional jobs that are not all directly related to infrastructure in the long term."
QUALITY OF LIFE AT HOME ($650 BILLION)
Although most people are aware of a housing problem in the United states, the White House characterizes it as a crisis in no uncertain terms: "There is a severe shortage of affordable housing options in America. Millions of families pay more than half their income on rent, and home energy costs are a significant concern for American renters as well. And, across the country, people are struggling to purchase their first home." Once again, President Biden sees a crisis, in parlance familiar to President Obama supporters, as an opportunity to "do big things."
According to Route Fifty, an organization that "connects the people and ideas advancing state, county and municipal government across the United States, "President Biden's infrastructure plan would provide $213 billion for affordable housing, a "tremendous" investment according to advocates that would help modernize public housing and encourage local governments to do away with zoning practices that limit affordability" adding "affordable and public-housing advocates say the administration's funding commitments go far beyond what have been proposed in the past to address the U.S. affordable housing crisis."
Sarah Saadian, vice president of public policy for the National Low Income Housing Coalition, echoed and championed Biden's perspective in stark terms in an interview with Sarah Kleiner with The Center for Public Integrity, stating, "It's incredible to see the president's proposal for $213 billion in housing investments." Saadian points out that "there are millions of households that are paying 50, 60, 70% of their income on rent, and are very susceptible to falling behind on their rent, facing eviction, being pushed into homelessness." Add to this the economic pressures wrought by the Covid-19 Pandemic, and you can see the grim consequences for people at the margins of society.
Moreover, USA Today reports that the plan would "build, preserve and retrofit more than 2 million affordable homes and commercial buildings. This includes the construction or rehabilitation of 500,000 homes for low- and middle-income owners." And in a seeming acknowledgement of the Flint, Michigan drinking water tragedy, Smartassets.com reports that Biden's plan has the goal of replacing lead pipes and service lines ($45 billion), upgrading and modernizing national drinking water, wastewater and stormwater systems; and tackling new contaminants and supporting rural clean water infrastructure nationwide ($66 billion).
Of course, no infrastructure plan would be complete without addressing our aging electric grid, and President Biden includes it in his sweeping proposal, The White House states: "Through investments in the grid, we can move cheaper, cleaner electricity to where it is needed most. This starts with the creation of a targeted investment tax credit that incentivizes the buildout of at least 20 gigawatts of high-voltage capacity power lines and mobilizes tens of billions in private capital off the sidelines – right away."
Caregivers for elderly and people with disabilities ($400 billion)
Compassion for the less fortunate also seems to be a theme of President Biden's proposal. The White House has asserted, "The President's plan makes substantial investments in the infrastructure of our care economy, starting by creating new and better jobs for caregiving workers. His plan will provide home and community-based care for individuals who otherwise would need to wait as many as five years to get the services they badly need." According to USA Today, "Biden wants to pump $400 billion to improve access to quality, affordable home or community-based care for the elderly and people with disabilities.
It would expand a Medicaid program to make more services available and eliminate a backlog that prevents thousands from getting care. And because caregivers are on the frontline of the care sector, "It would also boost pay for care workers, who are disproportionately women of color and typically earn about $12 an hour." As LeadingAge President and CEO Katie Smith Sloan put it: The vital role of family and paid caregivers has never been clearer, nor has the reality that our current system needs to be rebuilt to meet the needs of a rapidly growing older population."
Statistics corroborate a need to address this issue. As reported by Bloomberg, "Demand for these services is increasing. Home-health aides and personal-care aides represent the sixth-fastest growing occupation in the country, according to Labor Department data, and pay about $12.15 per hour, or $25,280 per year." Moreover, adds Bloomberg, "almost 820,000 people in the U.S., most of them people with intellectual or developmental disabilities, are on waiting lists to get home or community-based care."
Ellen Jensby, the senior director of public policy and operations for Alliance in Colorado agrees, stating, "better wages and benefits for caregivers will also help those with disabilities rely less on government services in the years ahead, eventually saving taxpayers money."
Still, there are long-standing and difficult issues the President's plan does not address. A New York Tiems analysis found that a wage increase for caregivers ". . .won't be cheap, though. Bringing aides' hourly pay to $20 — still short of the country's median wage — would more than consume the eight-year outlay of $400 billion. That would leave little money for other priorities, like addressing the demand for care — 820,000 people were on states' waiting lists in 2018, with an average wait of more than three years — or providing more comprehensive services."
There are also potential solutions in the existing program of Medicare. Ari Ne'eman, a senior research associate at the Harvard Law School Project on Disability, said, "The government could shrink or eliminate waiting lists by making home support and care services mandatory for Medicaid programs, which are funded by a combination of federal and state funds and run primarily by individual state governments." And although the President's plan aims to lower drug cost and reduce the age of eligibility in Medicare, it "does not address the lack of coverage for many in-home care services under Medicare," an MSNBC article points out.
All of these issues will likely surface as the proposal becomes legislation and wends its way through the U.S. House of Representatives and the U.S. Senate, so it is difficult to predict the specifics of the plan this early on.
Research, development and manufacturing ($480 billion)
Consistent with the Biden Administration's futuristic tilt, the plan also proposes a $480 billion overhaul to the United States research, development, and manufacturing sectors. The plan would spend $180 billion on new research and development with an emphasis on clean energy, fewer emissions and climate change research. That total includes $100 billion for worker training and an increase of worker protection systems, according to USA Today.
"We've fallen back," Biden said of U.S. investment in research and technology. "The rest of the world is closing in and closing in fast. We can't allow this to continue." The Center for Strategic and International Studies, a bipartisan, nonprofit policy research organization dedicated to advancing practical ideas to address the world's greatest challenges, underscores the scope of  Biden's plan, claiming it "makes a considerable investment in climate change-related priorities.
In the broadest terms, around 56 percent of total spending could be understood to address challenges related to climate change—by way of comparison, around 12 percent of the 2009 American Recovery and Reinvestment Act (ARRA) was climate related. Because the total spending announced under the American Jobs Plan is around 3 times greater than the ARRA, total climate spending in the package is roughly 10 times that under Obama's stimulus package.
Moreover, Reuters reports that the plan allocates "300 billion [dollars] to boost the struggling U.S. manufacturing sector, including $50 billion for semiconductor production and research," giving the U.S, a potential competitive advantage over countries like Taiwan, which according to data by Taipei-based research firm TrendForce, "accounted for more than 60% of total global foundry revenue last year," as reported by Forbes.
Forbes also reports, "Biden proposes increasing access to capital for domestic manufacturers, creating a national network of incubators for small manufacturers and developing a Rural Partnership Program to help less populated regions (including Tribal Nations) to foster economic development. Dovetailing with this ethos of inclusivity, The President proposes a "$10 billion investment for research and development at Historically Black Colleges and Universities (HBCUs) and Minority-Serving Institutions (MSIs), which would provide graduate fellowships and pre-college programs."
Paralleling the expanding definition of infrastructure, Biden's plan tackles the definition of the phrase "Made in America." The Las Vegas Sun reports that Biden is looking to "tighten the definition of American-made products by raising the threshold of domestically produced components needed for those products to get the "Made in America" label. For those products, the government may require as much as 30% more than it would for foreign goods. The new definition closes a loophole that allows companies to import largely foreign-made goods and sell them as domestic products after making minor adjustments and/or counting inconsequentially small American made parts toward the total."
Strong Headwinds
There are of course, skeptics, because as the saying goes, "the devil is in the details." William Hoagland, a health economist at the Bipartisan Policy Center, told the Washington Examiner, "Maybe [the spending is] justified, but the amount of material that was provided in the briefing material just doesn't give you enough information to know the basis upon which the number has been established."
Rep. Kevin Brady (R-Texas), the top Republican on the tax-focused House Ways and Means Committee, said in a Fox News interview the plan's tax increases would be "the biggest economic blunder, frankly, of our lifetime," adding, "at the end of the day, I think, one, you're going to see another wave of US companies moving operations, headquarters, research overseas, but also you're going to see slower hiring. And I think lower paychecks or stagnant paychecks because of it."
But perhaps the biggest hurdle is the more moderate voices of the Democrat party. Because of the divisive nature of politics these days, Democrats may need to use reconciliation to pass the legislation in a deadlocked Senate.
However, according to Axios, Joe Manchin, Democratic Senator representing West Virginia, is not interested in this maneuver, stating. "I am not going to get on a bill that cuts them [Republicans] out completely before we start trying." And there are other Democrats who have vowed to vote against a plan that doesn't repeal the 2017 tax bill's $10,000 cap on the State and Local Tax (SALT) deduction. Still, as the author Matshona Dhliwayo puts it: "Roses do not bloom hurriedly; for beauty, like any masterpiece, takes time to blossom."