The area of psychedelics has a wide variety of advocates. From research scientists to physicians to modern shamans to social activists, there is a wide variety of people shaping the psychedelic landscape. Then there's Duncan Trussell, stand-up comedian, podcaster, writer, actor, and increasingly, psychonaut. Trusell has made appearances on Comedy Central's
This Is Not Happening
and
Drunk History
, and co-hosted
Joe Rogan Questions Everything
on the SyFy channel and has appeared in sketches for two seasons of Fuel TV's
Stupidface
, Showtime's
La La Land
, as well as
Nick Swardson's Pretend Time
. 
But it is his outspoken stance on psychedelic use that enhances his Hollywood persona and social media presence. As the site reset.me puts it, "He is forthright about the role psychedelics have played in his life, and the way in which psychedelics can help to expand one's consciousness and positively affect humanity in general."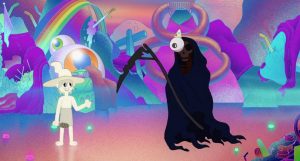 In a discussion with Jake Kleinman for Inverse, Trussell argues, "I don't want to cross over into saying, It's good for you like vitamins, but I think the data that's coming out right now is showing that when used with therapy, there are really wonderful outcomes for people who suffered from trauma, depression or people who are nearing the end of their life and are terrified of that." 
And Trussell walks the walk in his professional life. Trussell takes audio from his podcast The Family Hour and blends it with trippy images to create The Midnight Gospel, a show with "beautiful, mind-bending visuals, as the protagonist, Clancy (played by Trussel), explores the depths of his universe simulator, uncovering new philosophies and perspectives, while completely neglecting his personal life."
The 47-year old irreverent stand-up comic tackles the thorniest of issues with quirky but compelling insights. In a recent interview with reset.me, Trussell addresses the seemingly pernicious roles that the nexus of media and corporate America have upon our sense of self, saying:
"The question is, how do we identify what inside of us is original versus what inside of us has been planted there by entities who are trying to harvest our energy for nefarious reasons, and that's a very fun activity to take part in, which is to look through all your built-in beliefs and find out how many of them seem to actually be sound bites that have been laid in your brain like a fly laying eggs inside a steak, or anything rotting for that matter — not that your brain is rotting, but you get the idea?"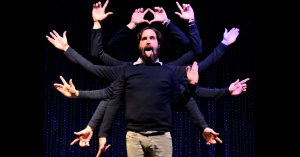 And if you look beyond the bizarre suffice-level hallucinogenic imagery, you'll find deeper, psychological reality in the making. His alter ego, Clancy, is a psychedelic reboot of the classic hero archetype who follows a somewhat traditional narrative arc, "as he begins his journey in his comfortable trailer, dreaming of making it big as a space podcaster," eventually entering "a simulation that allows him to accompany someone else on their own journey towards enlightenment but ultimately returns to his home, festering with inadequacies and everyday monotony." As one recent reviewer put it, "It's a laid-back performance that's serene rather than lazy, with words tumbling out like an inebriated friend who enters into a fugue of clarity."
And Trussell makes no apologies for his infusing his work with eccentric, otherworldly perspectives designed to shake us loose from our comfort zone. In fact, he continually argues for an expanded consciousness ala, Aldous Huxley, saying, ". . .we did not want to dumb [the show] down. And we knew that by making that decision it was going to make it a little less accessible to people who want to know what's happening right away, but we were thinking David Lynch films, where you're just thrown into some bizarre world, and you have to figure it out, like a puzzle."
And though Trussell sees his journey with psychedelics as a lifetime evolutionary force, all adventures have a beginning. For Trussell, his trip down the psychedelic highway began in high school, where he experimented with LSD. Trussell recalls with vivid clarity about his initial forays into the world of psychedelics:
The first time I ever took LSD, when I was in high school, I realized that. It was something incredibly special, important, and beautiful. It was a feeling of suddenly coming into contact with a previously inaccessible data field that nobody in my family or community or high school was talking about.
The teachers weren't talking about it, parents weren't talking about it; nobody who had taken on any kind of role as a mentor was mentioning that there was this experience you could have that would allow you to see things for the first time in a brand new way. The chance to hear songs that you had heard hundreds of times as if you were listening to it for the first time and hearing something deeper in it. The ability to see (at least for me) strange writing in the seat cushions of my friend's Toyota Tercel. It was a feeling of pure love and connection to the universe, and everything about it seemed life-affirming, healthy, and spiritually beneficial.
At the end of the day, Trussell is all about the essence of inspiration, about living life to the fullest by continually refreshing your perceptions, belief systems, and connections to the world and the people around you. For Trussell, it's really a simple matter of how you relate, and psychedelics are merely a relational tool one uses to amplify his or her relationship reality.
Trussell's message, then, is about the process of the ongoing renewal of passion, and how this process is a source of psychological, emotional, and spiritual sustenance (while laughing your ass off). I'll leave you with Trussell's eloquent warning about the dangers of letting this passion ebb, couched as a relational metaphor:
You won't be as passionate about the person anymore. That's the exact same phenomena that happens in life. Over time people feel like life has become less interesting. Their relationship with life cools down. Inspiration is the orgasm that comes from living a full life. So your inspiration orgasms begin to diminish in a similar way that your relationship orgasms begin to diminish in a stale marriage.
Your inspiration drops, you get depressed, you start taking antidepressants and you try and fix your problem. A psychedelic can very quickly rip away a layer of conditioning or boredom that you have placed over the world to keep you safe. Suddenly you're reunited with that vibrant, glorious life that exists in all things and suddenly you realize it wasn't the world that stopped being interesting but rather the membrane or sphere that you built up over the course of your lifetime was creating a kind of condom effect.
---
At Newsweed.com, we adhere to three simple principles: truth, balance, and relatability. Our articles, podcasts, and videos strive to present content in an accurate, fair, yet compelling and timely manner. We avoid pushing personal or ideological agendas because our only agenda is creating quality content for our audience, whom we are here to serve. That is why our motto is "Rolling with the times, straining for the truth." 
Your opinion matters. Please share your thoughts in our survey so that Newsweed can better serve you.
Charles Bukowski, the Los Angeles beat poet that captured the depravity of American urban life once said, "There is something about writing poetry that brings a man close to the cliff's edge." Newsweed is proud to stand in solidarity and offer you a chance to get close to the cliff's edge with our first Power of Poetry Contest. Are you a budding bard, a versatile versifier, a rhyming regaler? Do you march to the beat of iambic pentameter, or flow like a river with free verse? If so, here's your opportunity to put your mad poetic chops to the test. Enter our poetry contest for bragging rights and an opportunity to win some cash!