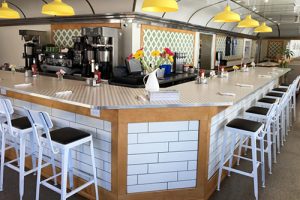 Early Sunday afternoon my roommate and I haven't eaten breakfast yet or anything, so a late breakfast/early lunch was in order. Some people call that "brunch". Anyways, he suggests that we go to Toast in Red Bank, NJ. I tell him that I had a less than enjoyable experience at their Asbury Park location, but that was a few years back, so I'll give them another shot. He was a long-time patron of theirs so off we went, and I was glad that I did.
Since Covid-19, I don't go out to eat too much anymore, so when we walked in and they informed us that there was a 25-minute wait, at first I was like "OMG", but I guess that's pretty normal since it's reduced capacity. They put your name in a tablet with your phone number and you get a text message when your table is ready, so we killed 20 minutes in a record store down the block and walked back. So first of all, the Red Bank location is set up more like a traditional diner whereas the Asbury location is more like a restaurant. Which to me made more sense because their menu is more like a new-aged, modernized diner menu anyways.
The Food
Let me say it's not usually my style, but the turmeric chai tea latte, pretty damn good. The main attraction was my Crab Hash with two over-easy eggs, though. Oh man, jumbo lump crab meat with peppers, onions, and potatoes all crisped up off the flattop, seasoned well by the way. It was served in a boat, a good-sized portion, with the eggs cooked perfectly over top. It was really good – cleaned my plate. My roomie stayed on the turmeric kick and got the tofu scrambled eggs which I had to try. They color the tofu with turmeric and scramble it with all sorts of peppers, onions, tomatoes, and whatnot. Again, not really my style, but delicious all the same. To top it all off, everything is reasonably priced, so really it was a win all the way around.
Well done to the staff at Toast, Red Bank. I'll definitely be back! 🙂