(Disclaimer: These articles are merely informational in nature, and in no way should be considered expert financial advice from me or Newsweed.com. As with any investment, psilocybin stocks, especially those owned by newer companies, are subject to significant fluctuations in value. Therefore, caution should always be observed when investing.) 
The psilocybin revolution has begun, and its potential to deliver both personal and financial returns is seemingly limitless. As reported in the publication Holistic Primary Care: "Within the clinical context, major medical centers around the globe have established psychedelic research programs, including New York University, University of California-Berkeley, Massachusetts General Hospital, the Imperial College London, Be'er Yaakov Hospital, Israel, and the world's largest at Johns Hopkins Bayview Medical Center."
Psilocybin Stocks: The Future for Pharmaceuticals? 
In addition to the myriad of health-oriented applications, including treatments for depression and PTSD, this bloodless revolution may also be ground zero for stock investors seeking both immediate gains and long-term growth. To this end, Newsweed will regularly feature psilocybin stocks for your perusal.
Today's Psilocybin Stock Spotlight: Compass Pathways (NASDAQ:CMPS) 
Risk Profile: High Risk/High Reward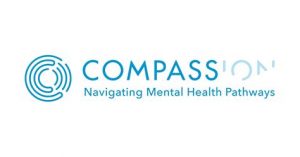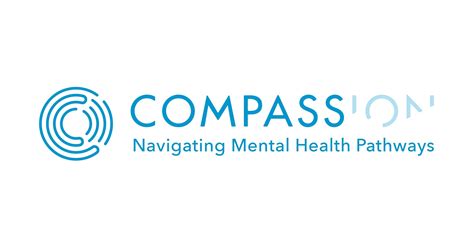 Compass Pathways (CMPS) describes their vision as "a mental health care company dedicated to accelerating patient access to evidence-based innovation in mental health. Our first programme is researching how psilocybin therapy could help people with treatment-resistant depression." 
Headquartered in London, UK, CMPS has capitalized on both the medical research and the push for legalization. Motley fool states that "[d]espite being a small fish in the biotech ocean, Compass Pathways has the backing of billionaire tech-investor Peter Thiel with a 10 million euro stake." CMPS is formally partnered with Roth Capital Partners, which according to their website is  "an investment banking firm dedicated to the small-cap public market and is headquartered in Newport Beach, CA." 
Psilocybin Stock and COMP360
Much, if not all of the success of this company hinges on the outcome of COMP360, a synthetic psilocybin compound created by CMPS. Depending on how clinical trials go, and then how well the medical market reacts if approved for mainstream treatment, CMPS is a bit of a "all or nothing" investment. A recent report by CMPS offers some positive news regarding COMP360.
According to CMPS, COMP360 "is administered in conjunction with psychological support. COMP360 has been designated a Breakthrough Therapy by the US Food and Drug Administration (FDA), for treatment-resistant depression (TRD), and we are currently conducting a phase IIb clinical trial of psilocybin therapy for TRD, in 22 sites across Europe and North America."
Psilocybin Stock: CMPS Analysis
The financial publication Motley Fool has the following to say about investing in CMPS: "If it proves that COMP360 can treat depression, it would be able to tackle a worldwide patient market amounting to over 320 million people and become a multiple-bagger stock. If not, then the company would likely trade at near $0 levels, as it only has about $196.5 million in cash compared to a market cap of $1.98 billion.
Although CMPS started off like a psilocybin rocket ship, the trajectory has fallen off significantly over the last few months. In fact, in December of 2020, CMPS stock averaged in the 50s/share, peaking to a high of 59.20/share on December 23, only to fall to a low of 36.29/share by the end of April. However, the stock has rebounded recently, climbing to a high of 39/share today, June 9.
This volatility may be seen as problematic, but booms and busts like this do provide opportunity to purchase CMPS at a good value, and if the expression, "the trend is your friend" has any validity, then things seem to be moving in the right direction for CMPS. 
To see the performance of CMPS at a glance, take a look at the following chart: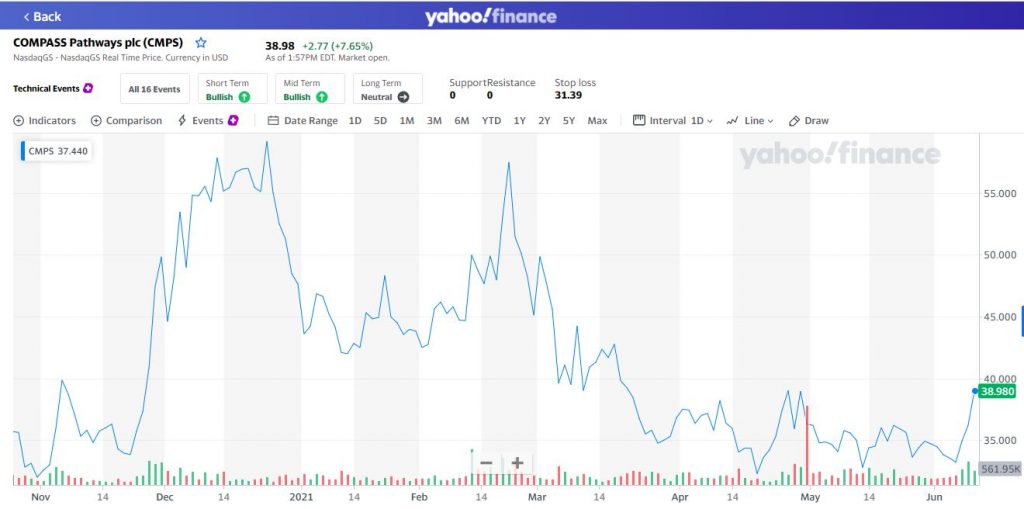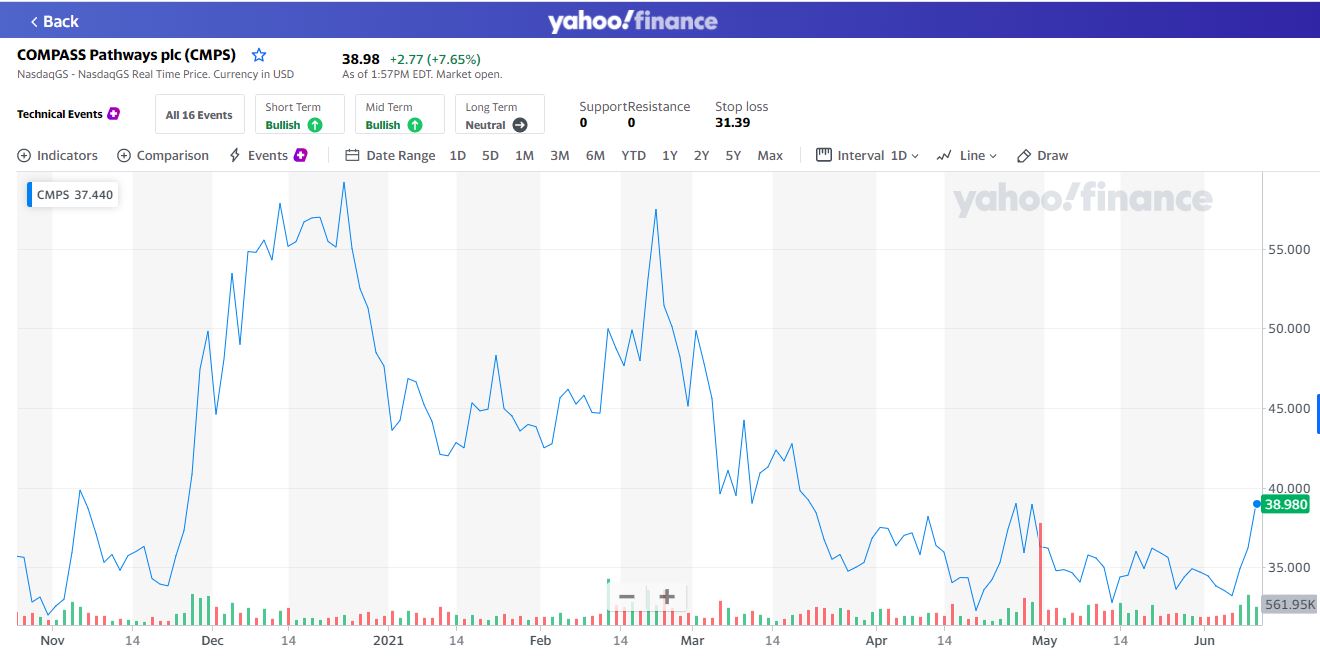 If CMPS has an Achilles heel, then it is their earning growth potential. The publication Wallstreet Zen had the following to say about this matter: 
(NASDAQ: CMPS) COMPASS Pathways's forecast annual earnings growth rate of N/A is not forecast to beat the US Healthcare industry's average forecast earnings growth rate of 29.42%, and it is not forecast to beat the US market's average forecast earnings growth rate of 20.02%.
On average, 4 Wall Street analysts forecast CMPS's earnings for 2021 to be $-52,188,806, with the lowest CMPS earnings forecast at $-59,285,046, and the highest CMPS earnings forecast at $-44,912,914. On average, 4 Wall Street analysts forecast CMPS's earnings for 2022 to be $-62,159,473, with the lowest CMPS earnings forecast at $-79,046,728, and the highest CMPS earnings forecast at $-51,739,677.
In 2023, CMPS is forecast to generate $-66,111,809 in earnings, with the lowest earnings forecast at $-66,111,809 and the highest earnings forecast at $-66,111,809.
Yet, it's not all bad news from a limited time scope perspective, which would be the company's price target. This is what Wallstreet Zen had to say:
According to 4 Wall Street analysts that have issued a 1 year CMPS price target, the average CMPS price target is $71.75, with the highest CMPS stock price forecast at $88.00 and the lowest CMPS stock price forecast at $63.00.
On average, Wall Street analysts predict that COMPASS Pathways's share price could stay at $71.75 by May 27, 2022. 
What does all this mean? From my perspective, it means that if you buy CMPS now, track it closely, and then sell it as it approaches the price target. 
---
Your opinion matters. Please share your thoughts in our surveyso that Newsweed can better serve you.
Are you a budding poet? Enter our poetry contestfor bragging rights and an opportunity to win some cash!