New music is on the way from a band that I thought was finished decades ago.
So I found out via this announcement of a new studio album that I have very little patience for the YesFools who are still pissed off that Jon Anderson is no longer with the band. In person, the majority of these critics or Jon Davison (current Yes vocalist) haters would probably keep their opinions to themselves, but online where they can hide behind a keyboard for protection, meet the Know-It-Alls. Obnoxious piss-ants that won't go away. Feet firmly planted in the past because if THEY don't like any one given situation, then NO ONE else should like it either. These self-righteous, pretend stockholders (purchased official product/merchandise) think they are so clever. F'ing morons, are more like it case in point. I'll leave this nimrod's name out of it, but here is a real dialogue I had with a fellow Yes social media follower yesterday morning on the social media giant, Facebook.
Set-Up
Yes (the band) publishes a post announcing a new studio album, coming out this October 1st.
Nameless A**hole replies:
Can it have a sticker on it saying "Guaranteed, no Heaven and Earth"?
Gary "Uncle G" Brown responds to Nameless A**hole:
FYI: Some people enjoyed Heaven and Earth. It's also the very last studio Yes album with Chris Squire on it. Holds a special place for people because of that. Is it Yes – Fragile (1972)? No, it isn't. If into a certain Yes era, maybe just stick to that?
Nameless A**hole shot back:
I bet I love more Yes albums and side projects than you! Tormato and Open Your Eyes, ABWH, Drama, 90125, Union, Magnification! Great works of art. Up there with Beethoven, Sibelius, Carl Nielsen. Peace and love and ear specialist to ya!
Gary "Uncle G" Brown (southern roots):
Bless your heart! The Yes Expert has spoken. If I would have only known, I would have still said what I did.
The End
I was surprised Nameless A**hole mentioned Yes – Drama. Probably likes The Buggles and Trevor Horn. People seem to be more tolerant of him, than Davison. What I was not surprised with is that Nameless A**hole thinks because of his loyalty to the band and its members (not all) that he should have a say in, YesBusiness. As a matter of fact, schmucks like this demand it. This is where they always tip their hand. Actually, they just don't get it. YesBusiness is not, and never was, their business. Once this is understood, then it should be up to the individual to stay interested or move on. Not all are like that Nameless A**hole.
Years ago I quit listening to Alice Cooper. After his second solo record, Go to Hell, I just couldn't stand him anymore. Wasn't the same as before when Alice Cooper was a band. I climbed back on the Alice Cooper bandwagon when he released Alice Cooper – Trash (1989). In 2021, I feel Alice should be inducted into the RnRHoF for his own music. Instead, we get The Go-Go's.
I hate the fact that Jon Anderson is no longer an active musician with the rock band, Yes. Fact is, all that nasty shit happened over ten years ago. Bassist and co-founding member Chris Squire was alive back then. Time to build a bridge, and get over it. To this day, I support Jon Anderson in whatever the man does. I also extend the same courtesy with, Yes.
Today, I don't concern myself with rumors or hearsay. The reality is, Yes today are five strong individuals, more than capable of composing new music, and when in concert, rocking out to whatever the YesCatalog offers. I personally have no problem with this. For others, take it or leave it. If you're not into what is being offered, then don't ruin it for everyone else. Gets on my nerves!
Helpful Weblinks
For MORE information on Yes – The Quest (street date 01 Oct 2021) please check out Yes' official website – www.YesWorld.com
Roger Dean Official Website (cover artist) – www.rogerdean.com
Bonus – From the Gary "Uncle G" Brown Autograph Collection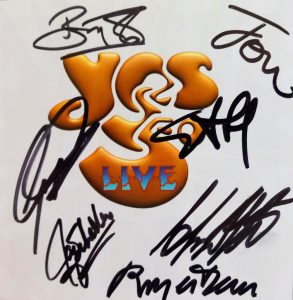 ---