(Disclaimer: These articles are merely informational in nature, and in no way should be considered expert financial advice. As with any investment, psilocybin stocks, especially those owned by newer companies, are subject to significant fluctuations in value. Therefore, caution should always be observed when investing.)
Company: Hollister Biosciences Inc.
Stock: HSTRF
Investment Risks: Medium/High
Investment Rewards: Medium/High
Current Price: $0.19/share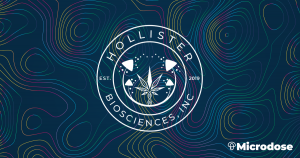 Company Background: According to their website, "Hollister Biosciences is a publicly-traded cannabis branded product company with sales and operations in California and Arizona. The company manufactures, owns and distributes a series of branded products, direct to consumer ecommerce and white-label production for 3rd parties." Their website also boasts their "products are sold in 370 dispensaries across Arizona and California," making them a heavy hitter in the burgeoning cannabis market. Their brands include HashBone, the brand's premier artisanal hash-infused pre-roll, along with concentrates from Venom (shatter, budder, crumble), distillates, solvent-free bubble hash, pre-packaged flower, pre-rolls, tinctures, vape products, and full-spectrum high CBD pet tinctures and other cannabis products, giving them a diverse portfolio.
Hollister Biosciences also acquired AlphaMind Brands Inc, a medicinal mushroom-based company.  According to Pharmweb.com," The initial product line will consist of a blended and bottled powder and capsule consisting of powdered cordyceps, lion's mane, oyster, reishi and shiitake medicinal mushroom varietals.  The formulations for both products are unique and developed through research-driven initiatives.  The health benefits that the capsules and powder intend to provide include but are not limited to anti-inflammatory, antioxidant, anti-aging, anti-microbial and immune system support." 
Philosophy of the Company: The company seems to lack a core philosophy or vision that would be in sync with a 21st-century ethos. Their website simply states, ", developing and powering class-leading cannabis consumer products," hardly a philosophically or morally compelling vision. 
Legal Issues: I could not locate any legal issues regarding Hollister Biosciences. 
 Leadership: Hollister Bioscience's management team consist of the following:
Carl Saling, Founder, CEO, Director

Amasa Lacy, Founder, Vice President, Director

Alexander Somjen, President

Jake Cohen, COO

Geoffrey Balderson, CFO and Corporate Secretary 
Performance: Since its high in February of 2021, HSTRF has lost approximately 50% of its value per share and has continued to slide for the past 6 months. With a P/E ratio of 190.50, HSTRF may be overvalued. However, according to their 2021 ist quarter report, the company seems profitable and solvent. Here are some highlights:
Total revenue in the first quarter was $23.1 million compared to $0.95 million in the first quarter of 2020 and up 97% sequentially from $11.7 million in the fourth quarter of 2020

Net income in the first quarter was $2.0 million compared to a net loss of $2.2 million in the first quarter of 2020

Adjusted EBITDA [Earnings before interest, taxes, depreciation, and amortization] was $2.80 million in the first quarter compared to a loss of $1.1 million in the first quarter of 2020
Moreover, Wallet Investor states, "Hollister Biosciences Inc stock is a good long-term (1-year) investment. Based on our forecasts, a long-term increase is expected, the "HSTRF" stock price prognosis for 2026-08-07 is 0.349 USD. With a 5-year investment, the revenue is expected to be around +79.13%. Your current $100 investment may be up to $179.13 in 2026." Investors Observer agrees, saying, "Hollister Biosciences Inc has a Bullish sentiment reading" while gov.capital states, "Future price of the stock is predicted at 0.312008$ (67.746% ) after a year according to our prediction system."  Similarly, micoraxis.com says, "The successful prediction of HOLLISTER BIOSCIENCES's future price could yield a significant profit."
Final Thoughts: At less than $.20/share, this penny stock offers a very inexpensive route to invest in the cannabis industry. However, all indications point to a minimum of a 1-year hold time frame, and possibly longer if seeking to maximize returns. 
---
At Newsweed.com, we adhere to three simple principles: truth, balance, and relatability. Our articles, podcasts, and videos strive to present content in an accurate, fair, yet compelling and timely manner. We avoid pushing personal or ideological agendas because our only agenda is creating quality content for our audience, whom we are here to serve. That is why our motto is "Rolling with the times, straining for the truth." 
Your opinion matters. Please share your thoughts in our survey so that Newsweed can better serve you.
Charles Bukowski, the Los Angeles beat poet that captured the depravity of American urban life once said, "There is something about writing poetry that brings a man close to the cliff's edge." Newsweed is proud to stand in solidarity and offer you a chance to get close to the cliff's edge with our first Power of Poetry Contest. Are you a budding bard, a versatile versifier, a rhyming regaler? Do you march to the beat of iambic pentameter, or flow like a river with free verse? If so, here's your opportunity to put your mad poetic chops to the test. Enter our poetry contest for bragging rights and an opportunity to win some cash!