As you approach the entrance of Crystal Bridges Museum of American Art, you are enfolded by densely packed trees and winding trails, a natural scene of stunning views painted perfectly by mother nature. Nestled in 120 acres of the Northwest Arkansas Ozark foothills, just a few miles from downtown Bentonville Arkansas, Crystal Bridges is a passport to enjoy world-class art exhibits while simultaneously being ensconced in architecture that sympathizes with its naturalistic surroundings.
Offering a harmonious blend of flora and fauna surrounding the museum's glass-and-wood design, the museum features a series of pavilions nestled around two placid creek-fed ponds and more than four miles of forest trails. The result is that earth, sky, and art meet seamlessly as participants are transported both internally and externally to other worlds, far way from the hustle, bustle, and stresses of modern urban life.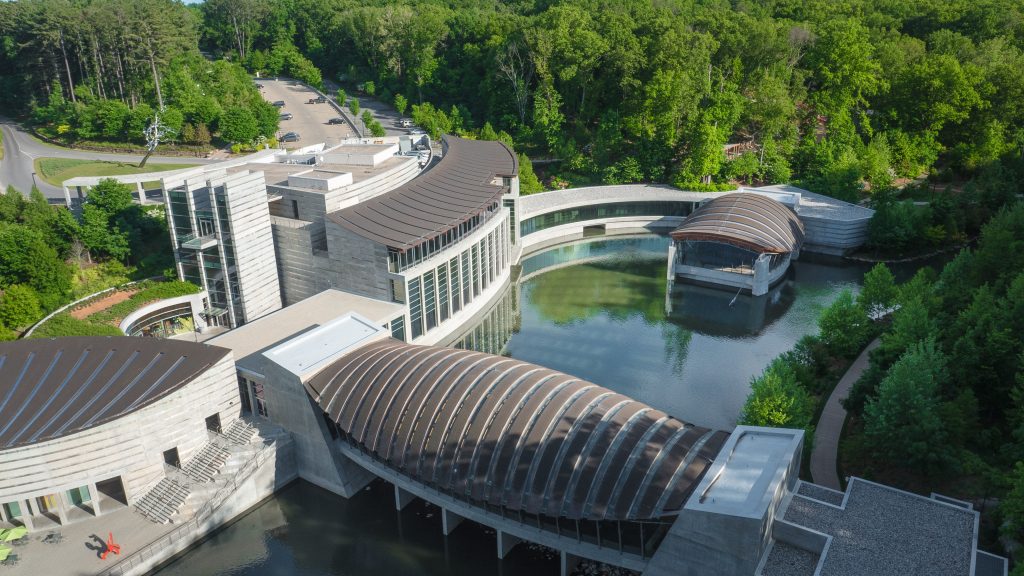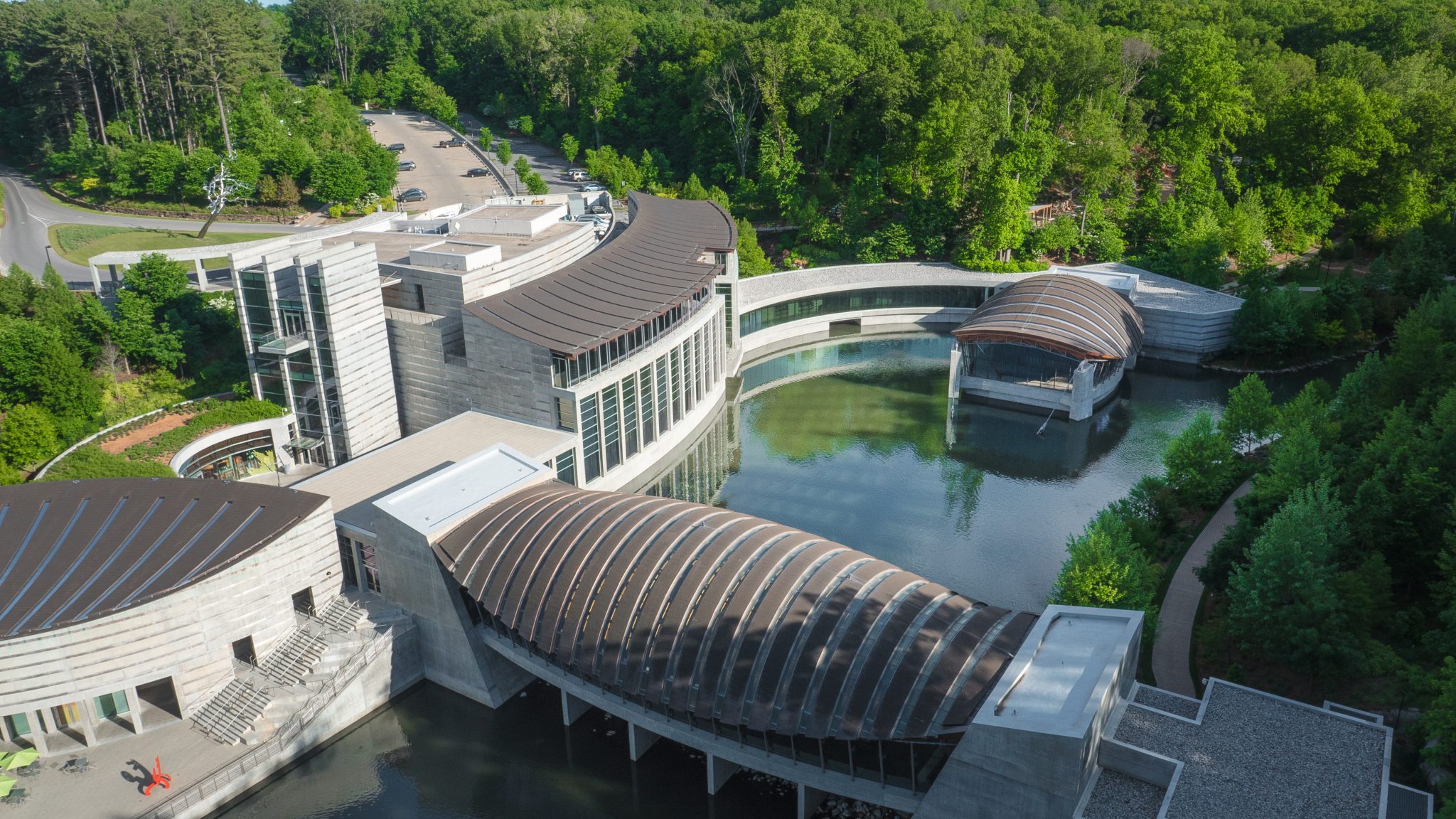 Crystal Bridges: Diversity in Action 
Founded by Alice Walton, the daughter of Walmart founder Sam Walton, Crystal Bridges showcases multiple art installations centered around diverse American artists. The permanent installations include the Early American Art Galleries, The Modern Art Gallery, and The Contemporary Art Gallery, collectively housing over 300 pieces of art ranging from traditional American landscape paintings, to sculptures and mixed media that push the boundaries of interpretation and treat our senses to a profound inner journey.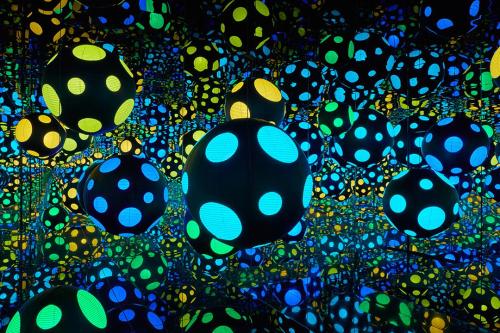 The centerpiece of the permanent collection is Yayoi Kusama's Infinity Mirrored Room – My Heart is Dancing into the Universe. The Infinity Mirrored Room immerses viewers in "a kaleidoscopic experience."  Using the illusory power of mirrors and multicolored lanterns, viewers feel the boundaries of orientation and space melt away, creating a powerful, but sometimes disorienting effect, as seemingly infinite reflections of your body merge with the work.
Crystal Bridges also actively refreshes its content through a series of new installations that are breathtaking in scope and variety. Currently on display through May 28, 2021 is The Companion Series, highlighting the work of Native American artists, both traditional and contemporary.  Recent installations included Small Talk, and After the Last Supper. These exhibits along with other previous installations can be viewed through the museum's website archive.
Crystal Bridges: Architectural Wonders 
The architecture of Crystal Bridges, designed by architect Moshe Safdie, figures prominently into its appeal and ethos. As the museum's website states, the architecture "supports and enhances a project's program; that is informed by the geographic, social, and cultural elements that define a place; and that responds to human needs and aspirations." Safdie remains engaged with Crystal Bridges and its goals to maintain a naturalistic focus for visitors.
In fact, Safdie's website states there are ". . . plans for a major expansion that will increase the size of the facility by roughly 50%, adding new galleries, educational facilities, and community spaces to allow visitors to have access to more art, outreach, programs, and events. The project is in the design development phase with construction commencing in early 2022, with the goal of completing construction in 2024."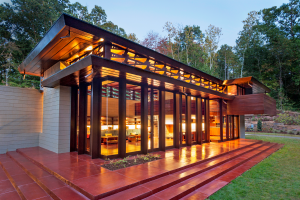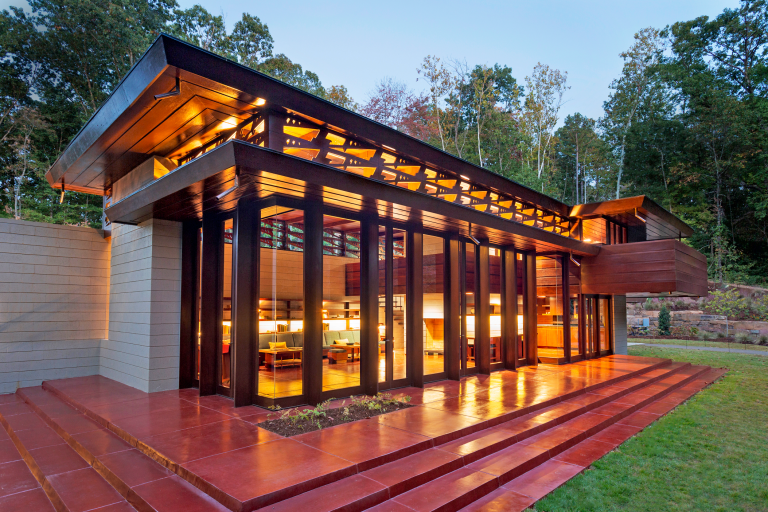 And if you are a fan of Frank Lloyd Wright, you will want to check out the Frank Lloyd Wright Bachman-Wilson House. Originally built in Millstone, New Jersey, the house's most recent owners concluded the house had to be saved from flooding, so it was located to the grounds of Crystal Bridges in 2014, and became available for public viewing in 2015.
According to the Crystal Bridges website, the house  " . . . is an example of Frank Lloyd Wright's classic Usonian architecture," a term Wright created to capture  a "distinctly American style of residential architecture he developed during the Great Depression to be within the reach of the average middle-class American family." Although the house is currently unavailable for physical tours due to Covid-19, the museum offers a virtual tour. Given that the pandemic is showing signs of waning, it is likely the house will reopen for in-person tours soon.
Another architectural wonder offered by Crystal Bridges is The Fly's Eye Dome, which is described by the museum as ". . . a creation of American designer, inventor, and theorist R. Buckminster Fuller . . . originally intended to provide economical, efficient housing." Featured in an outdoor setting, The Fly's Eye Dome spans 50 feet and is punctuated with wide circular openings, giving it an open, airy feel that affords viewers multiple perspectives of the surrounding landscape.
Crystal Bridges: Nature's Bounty 
And if outdoors is more your thing, take a leisurely walk or bike ride on one of the eight trails that wend their way through the gorgeous surroundings of the museum. The trails range in length from .25 miles to 1.4 miles and offer mild to moderate hiking challenges. Noteworthy are the Crystal Spring Trail, which contains a natural spring and a waterfall, and the Art Trail, offering hikers opportunities to view a variety of sculptures, native plants, and waterways.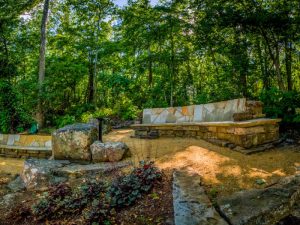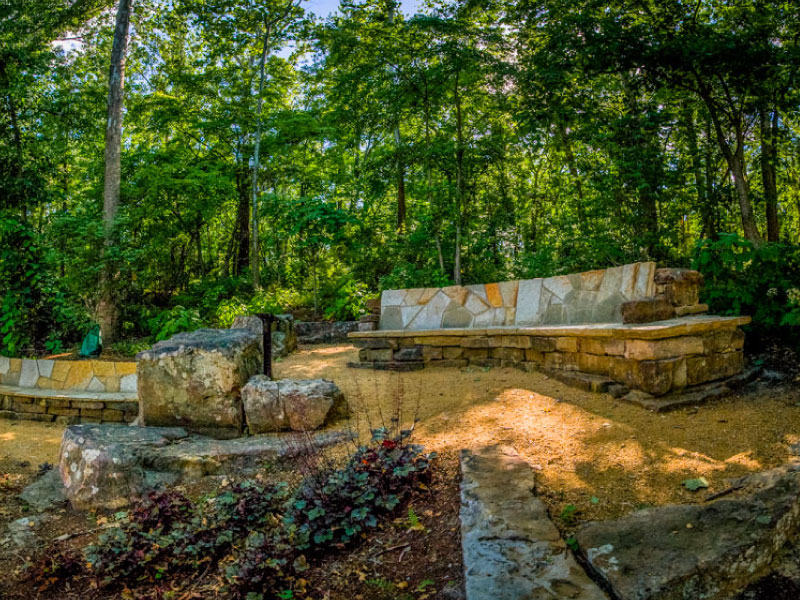 Both the trails and the permanent collection are free to visitors, and tickets to the other installations can be purchased a la carte.  While you're there, take a moment to inquire about the numerous educational programs available for both adults and children. And if you live in the area, consider obtaining a museum membership, which affords members a myriad of discounts and opportunities for art-based travel. The museum is also always seeking volunteers to help keep it a lively, engaging place to spend a day communing with nature and pondering the meaning of the many art pieces.
So, whether you want to explore the diverse offerings of an array of talented artists, or be at one with nature, Crystal Bridges Museum of American Art is your passport to paradise.