Christopher Paul Dowicz, Esq., 61, of Larchmont, New York and Sea Girt, New Jersey, died unexpectedly on May 18, 2021. He is the beloved husband of Virginia Ross Dowicz and devoted father to his loving children, Christopher, David and Mary Elizabeth. He is survived by his wife and children.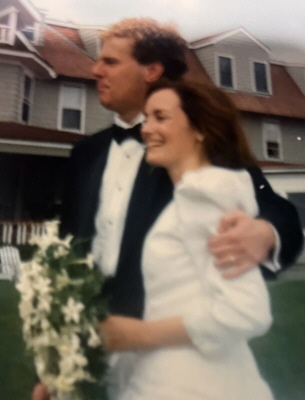 Chris met Virginia when both were undergraduates at Fordham University. Theirs was an enduring bond and their three children are the center of their lives.
Chris was the fourth of eight children born to the late Zenon and Mary Elizabeth Dowicz, and was raised in Jackson Heights, New York. Life was not dull in the house that he shared with his brothers, Stephen, Paul and Andrew and sisters, Therese, Celeste, Karen and Michele. Despite the never-ending excitement at home, Chris excelled at Our Lady of Fatima Elementary School, Cathedral High School and Fordham University, where both his undergraduate degree and law degree were completed with highest honors.
Chris practiced law for many years in both California and New York and was well-respected as a Real Estate Developer. In the latter part of his career, Chris served as General Counsel to LJM Group, LLC and Managing Principal of LJM Properties, LLC, New York City, New York. He was a brilliant attorney who provided well-reasoned, thoughtful counsel to those lucky enough to know him.
Chris' entrepreneurial spirit was evident early on. While in college, he rented an ice cream truck and sold ice cream to kids playing on the streets of Keansburg and Long Branch, New Jersey. He later ran a coin-based video game operation with a friend. In those days, he paid all his bills with quarters.
Chris and Virginia have been blessed with three wonderful, talented and loving children. Their children are gifted athletically, academically, and artistically. With their children, Chris and Virginia's life was complete.
Chris is treasured by his family and friends and will be long remembered for his wit, intellect and love of life. Most of all, Chris was a husband who loved and cherished his wife, Virginia.
Chris is pre-deceased by his parents and sister, Therese, with whom he now rests in peace.
Funeral arrangements are with the John J. Fox Funeral Home, 2080 Boston Post Rd., Larchmont, New York (www.jjffh.com ). Visitation will be May 25,2021, 2pm to 4pm and 7pm to 9pm. A mass of Christian burial will be celebrated for Chris at Saints John and Paul Church, Larchmont, New York on May 26, 2021 at 10:00am.
In lieu of flowers, the family requests donations in Chris' memory to The Dominican Sisters of Corpus Christi Monastery, 1230 Lafayette Avenue, Bronx, New York or to Regis High School 55 E. 84 Street, New York City, NY 10028 (www.regis.org).
For more details on visitation or mass, or to plant a tree in memory of Christopher P. Dowicz, please visit tributearchive.com.