From October 8–10, 1871, an enormous fire consumed Chicago Illinois. Known as Great Chicago Fire, the massive blaze killed approximately 300 people and left more than 100,000 homeless. One hundred fifty years later, a different kind of fire is burning in Chicago; violence has been consuming the life of the citizenry at a pace that rivals the gang killings of Capone and company from America's prohibition era.
As
reported by Chicago CBS affiliate
, news, "7 people were killed and at least 55 others were injured in shootings across Chicago this past weekend, the latest victims in Chicago's seemingly unending wave of gun violence." Unfortunately, this type of violence is an all-too-common problem in Chicago. 
In fact, the previous weekend was even worse, with 70 gunshot victims reported, 11 of whom died. In reality, the victims, which ranged in age from 14-49, are part of a more disturbing pattern of gun violence that has been ravaging Chicago this year, threatening to shatter records established in previous years.
As cited by the Chicago Sun-Times, "Overall, the number of people shot in Chicago is up 12.6% through July 10, compared to the same period in 2020, and 59 percent over the same time in 2019." And According to the Chicago Defender, "With the increased gun violence in Chicago, 2021 could be one of the city's deadliest. The number of shooting victims in Chicago is growing. Compared to 2020, around 4000` shooting victims were reported compared to a little over 2000 in 2019." `
Although Chicago had been witnessing a decline in violent crime (including homicide) from 2018-2019, the last time an official report from the Chicago Police department was available, this downward trend is apparently reversing itself. And even though Chicago mayor Lori Lightfoot stated recently, ". . . we're seeing a downward trend in both homicides and shootings," she also admitted, "Gun violence is the number one issue plaguing the city in this moment," adding "I recognize that people are scared." 
And they have good reason to be, given the almost random nature of some of the shootings. For example, a man was shot to death and his wife critically injured in a June ambush-style hit following a Puerto Rican Pride Day parade. And although Anthony Lorenzi, 34, was arrested in San Diego on July 9 and charged with the fatal shooting of the husband, police to date are unsure of the motive.
However, the overall pattern is clear: gang violence is tearing Chicago apart, leaving scores of people dead or seriously injured, many of them innocent bystanders. And despite mayor Lightfoot's claim that racism is the root cause of the gun violence plaguing the Windy City, not everyone is buying it.
Raymond Lopez, a Democratic alderman for the 15th ward on the Chicago City Council, is fed up with violence, stating "If you really want to get to what is at the heart of a lot of this, it is gangs, and it is the borderline collapse of the family unit in many of our neighborhoods … [Lightfoot] has avoided calling out gangs in our community as a source of violence in our city."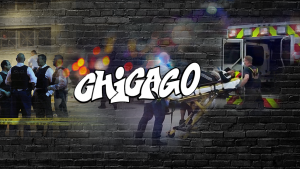 Lopez pointed out, "I think it's a foil to avoid having to deal with [gang and other issues], period. Two hundred-plus murders in the city of Chicago, none of them were committed because of racism. I can tell you last week's gang shooting had nothing to do with racism. The shooting in Englewood Monday morning, four people shot, three others injured, was not about racism."
Lopez is getting at a dark and troubling motif: generational gang violence and the ensuing violence and death that comes with that life. Lopez puts it bluntly, saying "Generational gang life isn't just something that's encouraged. It's almost revered in some neighborhoods,"
Mary Mitchell, a Black reporter for the Chicago Sun-Times, makes a stark distinction between the Black and Brown youth of previous decades who were subjected to violence as they gave their lives and livelihoods in the civil rights movement, and current Black and Brown youth mired in a gang-driven system of crime that fosters and perpetuates violence, with most of its victims being people of color. In allusions to slain civil-rights leader Malcolm-X, Mitchell warns: 
These teens are not on a battlefield like young urban males were in 1968, risking their lives to protect the lives of the privileged class during the Vietnam War. They are on street corners or in cars, firing powerful weapons at other young people who look like them as if "Black Lives Matter" is a fad and not a movement. These cold-hearted shooters have been "hoodwinked" into thinking that their brother is their enemy and a firearm is a necessary accessory when they step outside.
They are the ones who are "bamboozled" by the images on social media of young Black and Brown men flashing stacks and cradling guns like coveted awards. When no one is looking, the younger ones are led "astray" by the older ones, and both are swallowed whole by a system that runs on Black and Brown blood.
While Mitchell has been vocal about the issue of police brutality, she says it's not enough to point out these dynamics. As Mitchell explains, "When a white police officer unjustly kills a Black or Brown person, we demand that justice is served. But many of those same people making the most noise ignore the reality that Black and Brown people are getting killed daily by gun violence." 
Sadly, Chicago has a legacy of gang violence. According to the Encyclopedia of Chicago, gangs were active going back as far as the late 19th century, and "By the 1880s a thriving gang scene developed in Bridgeport and Back of the Yards on the South Side. Several large Irish gangs, such as the Dukies and the Shielders, exerted a powerful influence on the street life around the stockyards, raiding peddlers, robbing men leaving work, fighting among themselves, and terrorizing the German, Jewish, and Polish immigrants who settled there from the 1870s to the 1890s."
These gangs eventually gave way to Polish and Italian gangs, who were the forerunners to the prohibition-era gangs, with the infamous atrocities committed by the likes of Alphonse Gabriel "Al" Capone, Dean O'Banion, and George "Bugs" Moran. 
And though Mayor Lightfoot may have exaggerated her pronouncement that race is the cause of all evils in Chicago, history shows there is a racial component that colors both the mindset and behaviors of Chicago gangs. The following excerpt from the 1922 report of The Chicago Commission on Race Relations paints a sordid picture of violence perpetrated by gangs on Black Chicagoans:
The rioting was characterized by much activity on the part of gangs of hoodlums, and the clashes developed from sudden and spontaneous assaults into organized raids against life and property. As part of the background of the Chicago riot, the activities of gangs of hoodlums should be cited. There had been friction for years, especially along the western boundary of the area in which the Negroes mainly live, and in the spring just preceding the riot.
They reached a climax on the night of June 21, 1919, five weeks before the riot, when two Negroes were murdered. Each was alone at the time and was the victim of an unprovoked and particularly brutal attack. Molestation of Negroes by hoodlums had been prevalent in the vicinity of parks and playgrounds and at bathing-beaches.
Chicago gangs, much like other American gangs, evolved over time and reached another peak in the 1980s. In the 1990s, the trends of gang affiliation became muddled. According to the U.S. Department of Justice, "Gang homicide trends from 1996 to 1998 were more dynamic. One-half of the surveyed cities reported a decrease in homicides, 36 percent reported an increase, and 15 percent reported no change."
And in addition to the racial component changing as more people of color became involved in gangs, the racially motivated crimes associated with gang violence became more complex as gangs became more racially diverse.
According to a joint report by the U.S. Department of Justice and the U.S. Department of Health and Human Services, "Gangs are becoming increasingly racially or ethnically mixed. The changing ethnic composition of gangs may be increasing the likelihood of intra- (rather than inter-) racial/ethnic conflict; instead of conflict between African-Americans and whites, for example, we are seeing more and more conflict between opposing Hispanic groups such as MS-13 and 18th Street.15 Thus, race/ethnicity may not be the chief reason for gang conflict." 
If you dig beneath the patina of race, another ugly element rears its head: the dissolution of the traditional ties that bind different, sometimes disparate components of a community together, including the ties that connected gang members in some semblance of a common code.
Father Michael Pfleger, a Catholic priest who lives and works in. Sabina, one of the troubled Chicago communities dealing with rampant gang violence, said, "In the neighborhood I live in, there's high unemployment and I have 7 public schools around me that are all low-performing schools. We have in this community more guns than we have computers. There's a code of silence, a breakdown in the relationship with the police and community. And people have become immune. This is something we got to live with, gunshots and helicopters every night."
And this fracturing of communities has also led to the fracturing of the gangs that live and do business in these communities. And the culprit may be, ironically, the push to aggressively break up gangs by law enforcement.
As a recent Slate article points out, "Many close observers of Chicago's violence believe that, as well-intentioned as it was, the systematic dismantling of gangs like the Disciples led directly to the violence that is devastating the city's most dangerous neighborhoods in 2016. Taking out the individuals who ran the city's drug trade, the theory goes, caused a fracturing of the city's criminal underworld and produced a vast constellation of new entities that are no less violent, and possibly even more menacing, than their vanquished predecessors."
As Rev. Walter Johnson, who was the pastor of a church serving the now-demolished Cabrini Green neighborhood throughout the 1990s puts it, "It used to be there were fewer gangs but they were more pronounced—it was not the smaller, what I call 'splinter' groups that have formed since. in recent history, it's been just an all-out war amongst everybody. In some places, I've noted that on one block, three or four different factions are warring against each other."
Paul Caine, a reporter for Chicago's WTTW writes, "The city has had gangs as long as it has been incorporated, but the structures have evolved over the years. As gangs were targeted by police and federal authorities using anti-racketeering laws from the 1970s onward, many gang leaders were incarcerated in federal prisons. That left behind a more fractured and anarchic gang culture, say gang experts." 
Benneth Lee, a former gang member who served some 15 years in Illinois prisons before turning his life around, made the following observation to Caine in an interview: "This is not an organized effort by a street gang, this is just young people living in marginalized conditions reacting to the poverty of their circumstances. When it comes to the violence, this is not organized violence, these are individual, personal acts of violence." 
The joint report by the U.S. Department of Justice and the U.S. Department of Health and Human Services reached a similar conclusion:
This fracturing has been the result of decades of internecine warfare among and within gangs, as well as the removal of many key leaders through incarceration or death. Consequently, previously agreed-upon gang rules or social mores have dissolved and internal discipline has eroded.
As a result, much of the violence in Chicago has become less controlled by gang leaders and more disorganized. While a gang member would need to get approval from a gang leader to execute a rival gang member twenty years ago, today that gang member simply commits the murder without compunction or need to ask for approval. Today, disputes involving gang members may start off as something personal in nature and unrelated to gang activities. Once a gang member resorts to violence, retaliatory attacks against the offending gang are common and prolong the conflict.
As we search for solutions to these overwhelming problems plaguing our cities, one can't help but ponder the lyrics of the song "The Night Chicago Died":
In the heat of a summer night
In the land of the dollar bill
When the town of Chicago died
And they talk about it still
Although these lyrics are a fictional account of a shootout between police and members of Al Capone's gang, they are an all-too-familiar reality to citizens of Chicago that watch in disbelief and as more and more youth are consumed in the conflagration raging across multiple communities. At the end of the day, gang violence is a complex issue that requires a multi-factorial approach.
Simply scapegoating the gangs themselves, or calling for the defunding of the police who are attempting to stem the tide of the violence, will not get us down the road, at least not very far. We will need a systemic approach that rebuilds trust between police and citizens living in the affected community, as well as a variety of investments that broaden economic opportunities and offer legitimate paths out of the chaos for youth. 
If not, we will be caught in a cycle of violence and retribution that feeds upon and perpetuates itself. Sonya Dinizulu, a psychiatrist at the University of Chicago School of Medicine who has studied trauma, frames it in simple terms, stating, "It's a cycle. A very destructive and dangerous cycle. We focus so much on healing. I think it's surprising, encouraging, that people are focused on healing. But we know the drivers of violent crime — poverty, disinvestment, lack of educational opportunity — and we have to focus and invest in those as well."
---
At Newsweed.com, we adhere to three simple principles: truth, balance, and relatability. Our articles, podcasts, and videos strive to present content in an accurate, fair, yet compelling and timely manner. We avoid pushing personal or ideological agendas because our only agenda is creating quality content for our audience, whom we are here to serve. That is why our motto is "Rolling with the times, straining for the truth." 
Your opinion matters. Please share your thoughts in our survey so that Newsweed can better serve you.
Charles Bukowski, the Los Angeles beat poet that captured the depravity of American urban life once said, "There is something about writing poetry that brings a man close to the cliff's edge." Newsweed is proud to stand in solidarity and offer you a chance to get close to the cliff's edge with our first Power of Poetry Contest. Are you a budding bard, a versatile versifier, a rhyming regaler? Do you march to the beat of iambic pentameter, or flow like a river with free verse? If so, here's your opportunity to put your mad poetic chops to the test. Enter our poetry contest for bragging rights and an opportunity to win some cash!