As the eyes of the global community watch the heart-breaking drama unfolding in Afghanistan and the final deadlines to complete our withdrawal hovers above our collective consciousness, North Korea is seizing the opportunity to restart its nuclear program. Citing information from The International Atomic Energy Agency (IAEA), The Wall Street Journal
reports
that North Korea "appears to have resumed operation of its plutonium-producing reactor at Yongbyon in a move that could enable the reclusive country to expand its nuclear-weapons arsenal." 
Specifically, the IAEA found, with regard to the Yongbyon Experimental Nuclear Power Plant (YENPP), that "since early July 2021, there have been indications, including the discharge of cooling water, consistent with the operation of the reactor."
The IAEA also found the time frame for operations of YENPP suspicious, stating "The five-month timeframe is consistent with the time required to reprocess a complete core of irradiated fuel from the 5MW(e) reactor." Moreover, the IAEA report states there have "been indications of ongoing mining, milling, and concentration activities at locations previously declared as the Pyongsan uranium mine and the Pyongsan uranium concentration plant." 
Another suspicious activity noted was the "deliveries of materials and the presence of construction vehicles" regarding the construction of a Light Water Reactor (LWR)," a key component of creating nuclear energy. However, the IAEA was unable to confirm when the LWR would be operational.  Finally, the IAEA also found evidence of another building, the Kangson Complex, which "shares infrastructure characteristics with the reported centrifuge enrichment facility at Yongbyon" and that there "were indications of ongoing activities at the Kangson complex during the reporting period."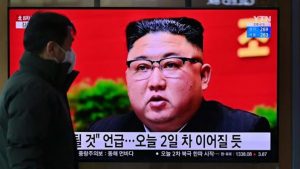 While far from conclusive, the IAEA report is raising concern about the intent of the Democratic People's Republic of Korea's (DPRK) nuclear program, stating "the new indications of the operation of the 5MW(e) reactor and the Radiochemical Laboratory are deeply troubling" and  "the continuation of the DPRK's nuclear program is a clear violation of relevant UN Security Council resolutions and is deeply regrettable." 
This is likely going to put pressure on the Biden Administration to find a peaceful resolution to this violation.  And much like the situation in Afghanistan, Biden will need to find a way to build upon previous efforts by the Trump administration, hopefully with a clearer route and objective. 
As reported by Nation World News, "At a 2019 summit in Vietnam with then-U.S. President Donald Trump, North Korean leader Kim Jong Un proposed to dismantle Yongbyon in exchange for a series of international sanctions on nuclear weapons and ballistic missile programs." However, Trump walked away from any deal with Jong Un, arguing, "Sometimes you have to walk." 
For his part, Jong Un seems undeterred by pressure from the global community, stating in January his ambitions to create "completely new nuclear capabilities aimed at attaining the goal of modernization of the nuclear force." But beyond the nuclear program, the question is: "What does the DPRK really want?" Or perhaps more precisely, "What is Jon Un up to?" To answer this, we have to examine the use and consequences of sanctions, which to a large degree likely drive the decisions made by Jong Un. 
While Jong Un is arguably a temperamental egomaniac willing to sacrifice not only his own people but world peace in a bid to maintain power, maybe there is a longer game at stake. In a recent interview with Newsweek, Robert Einhorn of the Brookings Institution argues:
"I don't think [Kim Jong Un] wants war…. I think he recognizes North Korea's initiation of military force would be incredibly risky and likely to bring about the outcome he most wants to avoid, which is the end of his regime." 
To this end, Jong Un is practicing an elaborate, if not equally dangerous, form of "chicken," waiting for his adversaries to jump out of the way as he barrels forward on the world stage in his one-man show of power and defiance, all the while seeking to preserve his regime as a valid entity among the national powers, especially nuclear powers. As Scott Snyder, director of the program on U.S.-Korea policy at the Council on Foreign Relations, puts it, "The North Koreans are practiced at making statements that sound threatening that don't lock them into particular courses of action." 
Jong Un's rhetoric parallels his reluctance to negotiate and signals his insecurities with regard to North Korea's ability to act as a nuclear presence in its own rights. The North Korean leader recently warned that his country is "fully prepared for confrontation in order to protect the dignity of our state and its interests for independent development," all the while calling for "dialogue." While such ambivalence may be characteristic of an unstable personality, it is also equally indicative of his penchant for mixing bluster with a patina of potential reconciliation. Ironically, Jong Un's seemingly ambivalent rhetoric is not out of line with Presdeitn Biden's equivocal pronouncements of "diplomacy and stern deterrence." 
Of course, the DPRK wants to score material things as well as political points. A host of international and unilateral sanctions have been levied against the DPRK over the past few decades. The Council of Foreign Relations (CFR) indicates that United Nations (UN) sanctions include a ban on the trade of arms and military equipment, dual-use technologies, vehicles, industrial machinery, and metals as well as a  ban on the import of certain luxury goods and export of electrical equipment, coal, minerals, seafood and other food and agricultural products, such as wood, textiles, and stones, among other prohibitions.
The United States has also unilaterally imposed sanctions.  According to the CFR, the United States "sanctioned banks, companies, and individuals outside North Korea—particularly in China and Russia—for supporting its weapons program" as well as fining "companies for violating U.S. export controls." Moreover, a bevy of other countries, along with the European Union, have imposed sanctions against North Korea. 
These sanctions have had a host of effects, not all intended or positive. According to the Center for Strategic and International Studies (CSIS), "large areas of the country face increased food insecurity and a shortage of vital medicines. The ban on imports of a number of goods (including oil and petroleum products in excess of volumes allowed by UNSC Resolutions, as well as luxury goods and foodstuffs) has fueled a growth in smuggling and 'gray' import volumes as well as foreign-flagged vessel operations."
Moreover, CSIS claim some of the sanctions have had impacts that are counterproductive to the world's aims to tame Jong Un's ambition at acquiring nuclear weapons via its tenuous connection to the Chinese economy. 
John Park, of Harvard University, and Jim Walsh, of the Massachusetts Institute of Technology, point out in their analysis that the "net effect of sanctions has been to actually increase Pyongyang's procurement capabilities" because the North Koreans have simply monetized the risk by "paying higher commission fees to Chinese brokers." Moreover, Park and Walsh echo the appraisal of CSIS, stating, "increased sanctions may have severe and negative consequences for the North Korean civilian, non-elite population." 
At the end of the day, as stubborn and bombastic as Jong-Un is, he also wants sanctions lifted because he understands it's in his and his country's best interest to resume normal trade. Moreover, he apparently desires to normalize relations with South Korea, which is similarly flailing in its negotiation attempts as well.  Ha Tae-Keung, a member of the parliamentary intelligence committee, recently stated that as " a precondition to reopen talks, North Korea argues that the United States should allow mineral exports and imports of refined oil and necessities," adding the need for "high-class liquors and suits . . . not just for Kim Jong Un's own consumption but to distribute to Pyongyang's elite."
For his part, Biden seems just as lost as his predecessor in terms of dealing with North Korea. Despite Biden's insistence that he will meet and negotiate with Jong Un "anywhere and at any time," his words are falling short of his intent, especially in light of the ongoing U.S.-South Korean military exercises. Despite reassurances from the Biden administration that  these exercises pose no threat to North Korea, Kim Yo Jong, sister of Kim Jong Un, called the actions the "most vivid expression of the U.S. hostile policy."
Moreover, Biden, although more reserved than Trump, does not seem to have a coherently articulated plan in place to deal with Jong Un or his expectations and demands. As a recent Brookings article elucidates: 
Other than maintaining that it will avoid the mistakes of its predecessors, issuing some expected reaffirmations (the goal of denuclearization), and providing some interesting tidbits (support for the Singapore framework), the Biden administration has so far relied mainly on generalities in publicly outlining the results of its review of North Korea policy, using language like "calibrated, practical, measured approach" and similar formulations intended to be reassuring and unassailable.
To be fair, North Korea has stymied a series of presidents in their collective attempts to deal with their nuclear program, going back to Geroge W, Bush. At the end of the day, North Korea's pursuit of nuclear weapons has less to do with a goal of future attacks of perceived enemies, and more to do with its insecurities on the global stage, especially as it relates to a nuclear program, which is likely seen in North Korea as the great military equalizer.  
As Seong-Chang Cheong writes for the Willson Center, "With the USSR gone, North Korea had lost its most important military ally and, very soon after, it witnessed the "betrayal" of China normalizing relations with South Korea over Pyongyang's vehement objections. Consequently, Pyongyang quickly reached the conclusion that it could trust nothing except the nuclear weapons it was developing to provide security."
From this perspective, it is going to be nearly impossible to get North Korea to give up its nuclear program, unless the political context changes, which is equally unlikely. For Jong Un to let go, he is going to need something tangible and reassuring that his country, and maybe more importantly, his regime, is safe for the future. Such an offer has to take into account North Korea's present political realities and current anxieties over feeling increasingly isolated and vulnerable, or it will undoubtedly fail.
As Cheong frames it: "If the Biden Administration is not to give up on the near-impossible task of denuclearizing North Korea, it must completely rethink negotiations with Pyongyang. It needs a new strategy for negotiations with North Korea. . .but offering a new framework for the different circumstances the world is in today." 
---
At Newsweed.com, we adhere to three simple principles: truth, balance, and relatability. Our articles, podcasts, and videos strive to present content in an accurate, fair, yet compelling and timely manner. We avoid pushing personal or ideological agendas because our only agenda is creating quality content for our audience, whom we are here to serve. That is why our motto is   "Rolling with the times, straining for the truth." 
Your opinion matters. Please share your thoughts in our survey so that Newsweed can better serve you.
Charles Bukowski, the Los Angeles beat poet that captured the depravity of American urban life  once said, "There is something about writing poetry that brings a man close to the cliff's edge." Newsweed is proud to stand in solidarity and offer you a chance to get close to the cliff's edge with our first Power of Poetry Contest. Are you a budding bard, a versatile versifier, a rhyming regaler? Do you march to the beat of iambic pentameter, or flow like a river with free verse? If so, here's your opportunity to put your mad poetic chops to the test. Enter our poetry contest for bragging rights and an opportunity to win some cash!