BNGO could, maybe, bring Newsweed a big win
April 2, 2021 – The following is an opinion. Please note the management of Newsweed and its associates are substantial shareholders of BNGO stock. It's a risky investment and many shareholders bought at much lower prices. Newsweed is not a financial advisor and neither are any of its reporters or associates. Newsweed is heavily invested in this stock. We found that this video gives a good take on BNGO and our investment could do well.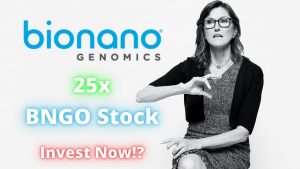 Cathie Wood, the famous ARKG investor, has not, as we report, invested in this stock. It is Newsweed's opinion that this stock could see $25 this year. The video below sees the opposite. The company has shown to be on a fast track to the top of the genetic stock parade. An investor should never take the advice of any video or individual investor.
https://www.youtube.com/watch?v=mofmTUPLut4