"Like many other forms of tourism, a cannabis tourism product has the potential to greatly benefit a community if well executed. " (Matt Kurth, owner of Humboldt Cannabis Tours)
New Jerseyans will soon be able to partake of their favorite weed, free from the long arm of the law. Back on February 22, 2021, Governor Phil Murphy signed three bills changing the legal status of marijuana. These laws were crafted using a two-tier framework that includes "regulated cannabis"  and "marijuana and hashish."
The difference between the two tiers is that "marijuana and hashish" are simply unregulated cannabis products. As such, the law  will "eliminate existing prohibitions and create new, more lenient penalties for possession and distribution that remain tiered based on weight," according to the New Jersey State Attorney General.  In other words, marijuana use in the underground market will likely result in a fine or a low-level misdemeanor, as long as it's not seen as major competition. 
Although the law is technically in effect, a hang-up is being caused by the finer points of an emerging regulatory framework. As Yahoofinance.com reports, "The effective legalization has been delayed for several months, however, as dispensaries around the Garden State await the go-ahead to open their doors to regular retail customers," by the Cannabis Regulatory Commission, which issues compliance rules and regulations governing its use.
However, a smooth rollout (no pun intended) has also been hampered by a clash between state law and local law. As Benzinga notes, "out of the state's 565 municipalities, some 32 cities and towns have chosen not to allow the creation of recreational cannabis programs in their towns, although they have the right to change their decisions in the future and jump back in." Under the Cannabis legalization (P.L.2021, c.16) law, municipalities are free to decline to participate in the new program.
One such municipality is Point Pleasant Beach, whose mayor, Paul Kanitra, contended, "I guarantee that, if you put a question saying, 'Point Pleasant Beach, do you want a marijuana grow or storefront here, it would fail overwhelmingly – Republicans, Democrats, independents,"  adding, "We have to look at the reality of the situation – most of our problems as a town in the summertime come from the overconsumption of drugs and alcohol."
Of course, municipalities that opt out of participating will be losing out on significant tax revenue. According to the Tax Foundation, "New Jersey would generate $148 million from marijuana sales at a 15% sales tax rate (2016) at full market saturation." The fly in the ointment is, as always, the illegal marijuana market. As I have written about in a previous article, legalization does not mean the illegal market will shrink; rather, it thrives under full legalization for a variety of reasons. 
Kacey Morrissey, New Frontier Data's senior director of industry analytics, a company that specializes in cannabis research data and analytics, argues, "There's an extremely strong illicit market in New Jersey, New York. There will be, obviously, no matter what the prices are. There's always, in every new market, sort of the novelty of now purchasing from the legal market. So there's always a big hustle-bustle in the beginning." Much of the proliferation of the illegal market has to do with taxation. It's a straightforward issue to some degree. The higher the taxes, the more weed cost, giving a competitive advantage to illicit sellers.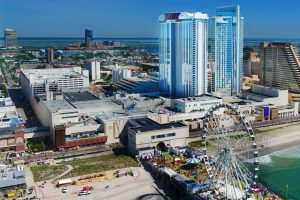 Our current reality is that the vast majority of the states in our union are in a transition phase as marijuana legalization sweeps across the American landscape. The holdup, of course, is the federal government, which still classifies marijuana as a Schedule I narcotic. As a Chicago Sun-Times article points out, "Should federal lawmakers enact legislation that removes cannabis from the Controlled Substances Act, the process would likely be accelerated."
As the old saying goes, "geography is destiny," at least on the societal level. And because New Jersey is surrounded by states such as Pennsylvania, Maryland, and West Virginia, where weed is only medically legal, it will end up causing an influx of  "weed pilgrims," people seeking a legal route to purchasing marijuana. John Kaiga, chief knowledge officer at New Frontier Data, states, "The ability to draw consumers from Pennsylvania, Delaware, Maryland, et cetera, I think will be an important opportunity for the state's adult-use market. . . "
But the concept of "weed pilgrimage" is just the tip of the iceberg. The larger dynamic forming is "weed tourism." Weed tourism goes beyond the mere crossing of state lines to purchase some ganja and bring it back to your home state, which is a violation of federal law. And it's bigger than just procuring some legal bud to get high while spending a day or two languishing at a hotel in a state with recreational marijuana. Instead, weed tourism is a holistic approach to tourism with a rich cannabis experience at the center. 
Sean Roby, founder of Bud and Breakfast, a marijuana-friendly AirBnB-like service located in several states, frames it this way: "It's akin to wine tourism: You go somewhere to experience activities with a host or a guide who has experience in cannabis. They want a top cannabis chef who knows how to microdose meals, they want a CBD-infused massage therapy, they want tours and music and activities and education. In Napa Valley, we have a zipline over a cannabis field. We have sushi and joint-rolling classes. We have wine and cannabis pairing… It's not that taboo anymore; it's just something that many people are interested in."
A perfect model of weed tourism, of course, is the state of Colorado, whose marijuana revenue receipts will likely eclipse the $2 billion mark. Much of this revenue is from marijuana tourism.
And make no mistake, states that do not legalize recreational marijuana will be missing out on a huge cash windfall, and not just from the direct sale of legal weed, but from the industries that evolve to meet the growing demand for weed tourism. This includes all of the typical facets of traditional tourism, such as hotels, restaurants, bars, and nightclubs, as well as specialized boutique experiences, such as restaurants preparing cannabis-infused delicacies.  
New York, which legalized marijuana on March 30, 2021, is no exception, especially given its larger-than-life tourism industry. Sloane Barbour, Chief Revenue Officer at FlowerHire, shared the following vision: "NYC will lead the globe in social consumption, with cannabis-infused experiences and entertainment. Imagine a night out in the East Village enjoying artisan cannabis cocktails from Death + Co. Then taking in a lightly infused dinner. Followed by one of the hundreds of free NYC  outdoor jazz concerts to enjoy low-dose THC pre-rolls optimized for musical enjoyment."
A similar process is likely to unfold in New Jersey. The biggest issue for New Jersey will be how local municipalities approach regulation. This is especially true of the towns that have opted out of participating in legal marijuana sales. The one issue that will be the most challenging to solve is how Atlantic City, known for its casinos, will integrate weed tourism into its economy and gambling infrastructure. 
As Rob Mejia, an adjunct professor at Stockton in the Cannabis Studies Department, remarked, "In Atlantic City, the casinos have such a big challenge. Their audience has been really down trending, and of course they're going to be struggling with, 'What do we do with this? Do we want this in the casinos? Is it going to slow down play?'" Currently, Las Vegas is struggling with multiple issues related to the legalization of marijuana, so their reaction and resulting policy formation could end up being a regulatory blueprint for New Jersey. 
Meanwhile, the Garden State will soon (February, 2022)  be growing, selling, and consuming a new form of produce, and citizens will now be, more than ever, Born to Run.