Merck and Ridgeback Biotherapeutics are moving one step closer to getting FDA authorization for its COVID-19 antiviral drug, molnupiravir. If approved, it would be the first oral treatment approved by the FDA to combat the serious complications of COVID-19, especially hospitalization.
According to their website
, Merck has "submitted an Emergency Use Authorization (EUA) application to the U.S. Food and Drug Administration (FDA) for molnupiravir, an investigational oral antiviral medicine, for the treatment of mild-to-moderate COVID-19 in adults who are at risk for progressing to severe COVID-19 and/or hospitalization."
Merck claims their studies show "molnupiravir reduced the risk of hospitalization or death by approximately 50%," in test subjects and that "fewer subjects in the molnupiravir group discontinued therapy due to an adverse event compared to the placebo group."
In a sense, molnupiravir could be a measure to close the gap of for people still not vaccinated against COVID-19.  Depending on where you look, different parts of the United States have varying levels of vaccine hesitancy. While some states have only 5-10% of their residents who claim to be vaccine resistant, such as California, others, including Montana, can range as high as 25%. 
Given this fact, we need a weapon against COVID-19 beyond the vaccine in order to keep the stress off our medical systems. As Dr. Josh Bloom, Director of Chemical and Pharmaceutical Science for The American Council on Science and Health (ACSH) points out, "Antiviral drug development for COVID-19 took a back seat to vaccines during the brief time – when we thought that ending the pandemic was simply a matter of getting enough needles in enough arms. But the virus had other ideas: variants. Now it's looking like we may need a drug to complement the vaccines." 
Molnupiravir is a specific type of antiviral medication known as a ribonucleoside analog. Ironically, molnupiravir works like a computer virus in that it inserts itself into the genetic material of the virus via a protein. Once inside the viral body, molnupiravir introduces errors into the virus when it tries to replicate. This is important because viruses cannot replicate on their own, but instead depend on host cells to replicate their genetics through RNA. Specifically, viruses make copies with a tool called RNA-dependent RNA polymerase (RdRp). By taking a wrecking ball to this tool, molnupiravir effectively prevents the virus from replicating, thus significantly shortening the length and severity of infection.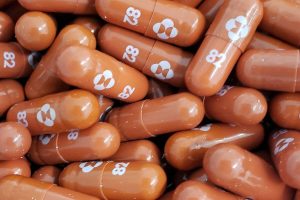 To expedite matters and make the drug more affordable, "Merck signed a deal with the U.S. government to supply 1.7 million courses of molnupiravir for $1.2 billion, which works out to be $700 a course," according to The Salt Lake Tribune. And Bloomberg reports that Merck "will implement a tiered-pricing approach based on World Bank country income criteria to reflect countries' relative ability to finance their health response to the pandemic." This is a crucial development in the fight against COVID-19 because "While there are a number of treatments for Covid-19 on the market, many of them are expensive, difficult to administer, not widely available, or only marginally effective," as reported by Vox. 
Moreover, the antiviral medication could take some stress off our already beleaguered hospitals, many of which are struggling to find space to adequately treat COVID-19 patients, as they simultaneously grapple with having enough healthcare workers to attend to patients.
This is particularly important "in places where vaccination rates are still low, such as many low- and lower-middle-income countries" according to Nature magazine. This antiviral approach marks a departure from just managing symptoms. Outside of the use of monoclonal antibodies and the antiviral medication remdesivire, both of which require intravenous administration, doctors primarily use dexamethasone, a steroid aimed at dampening an overblown inflammatory response in the sickest people, and blood thinners, to prevent a serious blood clot, a complication of COVID-19 for many people. 
Meanwhile, our nation takes a collective breath, as there seems to be a slacking of COVID-19 infections, resulting in fewer hospitalizations, a potentially positive sign that the worst may be in our rearview mirror.