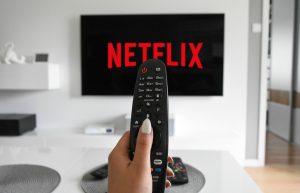 Coming soon to Netflix: password-sharing fees.
According to an Aura survey from 2021, 53% of Americans admit that they share login information with people outside of their main household. So if you've been sharing your Netflix password with friends and family outside of your household, or you've been enjoying access to another Netflix subscriber's account, watch out⁠—a crackdown is coming.
Netflix executives have proposed charging for password sharing and has already tested ways to curb password sharing in some Latin American markets, such as testing surcharges for accounts used at addresses not associated with the main account holder. These add-ons are in the $2-$3 a month range, and will be triggered when people try using the Netflix account associated with another address.
It's unclear exactly what password-sharing rules would be implemented in the U.S. at this time, but it appears that at least some measures are inevitable based on the various comments from Netflix executives during the company's latest earnings report. The timeline for any new restrictions on password sharing seem to be a year or so down the road.