Olawale Daniel Tayo, the principal consultant and lead trainer with Olda Consult, once said, "Bitcoin is rapidly becoming the global reserve cryptocurrency just like the dollar is to fiat currency." it seems our federal government understands this pronouncement, as well. Currently, cryptocurrency is treated much like any other income. As
reported in Forbes
, "generally speaking, cryptocurrency is treated as property and taxed accordingly. This means that you'll face tax implications when you sell your crypto or NFT or you trade either one for another investment or even a purchase." 
The real complications arise when cryptocurrencies are exchanged, i.e. bought and sold. The problem arises when there are gains made during these transactions, causing a tax liability. Consider the following example for Forbes again:
"Let's say someone has $50,000 in BTC and they want to buy an NFT. In that case, they might need Ethereum to buy a specific NFT, so they trade BTC for ETH to make the purchase. In this case, Feldhammer says you still face $20,000 of taxable income because you exchanged the property (BTC) for other property (ETH), which is a taxable transaction."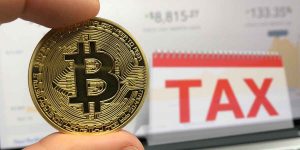 The great difficulty arises when there are multiple trades every day all throughout a calendar year. Keeping track of these exchanges for the IRS can be a logistical nightmare. As Daniel Morris, a senior partner at the CPA firm Morris & D'Angelo, puts it, "It's too easy for people to forget that these are taxable transactions." And even those who are careful with their recordkeeping can run afoul of tax law. Annette Nellen, a professor of accounting and taxation at San Jose State University points out, "They might not fully understand the tax considerations such as if they acquired one virtual currency using bitcoin and did not report the gain or loss on that bitcoin at the time of the exchange."
President Biden's $1.2 trillion Infrastructure Bill may add even more stress. As part of the Biden Administration's plans to pay for the legislation, Biden has asked that the IRS camp down on cryptocurrency activities in an effort to raise $28 billion to help offset the cost of the legislation. According to The US Sun, "The provision would require brokers to report gains in a type of 1099 form, in addition to reporting transactions of more than $10,000 to the IRS." 
In response, Twitter and Square CEO Jack Dorsey tweeted: "Forcing reporting rules on Americans who develop software and hardware, who mine and secure the network, or who run nodes to build resilience and efficiencies, is an impossible ask that will only drive development and operation of this critical technology outside the US." Billionaire entrepreneur Mark Cuban echoed these sentiments, stating, "​​Shutting off this growth engine would be the equivalent of stopping e-commerce in 1995 because people were afraid of credit card fraud. Or regulating the creation of websites because some people initially thought they were complicated and didn't understand what they would ever amount to."
And cryptocurrency experts are also pushing back. Neeraj Agrawal, director of communications at Coin Center, a think tank started in 2014 that focuses on cryptocurrency policy, warned,
"This is no way to make policy. There's decisions being made that will massively influence how cryptocurrency develops in America, but it's being done as a last-minute addition to a must pass infrastructure bill." 
Of course, ever eager to exploit new revenue streams to feed the beast that has racked up merely $30 trillion dollars of debt, Congress predictably defended their ploy. Senate Finance Committee Chair Ron Wyden, D-Ore, implored, "Investors failing to pay tax they owe through cryptocurrency is a real problem, and I strongly support third-party reporting by exchanges where cryptocurrency is bought, sold and traded. Our amendment makes clear that reporting does not apply to individuals developing blockchain technology and wallets. This will protect American innovation while at the same time ensuring those who buy and sell cryptocurrency pay the taxes they already owe." 
Not everyone feels comfortable with Wyden's explanation, especially those whose concerns revolves around Non Fungible Tokens (NFTs). According to Investopedia, NFTs are "cryptographic assets on blockchain with unique identification codes and metadata that distinguish them from each other." By "tokenizing" assets, like pieces of art, for example, these real-world tangible assets then allow people to buy, sell, and trade the assets as NFTs.  People who do commerce with NFTs are worried that these avenues of revenue will become ensnared in taxation schemes that unnecessarily complicate transactions and reduce profitability. 
Jack Butcher, a digital artist with more than 140,000 Twitter followers, cautioned, "Whichever way the bill goes, this piece represents a community coming together to defend a nascent technology against hastily written legislation that would prevent an unfathomable amount of financial innovation happening in the US. But the infrastructure that makes it possible to raise money [like this] is actually part of what's being threatened in the pieces of legislation."
It appears that even our fiat currency is not enough to sate the appetite of the ravenous D.C. machine. Now, it needs cryptocurrency to gorge upon. The problem is, its hunger is unappeasable because it is a bottomless pit. As Ronald Reagan once prophetically said, "The American people are not undertaxed, the government in Washington is overfed."
---
At Newsweed.com, we adhere to three simple principles: truth, balance, and relatability. Our articles, podcasts, and videos strive to present content in an accurate, fair, yet compelling and timely manner. We avoid pushing personal or ideological agendas because our only agenda is creating quality content for our audience, whom we are here to serve. That is why our motto is "Rolling with the times, straining for the truth." 
Your opinion matters. Please share your thoughts in our survey so that Newsweed can better serve you.
Charles Bukowski, the Los Angeles beat poet that captured the depravity of American urban life once said, "There is something about writing poetry that brings a man close to the cliff's edge." Newsweed is proud to stand in solidarity and offer you a chance to get close to the cliff's edge with our first Power of Poetry Contest. Are you a budding bard, a versatile versifier, a rhyming regaler? Do you march to the beat of iambic pentameter, or flow like a river with free verse? If so, here's your opportunity to put your mad poetic chops to the test. Enter our poetry contest for bragging rights and an opportunity to win some cash!